Vietnam ready for ASEAN Year 2020: Foreign Ministry
Vietnam has been ready with organizational apparatus, personnel and projects and overall action plan for ASEAN Year 2020, said deputy spokesperson of the Foreign Ministry Ngo Toan Thang at a regular press conference in Hanoi on November 7.
At the closing ceremony of 35th ASEAN Summit (Photo:VNA)
Noting that Vietnam officially assumed ASEAN Chairmanship 2020 in Bangkok, Thailand on November 4, the deputy spokesperson told the press that during ASEAN Year 2020 themed "Cohesive and Responsive", Vietnam will hold more than 300 activities, particularly the 36th ASEAN Summit in April and the 37th ASEAN Summit and related meetings in November.
The country will also organise cultural, arts and tourism events with the aim to introduce and popularise Vietnam's unique cultural values to ASEAN and dialogue countries, he said, adding that Vietnam will hold a ceremony in mid-November to announce the official logo and launch the website of ASEAN Year 2020.
In the near future, Vietnam will focus on preparations for the ASEAN Foreign Ministers' Retreat scheduled for January 2020 in the central province of Khanh Hoa, starting a series of events during the year, he said.
According to him, Vietnam will continue developing its ideas and initiatives during the year, and strive to create consensus within the bloc to realise them./.
VNF/VNA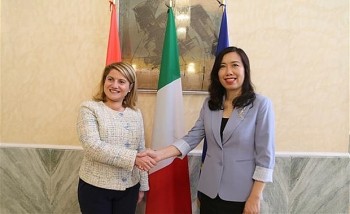 Friendship
The Vietnam - Italy political consultation is part of the occasion of the 50th anniversary of diplomatic ties and the 10th anniversary of the framework of the strategic partnership.