Vietnam - Saudi Arabia Business Forum Achieves Fruitful Results
Vietnam's Ministry of Foreign Affairs, together with the Embassy of Saudi Arabia in Vietnam and the Riyadh Chamber of Commerce and Industry (Saudi Arabia) hosted the "Vietnam Saudi Arabia Business Forum" on September 11 in Hanoi, accomplishing 4 Memoranda of Understanding, 2 contracts and hundreds of interactions and informative exchanges.
Strengthening bilateral relations via economic diplomacy
Speaking at the forum, Vietnam's Deputy Prime Minister Tran Luu Quang emphasized that this event is the largest trade and investment promotion project between Vietnam and Saudi Arabia in recent years. It is a clear demonstration of the determination of leaders at all levels and the business community to bring bilateral relations between the two countries to new heights.
Quang highly appreciated the Saudi businesses that are operating important economic establishments in Hanoi and Hai Phong. For those who are seeking practical opportunities in areas of mutual interest with Vietnamese businesses, he proposed the two sides actively discuss strategies, challenges, and solutions. It will support the implementation the four pillars of cooperation, such as increasing trade turnover according to Halal Islamic standards and encouraging investment in the fields of energy, high technology, heavy industry, and food industry. It will also help promote cooperation in information technology, digital transformation, and telecommunications and motivate tourism and labor cooperation in a sustainable, effective and high-quality direction.
The Deputy Prime Minister said there are three key groups of tasks. The first group is completing the legal and policy framework, whose goal is to create a favorable environment for economic cooperation. The second group emphasizes information sharing about markets, cooperation opportunities, business practices and legal regulation in each country. The last group of key cooperation tasks is to organize networking activities between localities and businesses from both countries.
Vietnam's Permanent Deputy Minister of Foreign Affairs Nguyen Minh Vu emphasized that the Vietnamese Government pays close attention to strengthening bilateral relations via economic diplomacy, especially expanding economic cooperation between Vietnam with friends around the world including Saudi Arabia's people, businesses and localities.
Vu hoped that businesses can take advantage of the complementary capabilities of the two economies and that the forum's participants can benefit from information exchanges and reach specific bilateral cooperation agreements.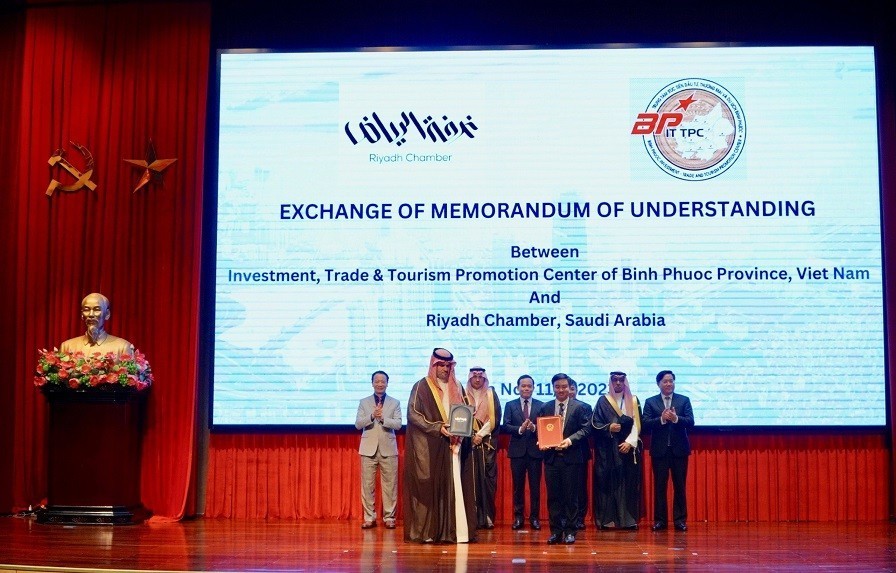 Exchange of MoU between the Investment, Trade and Tourism Promotion Center of Binh Phuoc Province and Riyadh Chamber of Commerce and Industry (Saudi Arabia) (Photo: Tuan Viet).
Ample room for future cooperation
Speaking at the forum, Ambassador of the Kingdom of Saudi Arabia to Vietnam Mohammed Ismaeil A. Dawhly highly appreciated the Ministry of Foreign Affairs and Vietnamese ministries, branches and localities for their positive and proactive role of the forum's co-organizers. Saudi Arabia attaches great importance to promoting friendly relations and multi-faceted cooperation with Vietnam, said the Ambassador, affirming that the two countries still have much room to further improve the effectiveness of trade and investment cooperation.
To further strengthen connections and support the two countries' business communities to contact and seek business cooperation opportunities, the Embassy will actively accompany and coordinate the Ministry of Foreign Affairs and Vietnamese ministries, branches, and localities.
Also, the Chairman of the Industrial Committee of the Riyadh Chamber of Commerce Abdullah Al Khorayef, Head of the delegation from Saudi Arabia, emphasized the participation of a large number of Saudi businesses in this visit, showing the great interest of the Saudi business community.
"Saudi Arabia for potential economic cooperation opportunities with Vietnam. We believe that the Forum will open up new and effective cooperation channels for the business communities of both sides," said the delegate leader.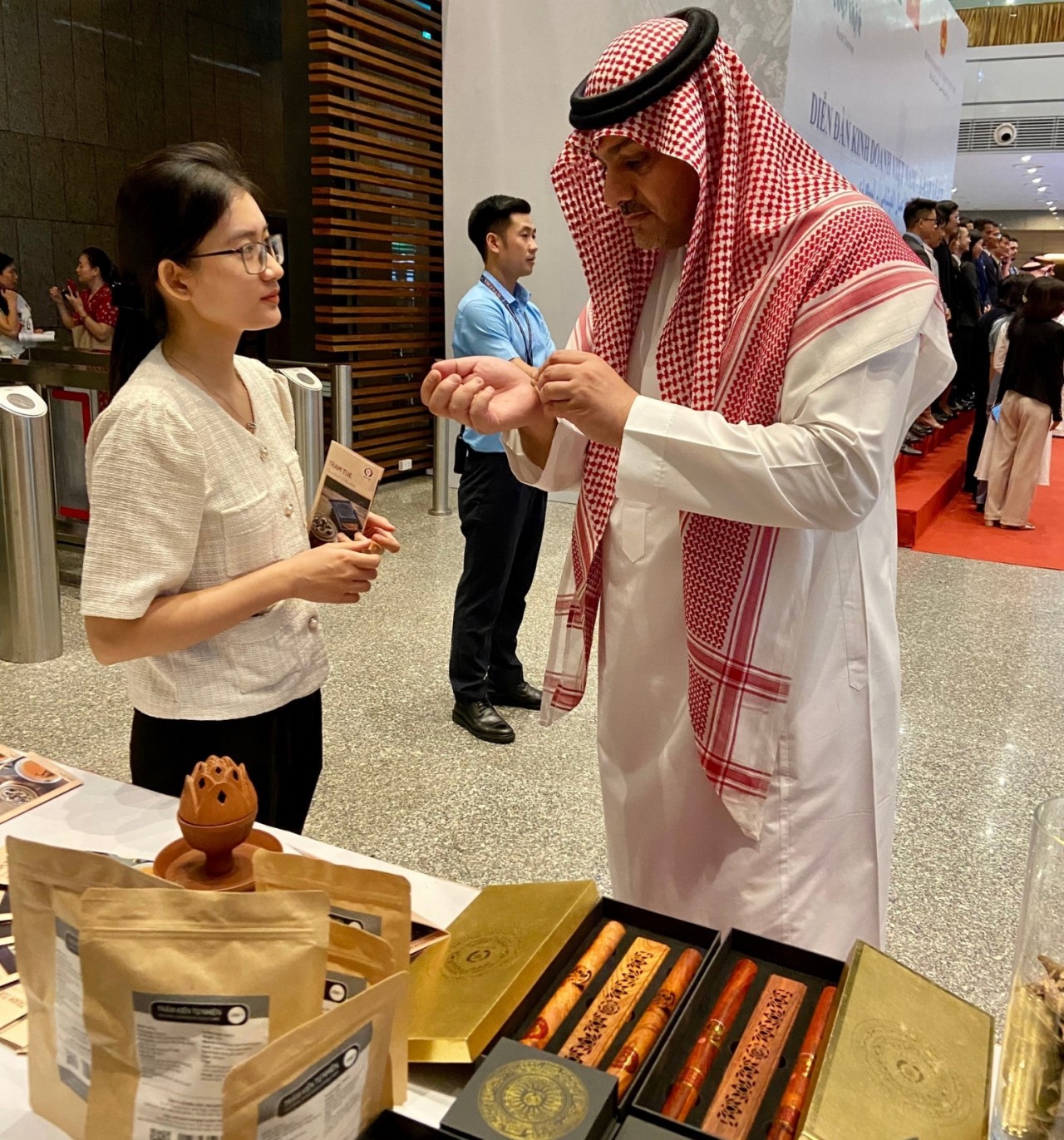 A Saudi Arabian businessman visited a booth of Vietnamese business at the forum.
Within the framework of the forum, there were hundreds of interactions and informative exchanges between Saudi Arabian businesses and Vietnamese localities and businesses in many fields such as energy, iron and steel industry. There are also representatives from sectors like construction, investment, healthcare, cosmetics, pharmaceuticals, sports, tourism. Other sectors, namely human resources, transportation, retail, furniture, garments, agriculture, fisheries and information technology, also received great attention from the participants.
Another highlight of the forum was the signing of cooperation documents between Riyadh Chamber of Commerce and Industry, and its affiliated associations and businesses and the Department of Industry and Trade of Ben Tre province, the Center for Investment, Trade and Tourism Promotion of Binh Phuoc province, Hai Phong Young Entrepreneurs Association and the Department of Industry and Trade of Ninh Thuan province. There were 4 memoranda of understanding on cooperation and 2 contracts signed at the forum, along with many other cooperation documents that are continuing to be discussed.
The foreign delegation will also visit Lach Huyen port in Hai Phong city, industrial parks and large economic corporations in Vietnam and hold meetings with representatives ofVietnamese ministries and economic sectors, as part of the forum actitvites.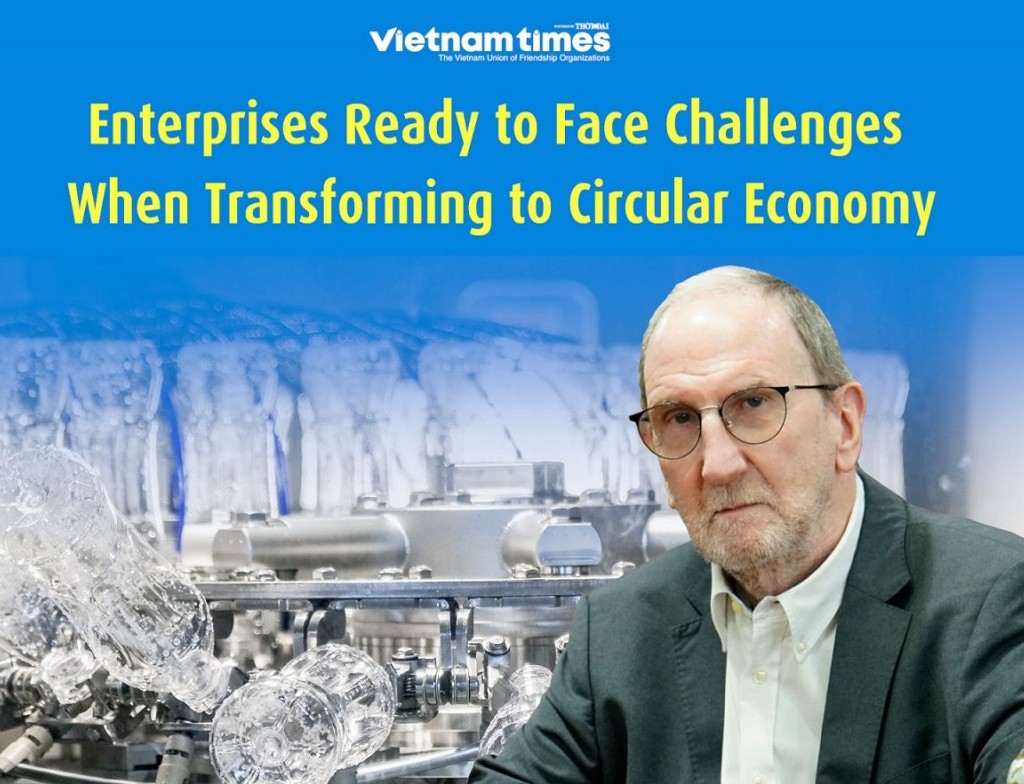 Economy
The transformation to a circular economy is a major development trend in many countries throughout the world, including Vietnam, with several environmental, economic, and social benefits. However, experts argue that, in addition to positive characteristics, the transition to a circular economy in Vietnam faces many obstacles for management agencies and the business community.
September 29, 2023 | 11:09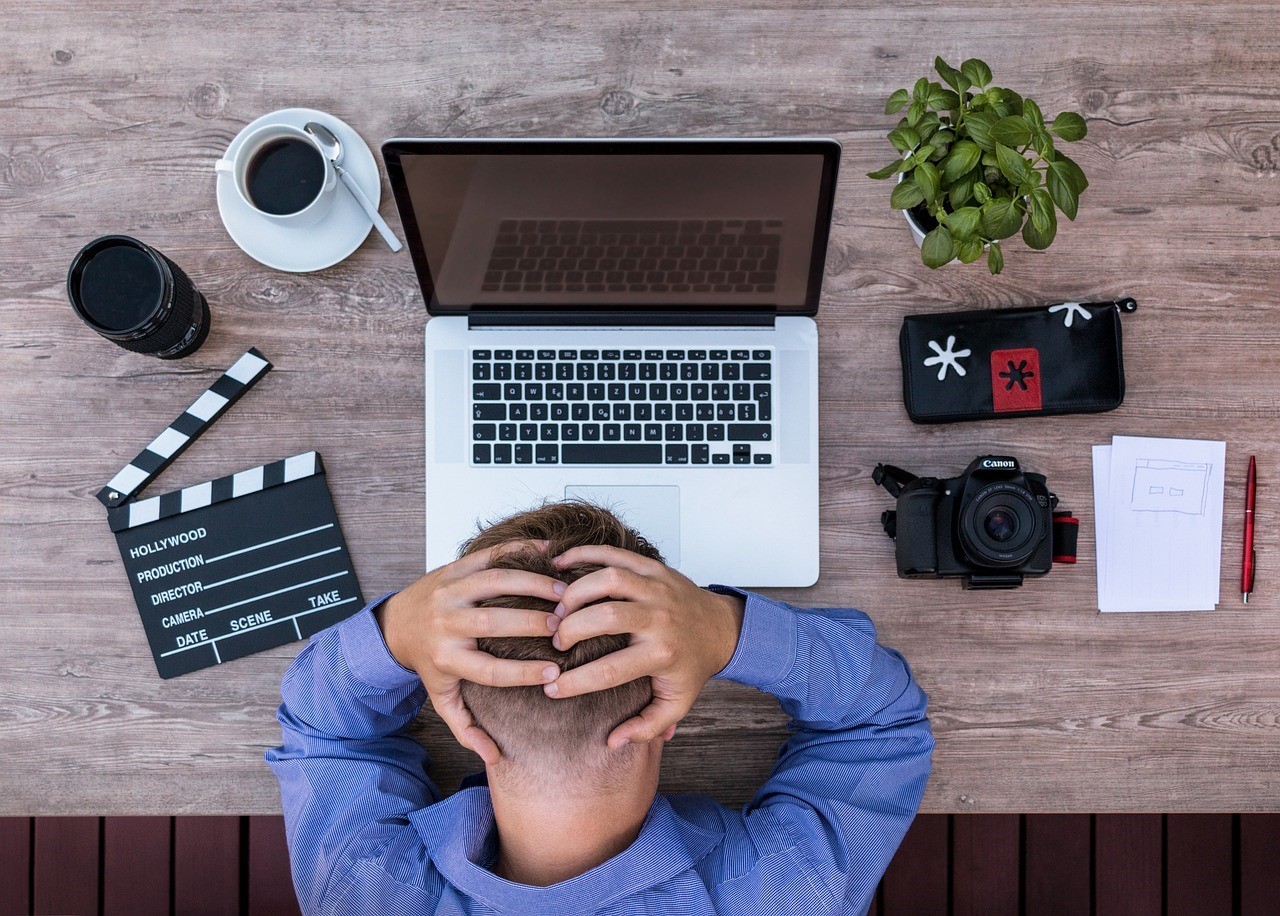 Economy
As the dust begins to settle on the monumental impact of Artificial Intelligence (AI) in the finance and media world, growing skepticism and mountain calls for regulation have got the creators of multiple AI platforms on the backfoot.
September 29, 2023 | 11:04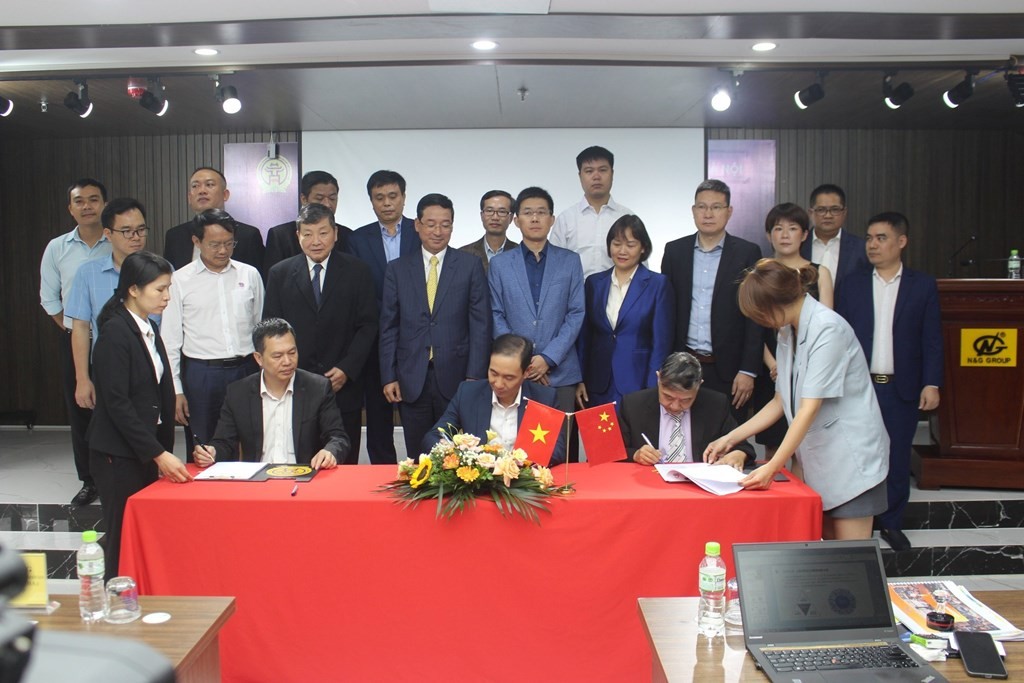 Economy
Enterprises from both Hanoi, Shanghai sides will immediately deploy investment and production preparation procedures in 2024 to soon turn the agreement into practical effect, bringing efficiency to the two sides.
September 28, 2023 | 20:19