Vietnam, UAE to Enhance Cooperation in More Practical Manner
Vietnam wants to expand collaboration with the United Arab Emirates (UAE) in various fields, as potential remains huge.
Vietnamese Ambassador to the United Arab Emirates (UAE) Nguyen Manh Tuan has expressed his belief that cooperation between the two countries will enter a new stage of development and become more effective and practical in all spheres.
He made the remark in a recent interview granted to the Vietnam News Agency ahead of Vice President Vo Thi Anh Xuan's attendance at the 2023 Global Summit of Women and some bilateral activities in the UAE, along with an official visit to Qatar from May 3-8.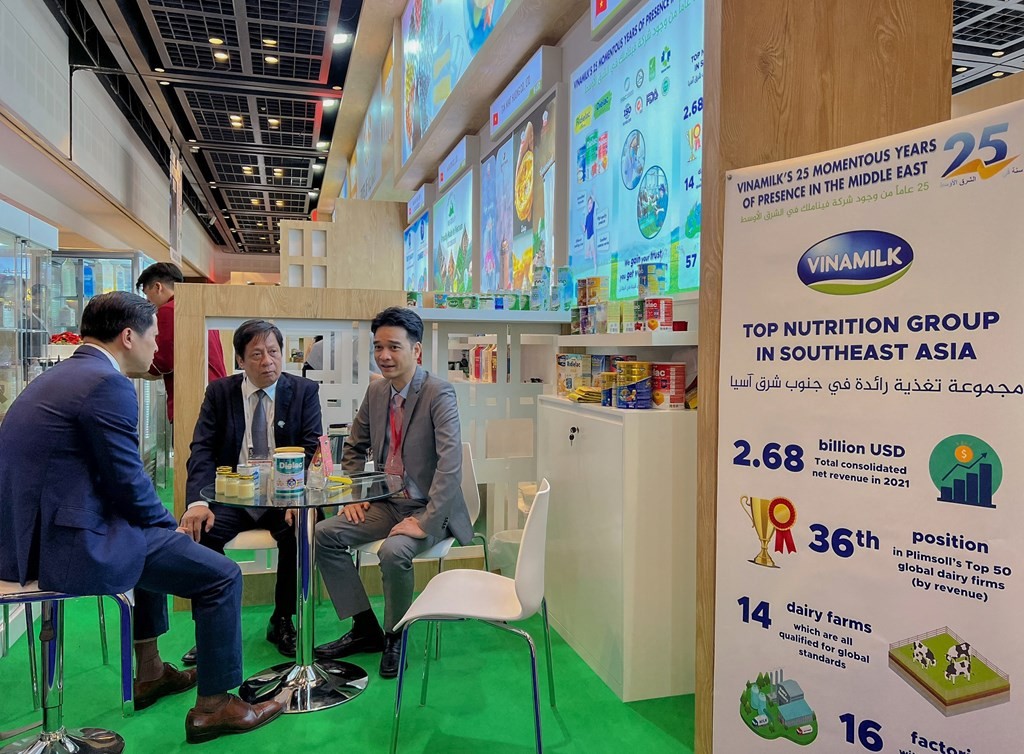 Vietnamese Ambassador to the United Arab Emirates (UAE) Nguyen Manh Tuan (in middle). Photo: Phuong Uyen
Tuan said over the last 30 years, the bilateral friendship and cooperation have been flourishing in multiple fields, including politics, diplomacy, trade, investment, labour, and tourism. The political trust and mutual understanding have continually been enhanced.
Economic partnership has always formed an important pillar and a bright spot of the countries' cooperation. The UAE is the biggest trading partner of Vietnam in the Middle Eastern and North African regions while Vietnam ranks first among its ASEAN partners.
The UAE is now the seventh biggest importer of Vietnamese goods. In 2022, Vietnam recorded a 27.5-fold increase in exports to the UAE compared to 2006 and a trade surplus of USD 3.27 billio , statistics showed.
He noted that 2023 is a special year in the bilateral relations as it marks the 30th founding anniversary of their diplomatic ties and the start of negotiations on a comprehensive economic partnership agreement (CEPA) between the two countries.
The ambassador described the CEPA as an important milestone in the bilateral cooperation since it will herald a new phase of strategic cooperation in various fields; provide an important basis for the Vietnam - UAE ties to make new strides, including boosting Vietnam's export of goods and services to the UAE as well as other countries in the Middle East and North Africa; facilitate the UAE's investment in Vietnam; and help fully tap into cooperation potential in such areas as innovation, renewable energy, logistics, technology, tourism, and agriculture.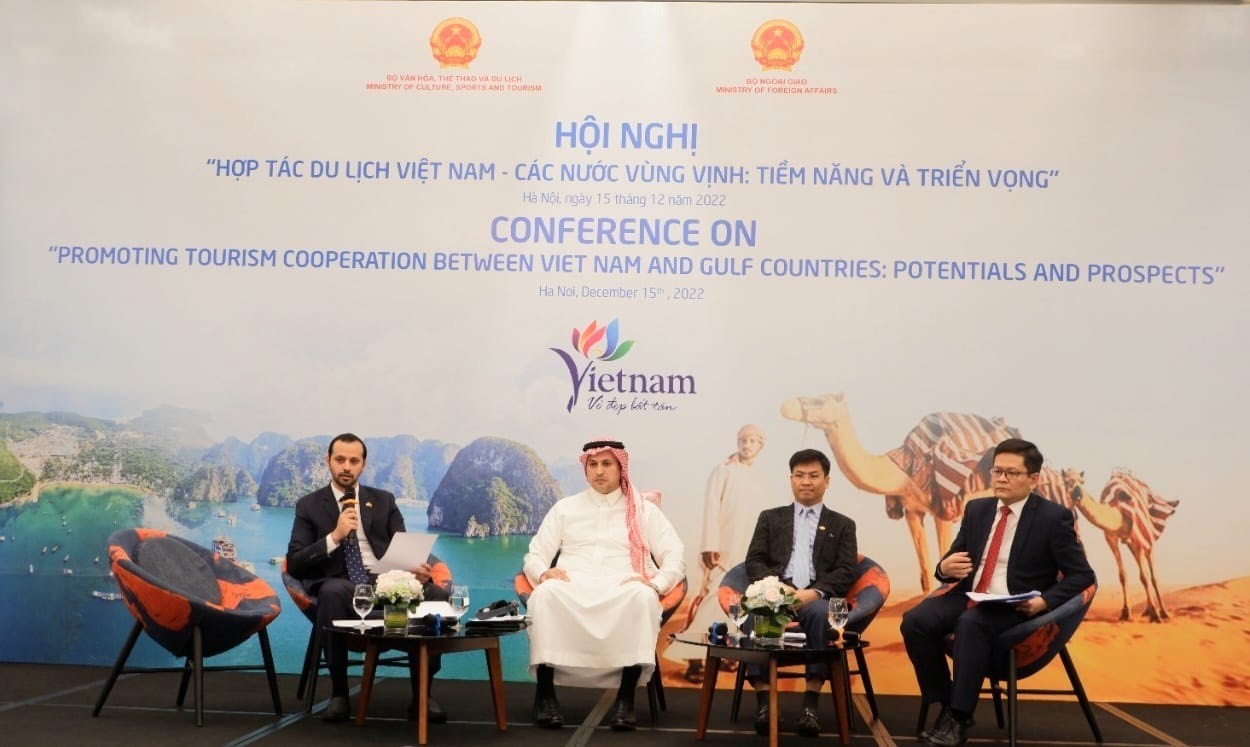 Abdulla Ali Alhameli, Charge d'Affaires a.i of the UAE Embassy in Vietnam (first from left) shares at the tourism promotion conference in Hanoi. Photo: VNT
The Vietnamese and UAE communities in each other's countries are also bringing into play their role as a friendship bridge between the two sides, he said, adding that about 3,500 Vietnamese people are working legally in the UAE, mainly in the construction, mechanics, shipbuilding, and service sectors.
In the interview, Tuan highlighted the substantial potential for trade and investment partnerships, especially after the launch of negotiations on the CEPA, which will serve as a legal framework for stepping up bilateral trade and investment.
Energy cooperation is also a potential field as the UAE is strong at new energy, renewable energy, and oil and gas exploration and exploitation. Besides, collaboration in agriculture is also a priority because Vietnam has strength in this regard and can help the UAE guarantee food security.
The diplomat also underlined the cooperation potential in terms of infrastructure and logistics, which match the UAE's strength and Vietnam's demand, as well as the tourism sector in which the two sides have complementary advantages.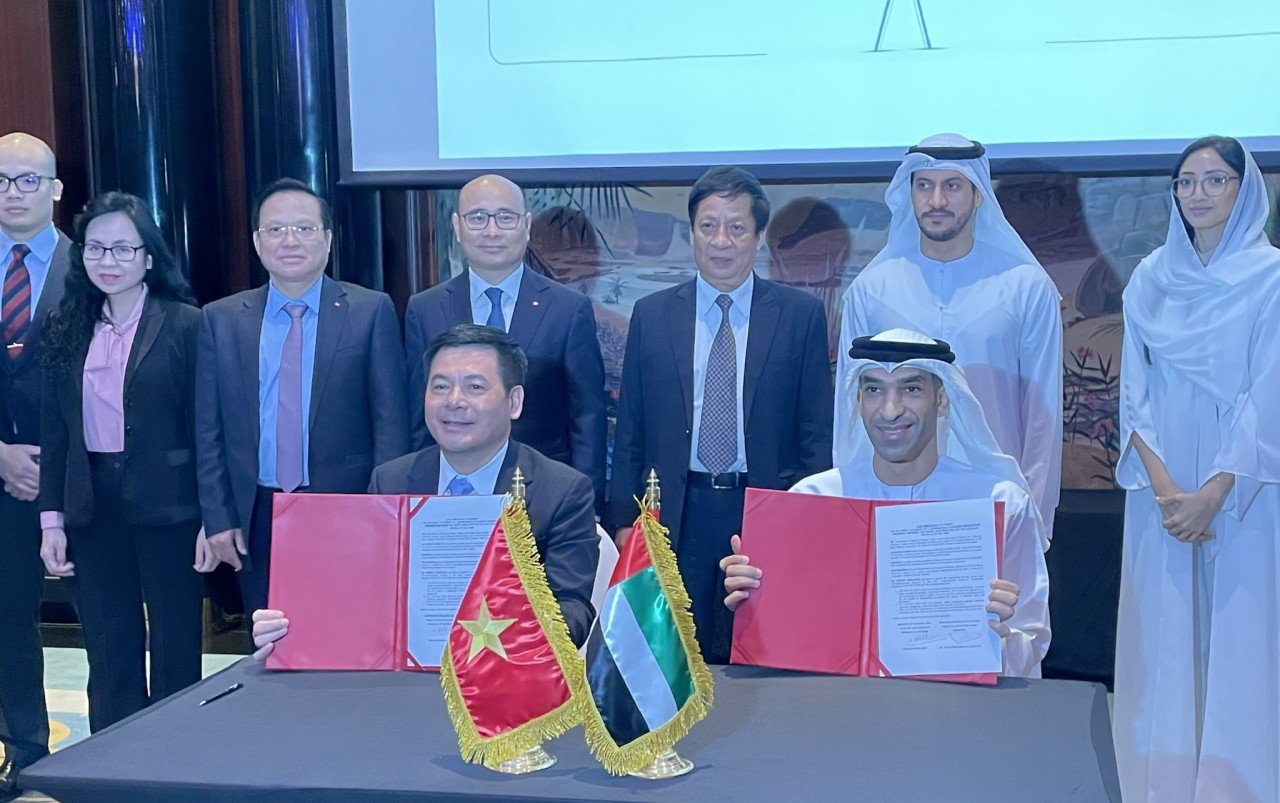 Minister of Industry and Trade Nguyen Hong Dien and Minister of State for Foreign Trade Thani bin Ahmed Al Zeyoudi of the UAE sign a Ministerial Declaration on starting negotiations on a comprehensive economic partnership agreement between the two nations. Source: moit.gov.vn
Talking about opportunities and challenges for Vietnamese exports, Tuan said that earlier this year, the UAE President announced five priorities of this country, including expanding international economic partnerships, which will open up many chances for Vietnamese goods to enter this market.
However, there are also certain challenges, he added, elaborating that Vietnamese goods will face fierce competition with those from the countries already singing CEPAs with the UAE, logistics expenses are higher than those of other countries due to geographical distance and high transportation prices, most food and beverage products of Vietnam haven't gained Halal certificates, and exporters have yet to grasp the demand and behavior of Muslim consumers or business practices here.
The ambassador voiced his belief that with the trust, consensus, and efforts from both sides, along with their potential and complementary strengths, the Vietnam - UAE cooperation will enter a new development stage and become more effective and practical in all spheres.
Last month, Minister of Industry and Trade Nguyen Hong Dien and Minister of State for Foreign Trade Thani bin Ahmed Al Zeyoudi of UAE have signed a Ministerial Declaration on starting negotiations on a CEPA between the two nations right after Vietnam completed its procedures.
During the meeting, the Vietnamese official said the CEPA can bring for both countries, in the context of Vietnam having become a manufacturing hub for many important commodities in the region and the world, while the UAE has many strengths as a transshipment port and financial and logistics centre.
The combination of strengths of the two sides will create a momentum for growth in their trade and investment ties in the coming time, he said.
The UAE has been researching, negotiating and signing many FTAs with important partners like Vietnam, Al Mazrouei said, adding that the UAE government hopes the two countries can sign an FTA this year.
The UAE wants to partner with Vietnam in the fields of power transmission, power generation, food security, healthcare, infrastructure, construction, and port management, Al Mazrouei added.