Vietnam, UK agree to consult about issues of shared concern
Deputy Prime Minister and Foreign Minister Pham Binh Minh and UK Foreign Secretary Jeremy Hunt agreed to offer mutual consultations on regional and global issues of shared concern during their talks in London on October 10.
Deputy Prime Minister and Foreign Minister Pham Binh Minh and UK Foreign Secretary Jeremy Hunt agreed to offer mutual consultations on regional and global issues of shared concern during their talks in London on October 10.
Deputy Prime Minister and Foreign Minister Pham Binh Minh (R) meets with UK Foreign Secretary Jeremy Hunt on October 10. (Photo: VNA)
They said fine bilateral relations over the past 45 years have laid an important foundation to further strengthen their strategic partnership, which was established in 2010.
Speaking highly of the outcomes of strategic dialogue on diplomacy, national defence-security in Hanoi in January 2018, both sides vowed to work closely together at multilateral forums, especially the United Nations and the Asia-Europe Meeting.
On trade-investment, they welcomed the possibility of accelerating negotiations on Vietnam – UK Free Trade Agreement in order to enhance bilateral trade and investment after the UK leaves the EU.
Hunt also promised to push forward the signing and ratification of the EU – Vietnam FTA.
About the East Sea issue, the two sides agreed with the principle of settling disputes by peaceful means in line with international law, especially the 1982 United Nations Convention on the Law of the Sea.
The UK side highlighted support for law abidance, security, safety and freedom of navigation and overflight in international waters and oceans.
Meeting Prince Andrew, Duke of York at Buckingham Palace on October 9, Minh expressed his honour to visit the UK on the occasion of the 45th anniversary of bilateral diplomatic ties and wished that the British Royal would continue backing Vietnam – UK strategic partnership.
He suggested that the Prince, with his prestige and influence, calls for UK investment in Vietnam, especially in start-ups and innovation.
Andrew, for his part, said he holds special sentiment towards Vietnam and its people and wished that the Vietnamese government would offer all possible support to UK investors to do business in the country as potential of bilateral collaboration remains huge.
He expressed his readiness to help the two nations' firms share information and assist Vietnam in building start-up ecosystem and training workforce in high technology.
On the occasion, Deputy PM Minh presented Friendship Order to Prince Andrew in honour of his contributions to Vietnam – UK ties.
During a conversation with Lord Fowler, Speaker of the House of Lords, Minh said Vietnam always highly values the strengthening of strategic partnership with the UK, with cooperation between the two legislatures as an important channel.
He asked the two countries' legislatures and lawmakers to foster bilateral and multilateral collaboration, increase the exchange of delegations and meetings on the sidelines of important multilateral parliamentary forums such as the Inter-Parliamentary Union and the Asia-Europe Meeting.
Fowler affirmed that the House of Lords will back the reinforcement of the extensive development of Vietnam – UK relations for prosperity of each country and benefits of their people.
Speaking at the Vietnam – UK Economic Forum that attracted over 200 leading UK and Vietnamese firms on October 9 afternoon, Minh affirmed that Vietnam considers the development of trade and investment with the UK a pillar in bilateral strategic partnership.
He highlighted Vietnam's advantages such as a huge market, high-quality workforce, constructive government, global integration with 16 FTAs which are already in force and under negotiation, digital infrastructure ready for the fourth industrial revolution and start-ups.
Ed Vaizey, Minister of State at the Department for Business, Innovation and Skills and UK Prime Minister's Envoy of Trade to Vietnam, hailed Vietnam as a promising market and a gateway for UK firms to access ASEAN and other markets via a series of FTAs.
He encouraged UK firms to seek business opportunities in Vietnam in the fields of finance, infrastructure, health care, innovation and education, affirming that the UK government always helps enterprises increase investment in Vietnam via programmes initiated by the UK Trade and Investment (UKTI) department, credit for export programme and annual activities of the Trade Envoy to Vietnam.
Deputy Minister of Industry and Trade Hoang Quoc Vuong and representatives from the Ministry of Planning and Investment's Foreign Investment Agency and the Vietnam Chamber of Commerce and Industry talked about specific business opportunities in Vietnam.
On the evening the same day, Deputy PM Minh attended a ceremony celebrating the 45th anniversary of Vietnam – UK diplomatic ties.
Speaking at the event, he spoke highly of gigantic progress in bilateral ties over the past 45 years, especially since the establishment of strategic partnership in 2010.
He said political trust has been strengthened via meetings between leaders of ministries and agencies, joint work at regional and global forums. Two-way trade hit 6 billion USD last year while people-to-people exchange has been increased via education and humanitarian activities, and tourism.
At present, there are some 120,000 Vietnamese students pursuing education in the UK. The number of visitors from the UK to Vietnam rises over years, amounting to more than 300,000 last year.
Each year, doctors from the Facing the World organisation conducts free facial surgeries to Vietnamese children. The UK also assisted Vietnam in the hand-over of field hospital in South Sudan within the framework of the United Nations Peacekeeping Mission.
The Vietnamese official said Vietnam welcomes the Vision "Global UK" and called on the UK to make positive contributions to peace, stability, cooperation and development in Asia-Pacific.
In his speech, Minister of State for the Foreign and Commonwealth Office Mark Field hailed Vietnam's improving stature in the region and believed that ties between both sides will thrive in the near future.
On the occasion, Minh presented friendship orders and medals to several UK inpiduals in recognition of their contributions to bilateral friendship.
Earlier the same day, Minh held meetings with Secretary of State for International Trade Liam Fox, Lord Astor, Minister for the Cabinet Office David Lidington, and representatives from several UK firms./.
VNF/VNA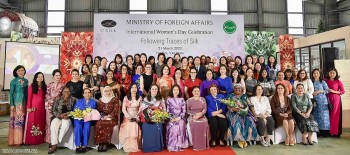 Friendship
Female ambassadors, representatives from diplomatic corps and international organizations, along with spouses of diplomats in Vietnam gathered together to find about more about silk weaving and silk products in Vietnam.