Vietnamese chef named 2017 Best Chef Hotelier in Asia
Nguyen Cong Chung the first Vietnamese chef to win an international award.
Nguyen Cong Chung the first Vietnamese chef to win an international award.
Photo: Sheraton Hanoi Hotel
Mr. Nguyen Cong Chung, Executive Chef at the Sheraton Hanoi Hotel, has been named Asia's Chef Hotelier of the Year at The Hotelier Awards, which honors inpiduals with outstanding achievements in hospitality in Asia.
Competing with hundreds of chefs from 70 hoteliers in 14 countries, Chung was selected from five chefs in the final round. All work at leading luxury hotels, such as Ritz-Carlton or Four Seasons in Bali, Indonesia, or Marriott in Singapore. He was then named the winner for his excellent performance and contribution to cuisine and the development of young talent in the hospitality sector.
In winning the award, he has made an important mark for Vietnamese cuisine as the first Vietnamese to be recognized at prestigious international awards, which can act as bridge for Vietnamese cuisine reaching out to the world.
Chef Chung is also the first Vietnamese chef to be appointed as an Executive Chef at an international five-star hotel. He has 22 years of experience in cusine and has spent a lot of time guiding and developing young people in the field.
2017 was the fourth holding of The Hotelier Awards.
VNF/Vn Economic Times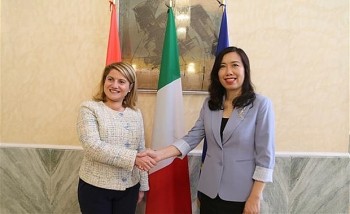 Friendship
The Vietnam - Italy political consultation is part of the occasion of the 50th anniversary of diplomatic ties and the 10th anniversary of the framework of the strategic partnership.