Vietnamese peacekeeping soldier and the special gift for African kids
Coming back from Central Africa Republic in June, Lieutenant Colonel (Lt.Col) Le Ngoc Son brought back home the love and respect of local kids whom he had volunteered to become their teachers.
In 2017, Lt.Col Le Ngoc Son and four comrades of the Vietnam Department of Peacekeeping Operation embarked on their journey with the United Nations Multidimensional Integrated Stabilization Mission in the Central African Republic (MINUSCA). Their mission was to maintain peace, stability and contribute to the cause of national development in the country which had long been devastated by civil war.
During one year of service in Africa, Son had volunteered to become the teacher of over 150 local students.
Bumpy road to school
Central Africa Republic is an unstable country. Murder, robbery, rape were hauling the people for decades, forcing them to leave their home for evacuation. For a decade, violence, poverty have blocked the kids' way to school.
Even in the capital city of Bangui, which is considered the best place in Central Africal Republic, many children cannot get access to education. Instead of going to school, everyday they stray on the streets, begging others for food, and rest under the roof of churches when the night comes.
More dangerously, in addition to poverty and hunger, without education, these children are facing higher risks of being murdered, raped, trafficked or are forced to engage in violent conflict.
Lt. Col. Le Ngoc Son and his students in Central African Republic (source: VNPCK)
Keep in mind the dream to better the life of Central Africa's kids, besides fulfilling his mission as a peacekeeper military officer in the country, Lt.Col Le Ngoc Son had dedicated his effort to working as a free tutor for a group of four neighboring kids. At the beginning, language barrier posed him a huge challenge, as Son only spoke English while the students' main language was French.
Therefore, while tutoring the kids, Son also asked them to teach him simple French words and phrases.
Little by little, the soldier could use his basis French to show his students how to do simple calculation. However, his language proficiency was not enough for him to guide them on learning mind map. When facing difficulty, he had to rely on the help of a translation app on smart phone to convey his message to students, despite sometimes it was incorrect.
The start of a formal class
In order to reach out to more students, in a meeting with the Mission's leaders and staff, Lt.Col. Son proposed his idea of setting up a formal class in a local school, with the assistance of a translator. Even though his proposal was highly appreciated by Lieutenant General Balla Keita, Commander of MINUSCA, after two weeks of feasibility research, his plan still failed to be implemented.
Son didn't give up. Instead, he try to contact civil forces, humanitarian organizations and active inpiduals working in charity including UNICEF. His perseverance had finally won. Not long after that, a Mathematics class which taught on weekend was opened in Don Bosco center, a street kids supporting center, located 17 km away from the dormitory of Vietnamese peacekeeping forces.
Lt.Col. Le Ngoc Son in a meeting with representatives of University of Bangui (source: The World and Vietnam)
Thank to the help of charitable workers, Son got the contact of the St.Charles highschool in District 2 of Bangui, located 3 km from his place. After listening to Son's proposal, the school accepted to provide him a class which could accomodate over 30 students of age 8-14, who were taking a foundation course of French language and Mathematics before beginning primary school.
According to Son, after getting access to teaching facility, the most challenging task was looking for translator. Despite many peacekeeing officers in MINUSCA were fluent English and French speakers, they could not help due to busy working schedule. Son decided to look for translator from the University of Bangui, the only one university of Central Africa Republic. Fortunately, the school supported the endeavour and assigned 5 brilliant students to work as his assistants.
A class of the Vietnamese soldier-teacher (source: The World and Vietnam)
That was how Son built up five classes from scratch. Every day, before going to work at MINUSCA, he spent 45 min to teach at St Charles highschool. On Saturday and Sunday, he taught four classes of students of grade 3 to 10 in Don Bosco. In the afternoon, he continued to tutor his four first students, the 4 neighboring poor kids.
Inspiring teacher
Son'effort had paid off. His students got more and more interested in learning, and expressed their excitement everytime he came to the classroom. There was no barrier between the Vietnamese teacher and kids of Africa. The kids were overjoyed when the teacher greeted them in their dialect, and enthusiastically raised their hands when the teacher posed a question.
The delivery of knowledges and motivation are forever the best gifts one can give.(source: We Choice Award)
In addition to teaching his students what were written in textbooks, Son also inspired them to strive for the better "There are a lot of thing you can do to change your life". "Life might be very taught, but the belief, patience and determination will lead you to a bright future that your effort deserve."
A thank-you letter of an African student to the Vietnamese teacher before he came home. Source: We Choice
In June 2018, Son completed his mission in Central Africal Republic and came back Vietnam. But the inspiration he gave will continue to accompany the students in later years.
Son once said "Peacekeeping force are not allowed to give locals food or any materialistic thing, so I decided to fill their mind with knowledges."
The delivery of knowledges and motivation are forever the best gifts one can give./.
( Translated by Phi Yen )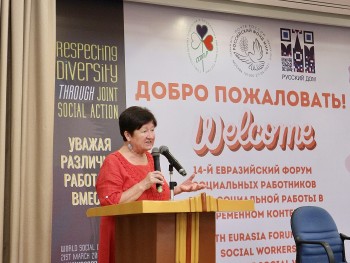 Friendship
The 14th Eurasia Forum of Social Workers Opens was held in Hanoi on March 20-21 with the theme of "The role of social work in the current context."