Vietnamese President's Trip to Promote International Cooperation in Response to Global Challenges.
Major media outlets of the Czech Republic have made positive comments on Vietnamese State President Nguyen Xuan Phuc's speech at the recent 76th UN General Assembly, calling for multilateral cooperation and observation of international law in addressing global challenges.
President Nguyen Xuan Phuc delivers a statement at the high-level open debate of the UN Security Council on Climate Security on September 23 (local time) in New York (Photo: VNA)
The visit to Cuba from September 18-21 and working trip to New York, the US, from September 21-24 of President Nguyen Xuan Phuc and a high-ranking delegation bear great significance and meet all set targets, according to Foreign Minister Bui Thanh Son.
In addition, the President's trip has won the support of the international community for Vietnam's efforts to control the pandemic and restore socio-economic development. FM Son noted that besides the 1 million doses of vaccine from Cuba which are brought home on the President's flight back home, many partners have pledged to provide and sell vaccines to Vietnam. For example, the Republic of Korea promised to deliver more than 1 million doses of vaccine in mid-October and Hungary pledged to immediately deliver 400,000 doses. The Northwestern Medicine group will provide medical equipment worth 3.8 million USD, the Thermo Fisher, 270,000 test kits worth 2 million USD and David Duong, an overseas Vietnamese, 1,000 ventilators, reported the VOV.
The diplomat also highlighted that during the President's trip, many leading groups signed contracts and agreements worth billions of USD with Vietnamese counterparts. The trip also helped strengthen the international business community's trust in Vietnam.
Vietnam receives more COVID-19 vaccines, medical equipment
At the same time, a Bamboo Airways plane also returned to Hanoi from the United States, transporting hauls of medical equipment and supplies donated by US partners.
State President Nguyen Xuan Phuc returns to Vietnam from his working trips to Cuba and the United States, bringing home hauls of vaccines and medical supplies for COVID-19 fight. (Photo: VNA)
President Nguyen Xuan Phuc and his entourage paid a working visit to Cuba from September 18-20. They then flew to New York to attend the 76th session of the United Nations General Assembly.
During his stay, President Phuc took advantage of his meetings with heads of State and government and leaders of international organisations to promote vaccine diplomacy, aiming to garner their vaccine and medical equipment support for Vietnam.
The government of Cuba donated 1.05 million doses of its Abdala vaccine to the government of Vietnam to combat COVID-19. Other countries and partners were also committed to providing Vietnam with 1.5 million doses of COVID-19 vaccines.
The United States pledged to deliver a large amount of vaccines to Vietnam through the COVAX Facility in its coming rollout.
During President Phuc's visit to Pfizer, the US vaccine manufacturer was committed to delivering 31 million doses of its vaccine under a signed contract with Vietnam this year, and another 20 million doses for children as soon as the vaccine is approved in the US.
Czech media outlets laud Vietnam's multilateral cooperation stance
Halonoviny.cz publishes an article highlighting Vietnam's view on promoting multilateral cooperation and upholding international law in addressing global challenges including COVID-19, climate change and maritime disputes.
Halonoviny.cz highly appreciated Vietnam's proposal to promote international cooperation in response to the COVID-19 pandemic, with priority given to providing vaccines to countries with a low vaccination rate, and at the same time creating favourable conditions for developing countries to cooperate in vaccine production and engagement in vaccine supply chains.
The online paper also shared Vietnam's view that countries should increase cooperation to deal with and mitigate the negative impact of climate change such as natural disasters, environmental pollution, and biodiversity degradation.
Developed countries need to provide poor and developing countries with finance, technology and capacity building to reduce greenhouse gas emissions, and prevent and mitigate natural disasters towards a green and circular economy.
Meanwhile, parlamentnilisty.cz also published an article highlighting President Phuc's speech on promoting multilateral cooperation and upholding international law with the United Nations playing its central role in solving global challenges, including the East Sea ( Bien Dong Sea or South China Sea) issue.
President Nguyen Xuan Phuc.
According to the author, Vietnam's view is consistent with the current movement of the multipolar world, which requires cooperation and joint efforts of the international community in responding to global challenges.
The author stressed that Vietnam shows a strong determination to join ASEAN in settling the East Sea (Bien Dong Sea or South China Sea) issue by peaceful measures based on international law, including the 1982 United Nations Convention on the Law of the Sea (UNCLOS), contributing to preventing conflicts for peace and cooperation and development in the region and the world at large.
VOV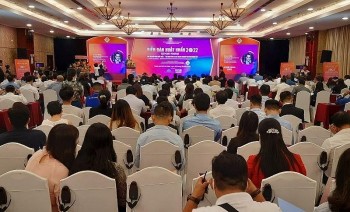 Focus
Vietnam News Today (Dec. 9): Vietnam - Singapore innovation centre helps firms transform production; HCM City among most searched destinations by travelers; Vietnamese digital technology industry's revenue estimated at 148 billion USD in 2022; Two Vietnamese films up for consideration at Oscars.