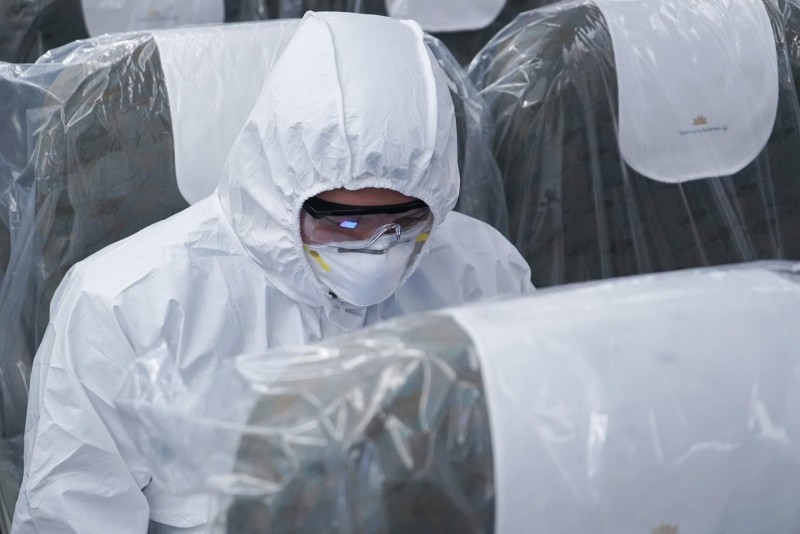 Vietnam's efforts in Covid-19 combat receive big applause from international friends.
However, Vietnam has still attempted to control the situation with different scenarios proposed to limit the maximum infected cases. All proper measures to avoid possible contractions among people including health declaration and examination are also implemented strictly following directions and proper facilities to accommodate, quarantine and cure Covid-19 patients are considerably prepared.
No sooner had the first case been confirmed in earlier February than Vietnam determined and quarantined people returning home from China's Wuhan epicenter. Just three weeks later, 16 infected people were confirmed to have recovered and no new positive case was detected until March 6 when a 26-year-old woman returned Hanoi from a trip to Europe, who later confirmed positive with Covid-19.
"The country has achieved the first improvement in the combat with Covid-19 with the test kit to diagnose coronavirus infection in just one hour, keeping up with those from China, the U.S., Japan, Germany", VNA reported.
Earlier this month, Sputnikradio of Russia praised Vietnam's efforts to combat the COVID-19 outbreak in its programme on March 4, saying Vietnam has become a phenomenon in the world with 16 positive cases cured and no deaths having been reported.
Analyzing the factors contributing to the country's success, Sputnik said Vietnam's medicine, which combines Eastern and Western approaches, has met high international standards, and Vietnam's current efforts to contain the spread of SARS-CoV-2 that causes COVID-19 have demonstrated the level of the local healthcare services.
Director-General of the World Health Organisation (WHO) Tedros Adhanom Ghebreyesus has noted that despite long border with China - COVID-19 epicenter - Vietnam has deployed timely, effective preventive measures against the outbreak, and praised Vietnamese senior leaders' political commitments as well as the resolve of agencies and localities.
Kidong Park, WHO's Chief Representative in Vietnam, said that Vietnam should continue its effort in containing the COVID-19. They believed in Vietnam's leadership and its measures and the WHO will continue to support as much as possible. The WHO has warned countries, including Vietnam, that while trying to prevent the epidemic from spreading, they should prepare for COVID-19 infection in the community.
"Three weeks after its first case of coronavirus was confirmed, it seems the Southeast Asian country has achieved something South Korea and Italy have not, by containing the virus. Vietnam has had no confirmed cases since February 13, and all 16 people who were infected have recovered.Israeli Haaretz news published an article titled "What Israel Can Learn From Vietnam on How to Beat the Coronavirus", in which an ex-Israeli doctor who works in Vietnam expressed his praise on how the country quickly contained and quarantined people to avoid possible contractions.
Besides, foreigners who experienced the health care system in Vietnam during the pandemic period also expressed their wows on social media platform. On twitter the account Emerican Johnson affirmed he was in good condition in Vietnam and praise the healthcare response of the country.
In reply to the tweet, the Norwegian account was "in awe at how well the Vietnamese government had handled this situation".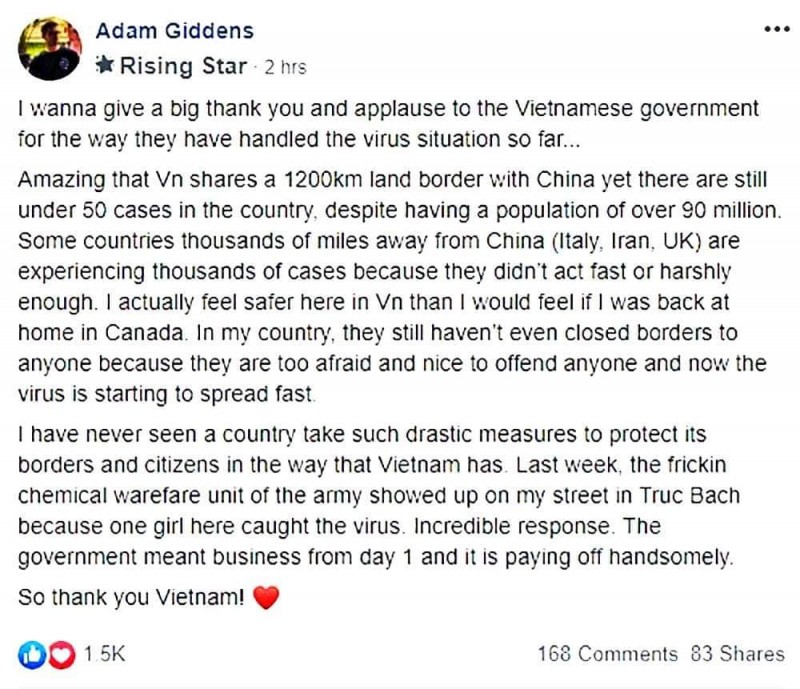 A post on Facebook of a Canadian who is living in Hanoi.
On a group on Facebook, a Canadian account sent big thanks and applause to Vietnam for having such drastic measures to constraint the threat of Covid-19. "I actually feel safer here in Vietnam than I would feel if I was back at home in Canada," the account wrote. Following the post, a number of "couldn't agree more" comments were replied.
In a latest effort to detect and quarantine suspected exposed people, Hanoi authorities decided to support VND 100,000/day (US dollars 4.5) per day for all isolated people, despite nationalities, in hospitals, quarantine centers, and at homes
Ha An/VNT