Viettel provides electronic signature document system in Haiti
Mr. Fritz Caillot (L) and Mr. Ha The Duong at the signing ceremony for the project  
Natcom, a joint venture between Télécommunications d'Haiti S.A.M (Haiti) and Viettel (Vietnam), have signed an agreement to provide an electronic document system, N-Office, to the Haitian Ministry of Public Works, Transportation and Communications.
This was the first cooperation service between Natcom and the Haitian Government, paving the way for the telecom provider to further develop an e-government project in Haiti.
The N-Office is a version of the original V-Office developed by the Vietnamese military-run telecoms group, Viettel, for the Haiti market.
Once operational, the system will make contributions to facilitating administrative activities of agencies under the Haitian Government.
The Haitian Minister of Public Works, Transportation and Communication, Fritz Caillot, suggested that Viettel's product will help improve the ministry's task performance quality.
Meanwhile, Natcom CEO, Ha The Duong underlined that the US$ 60,000 N-Office project marks the beginning of further cooperation between the company and the Haitian authorities.
In Vietnam, the V-Office is successfully operating in units of the Nam Dinh Provincial People's Committee./.
( VNF/PANO )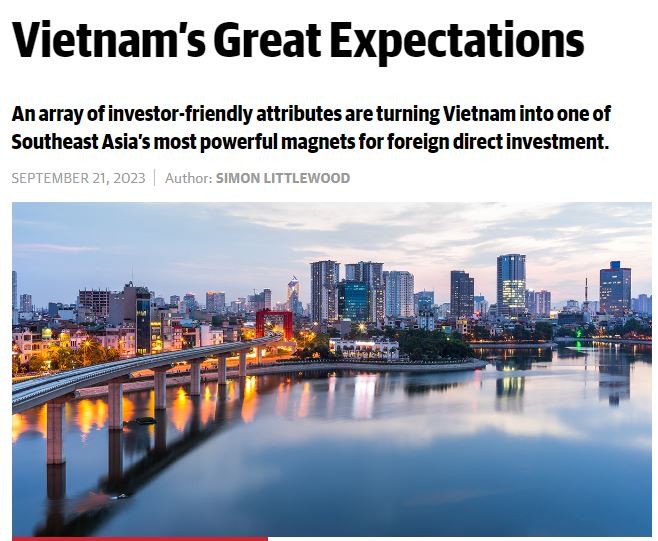 Economy
"An array of investor-friendly attributes are turning Vietnam into one of Southeast Asia's most powerful magnets for foreign direct investment," said Global Finance Magazine in a recent article.
September 23, 2023 | 16:38
Economy
Vietnam has a fast-increasing semiconductor ecosystem and possibilities to improve its position in the global supply chain. In the joint announcement of the US-Vietnam Comprehensive Strategic Partnership, the two countries acknowledged Vietnam's significant potential to become a key nation in the semiconductor industry, adding they "are supportive of the rapid growth of the semiconductor ecosystem in Vietnam."
September 22, 2023 | 09:22