Vinh Long: COPI scholarships presented to over 50 needy students
Recently, Children for Peace of Vietnam (COPI) and the Vinh Long Union of Friendship Organizations held a ceremony to present 10,000 writing tablets to 500 students and 50 scholarships to local outstanding students.
Scholarships handed over to poor students with outstanding performance during a local ceremony. Photo: Vinh Long Union of Friendship Organizations.
As the new school year approaches, the scholarships include school uniforms, school supplies and school registration fees delivered COPI scholarship to local needy students in Trung Chanh and Trung Hieu communes (Vung Liem district), and ward 4 (Vinh Long city). The scholarships include school uniforms, school supplies and school registration fees.
Believing that education is the solution to bring the next generation out of poverty, COPI launched the "Scholarships to our Scholars" program in 1999.
"Children of Peace International" (COPI) is a charitable organisation, founded in 1996 and operating in both Vietnam and the U.S. The organisation has been honored with the World Service Medal Award for its dedication to the community.
Since 1997, COPI has been hosting medical missions trips each spring and summer to poor and remote areas. The medical teams are made up of both American and Vietnamese, medical and non-medical professionals.
At each clinic COPI set up a hygiene station to teach the patients the proper way to brush their teeth and wash their hands before meals and after restroom use. The patients will have their faces washed, hands scrubbed and teeth brushed before entering the clinic. COPI provide patients with plenty of information and posters to encourage healthy hygiene practices.
The triage station will collect vital information from each patient. COPI's medical physicians not only give general exams but they also consult on methods of treatment for serious illnesses. In addition, COPI provides financial aid for continuing local care, if needed. To each patient who needs it COPI gave free medicine to treat their illness plus three to six months of vitamins. COPI also offer free prenatal vitamins to all pregnant patients for the duration of the pregnancy.
Just a few days ago, COPI finished their clinic project in needy areas in Phu Tho, Quang Nam, Khanh Hoa provinces. Little Rose shelter (district 7, Ho Chi Minh city) was COPI's last clinic for Mission Summer 2019. This shelter is home for a couple dozen of girls who are all in very difficult situations.
All children from the shelter had received general check-ups, dental health check and been trained on the importance of regular teeth brushing and hand/face washing, thanks to the training by COPI hygience team./.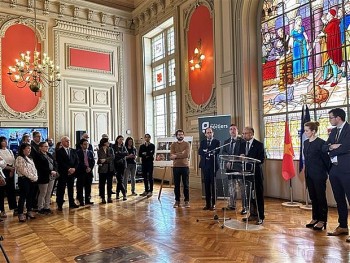 National
Vietnam News Today (Mar. 26): Vietnam and Thailand promote labour cooperation; Vietnamese, French localities look to step up cooperation; Attractive incentives on offer at Hanoi Tourism Festival 2023; E-commerce accounts for 60% of Vietnamese digital economy.