VN fashion industry faces threat of takeover by foreign brands
Early in November NEM Vietnam, the second largest women's apparel maker in the country, said on its website that it and Stripe International, a Japanese fashion retailer, had begun negotiations for the latter to acquire a stake in NEM.
Early in November NEM Vietnam, the second largest women's apparel maker in the country, said on its website that it and Stripe International, a Japanese fashion retailer, had begun negotiations for the latter to acquire a stake in NEM.
Around 4,000 people queued up outside and a total of 10,000 visited on the opening day of Swedish brand H&M.— Photo vnexpress.net
According to Hanoitimes, Stripe wants to take over the fashion business of NEM since it owns the NEM women's fashion brand, which has huge potential with 44 stores across the country and its target customers being women aged 20-40. NEM's revenue is expected to rise by 20 per cent this year to US$26 million.
The newspaper also quoted Yasuhary Ishikawa, the president of Stripe, as saying the acquisition of NEM is part of the company's plans to enter the Vietnamese fashion market.
Though NEM has not made an official statement yet on the deal, analysts expressed concern that the fashion industry could possibly be taken over by foreign businesses in the near future.
Industry insiders said the worry is not without basis since Vietnamese consumers, particularly young people, love foreign fashion brands.
For instance, when Swedish brand H&M opened its first store last September 9, a two-storey 2,200-square-metre flagship at Vincom Đồng Khởi in Hồ Chí Minh, 4,000 people queued up outside and a total of 10,000 visited on the opening day.
When Zara opened its first store in the same mall last year, it reportedly achieved sales of VND 5.5 billion (US$246,000) on the first day.
Other popular fashion brands, such as Topshop and Mango have also recently entered the affordable segment in Việt Nam, with the former opening four stores.
Why exactly are such famous foreign fashion brands interested in the Vietnamese market?
A recent Nielsen survey found that fashion is one of the categories people are most interested in, with fashion third behind only food and savings as a destination for people's money.
On average, Vietnamese spend VNĐ100 trillion (US$4.05 billion) on clothing every year.
Việt Nam has the third largest number of people with a passion for branded clothes in the world after China and India.
Data from the Việt Nam Textile and Garment Group shows that the apparel industry is growing at a whopping 20 per cent a. The value of the market now is $4.5 billion a year.
The entry of famous foreign fashion brands is naturally intensifying the battle over prices, designs and international features.
The Việt Nam Retail Association said there are more than 200 foreign fashion brands, making up more than 60 per cent of the market, selling a range of products from popular to luxury.
Some once very famous local brands like Blue, Foci, Việt Thy, Ninomaxx, N&M, Sifa, PT 2000, Sanding, and Đan Châu are seeing their space shrink and have had to downsize.
For instance, Thời Trang Việt Company, which used to be "a phenomenon" in the fashion market, has reduced its number of stores from hundreds at one time to just 60 now.
Việt Thy has only five stores left, Maxx Style is gone, Blue and PT 200 have to rent spaces at supermarkets and malls instead of having their own shops on high streets as they used to.
Some analysts say this situation is not just due to the consumers' fondness for foreign brands but also domestic players' lack of competiveness.
A majority lack deep pockets, talented designers and good management skills and persist with outdated marketing strategies. Thus, the domestic players cannot compete with foreign brands either on quality or on price.
Banks woo foreign investors
Nguyễn Thị Phương Thảo, vice president of the Hồ Chí Minh Development Joint Stock Commercial Bank (HDBank), has revealed that her bank plans to sell 20 per cent stake for US$300 million to foreign investors before listing on the Hồ Chí Minh Stock Exchange early next year.
She said the stakes would be sold to several foreign investors from Hong Kong, Japan and South Korea. Việt Nam only allows a foreign investor to own a maximum of 5 per cent in a bank.
HDBank is now traded on the Over-The-Counter (OTC) market at VNĐ27,000-28,000.
For the first nine months of this year the lender reported nearly VNĐ2 trillion (US$88.2 million) in pre-tax profit, three time the profit in the same period last year. Its assets top VNĐ174 trillion ($7.67 billion).
For the full year HDBank expects pre-tax profit of VNĐ2.4 trillion ($105.8 million), which is expected to jump to VNĐ3.9 trillion (roughly US$172 million) next year.
Sài Gòn Commercial Joint Stock Bank (SCB) also said it was in talks with some banks, investment funds and insurance companies from Norway, Indonesia, Taiwan, and mainland China to identify strategic investors.
It hopes to find players from the finance industry so that they can help improve its financial capacity, speed up its restructuring and bad debt settlement efforts and accelerate its development.
SCB's biggest attraction is that it is the first lender to be allowed by the Government to sell a 50 per cent stake to foreign partners, which is expected to bring in at least US$700 million.
VPBank also plans to sell 5 per cent of its total common stock, the maximum it is allowed to under the law, to the World Bank's International Finance Corporation as approved at a shareholders meeting a few months ago.
The move is expected to help VPBank, whose foreign shareholding is now at 22.34 per cent, convert its commercial loans into equity.
Analysts said the biggest obstacle to banks' efforts to find foreign strategic investors remains Decree No.69/2007/NĐ-CP, which stipulates a cap on foreign ownership.
It limits foreign investment to 30 per cent in case of banks.
The limit takes away the attraction foreign investors have for banks since they have little chance of influencing the management.
Many bankers have proposed that the cap be raised to 35-40 per cent.
SBV Governor Lê Minh Hưng has also stressed the need to increase the foreign ownership cap at banks, saying it encourages lenders to attract investors with deep pockets.
For banks, increasing their chartered capital is a key task in implementing the high benchmarks of the Basel II Accords in the coming years.
Hưng said however that increasing the foreign ownership cap is a complicated issue since it has been thoroughly discussed since Việt Nam acceded to the World Trade Organisation and so needs to be considered carefully before being changed.
The Government grants special approval for higher foreign ownership on a case-by-case basis.
Banks who want to have their foreign ownership caps increased need to seek permission with proper reasons.
VNF/VNS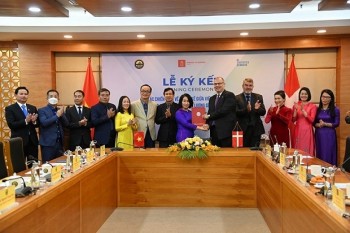 Friendship
Denmark will support Vietnam with about US$1 million to carry out a project on improving the quality of official statistics