WEAVE project: Brighter future for female farmers in Thanh Van (Bac Kan)
(VNF) – Just one year ago, women in Thanh Van commune, (Cho Moi district, Bac Kan) might not dare to imagine that one day banana fruits can lift them out of poverty, relieving the livelihood burden, paving way to a brighter future.
(VNF) – Just one year ago, women in Thanh Van commune, (Cho Moi district, Bac Kan province) might not dare to imagine that one day banana fruits can lift them out of poverty, relieving the livelihood burden, paving way to a brighter future.
Farmers in Bac Kan harvesting bananas (source: CARE VN)
Flashback on the difficult time
Tran Thi Hoa (aged 34, Tay ethnic group) is a resident of Na Don hamlet, Thanh Van commune (Cho Moi district, Bac Kan province).
Hoa, her husband and their two children are living in a glazed-tile floor house, with metal roof, equipped with television, refrigerator and gas stove.
It might not be anything new in many rural areas of Vietnam nowadays.
However, in a commune like Thanh Van, with 137 impoverished households, people have yet to have a stable income, Hoa's family is really a bright spot.
More specially, the expense for upgrading the house and purchasing all the interior appliances were covered by the earnings from banana fruits.
Banana has been part of Hoa's family's livelihood since 2008. Besides selling homegrown bananas, which cover an area of 2 hectares, Hoa and her husband also worked as a link in the supply chain in the village.
They buy in bulk bananas in the area to pass to end buyers - the Chinese wholesalers.
In over the last 9 years, Hoa's experience with the fruits was not always as sweet as it tastes, but bitter and sour some times.
Banana is the traditional fruit in Hoa's hometown, however, due to the unstable market (majorly depending on Chinese buyers), lack of a formal distribution system, the business of farmers in Thanh Van commune faced a lot of ups and downs.
The depression hit the area in 2015, when demand for banana plummeted dramatically since most Chinese buyers suddenly withdrew from the market.
One kg of banana, during that time, costs VND 1,000 – 1,500 or even dropped to only VND 500.
In addition to unstable price, Thanh Van banana also suffered from another disadvantage, which is the look.
There is a saying "Don't judge a book by its cover", however, in this case, the look still matters.
Due to the modest size, inattractive colors, banana of Thanh Van commune, despite its delicious taste and firm texture, still lost the game to its peers in domestic market.
"The hills were covered by riped banana falling off the trees. The farmers even did not think of collecting them. Even if we collected them, it was not for sale, but for the use of feeding buffaloes and fish." Hoa recalled the darkest day of farmers growing bananas in Thanh Van.
Suffering huge loss, having no any idea of what to do next, they even thought of giving up.
After the rain, sun shines again
"If there is a will, there will be a way", and it will be much easier to have someone accompanying you on the journey.
Thing changed in 2016, as banana fruits began to play a significant part in improving Hoa's family's life, as well as other villagers.
Hoa said last year, banana helped her family earn VND 300 million, which accounted for the majority of their total income.
She afterwards spent the money on upgrading her house, purchasing motorbike, buying better stationery for her kids.
The leftover was used to buy more farming land and buffalo to boost family's income in the year to come.
The positive change which took place in Hoa's family, and many other households in Thanh Van commune, is the result of the ongoing project Women's Economic Empowerment through Agriculture Value Chain Enhancement (WEAVE).
WEAVE, sponsored by the Australian Government, is a project jointly conducted by three international non-governmental organisations: CARE, Oxfam,SNV and the Agriculture & Forestry Research and Development Center for Mountainous Region (ADC center).
WEAVE draws on the strengths of the three NGOs, each with extensive experience in Vietnam, with the aim of helping women in the north-western region, one of the poorest parts of the country to achieve greater social and economic empowerment.
Farmers learning farming technique to improve banana quality (source: ADC Center)
Thanks to WEAVE, women in Thanh Van commune like Hoa were provided with a variety of scientific knowledges in agriculture, business, as well as gender equality, paving the way to what they deserve: a higher and more respected position in family and society.
According to Hoa, WEAVE provided her with clear instructions from agricultural experts on farming techniques, which are easy to apply.
Trimming old leaves properly, fermenting organic fertilizer from home garden's materials, are a few among many useful methods Hoa and many beneficiaries of the project are successfully applying to their banana garden during the last one year.
"In the past, I did not want to trim the banana leaves, as I think it would be a waste. However, nowadays I've got access to the right technique. Trimming the old leaves and redundant branches property creates more space between banana trees, therefore the trees receive much sunlight, which help enhance the fruits colors and size, as well as reduce insects. At the same time it helps us save the area of farming land used." she said.
"We've seen clear improvement on the quality of bananas. They grow bigger in size with more eye-catchy color" Hoa said.
In additions, farmers in Thanh Van also received training on value chain, through various workshop and seminars connecting them with prospective distributors. They were also given the opportunity to take part in field-trip to factories, companies that produce banana-related products (powder, chips, etc.), as well as participating in a variety of marketing activity.
Thanh Van farmers visiting banana processing firm (source: ADC center)
Those activities play a significant role in connecting the farmers with the distributors, helping promote the homeland's specialty to more interested clients.
More importantly, farmers in Thanh Van, are more aware of the product standards set by processing firms, which enable them to align their product quality with that requirement.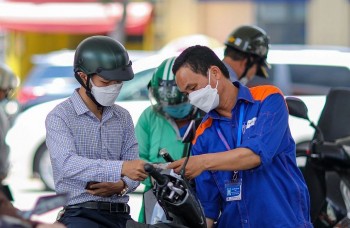 Economy
Vietnam Business & Weather Briefing (Oct 2): Binh Duong lures foreign investors with special care, the North and Central regions continue to have heavy rains, leading to the risk of flooding, flash floods, and landslides.