A jungle book on Truong Son Mountain Range
Readers, especially children, can now go on a journey through one of the wildest and most biodiverse parts of the world - a range of rugged mountains bordering Laos and Vietnam, the Truong Son Mountain Range.
Readers, especially children, can now go on a journey through one of the wildest and most bioperse parts of the world - a range of rugged mountains bordering Laos and Vietnam, the Truong Son Mountain Range.
A bilingual book, Wonders of the Annamites, was launched Sunday (December 4th) in Hanoi by Nha Nam Culture and Communications Company.
The cover of the book "Wonders of the Annamites." (Photo courtesy of Eric Losh)
The story follows a local father, daughter and son on a trek to visit their grandmother in this ancient, almost mystical, mountain landscape.
They journey along rivers and through groves of bamboo, past rocky cliffs and into steamy tropical forests - and discover a wondrous world of wildlife along the way.
Children will learn about the rare and recently discovered animal species exclusive to the Annamites such as the Sao La, White-Cheeked Gibbon, Crested Argus, Red-Shanked Douc and other incredible species.
The book comes out from a long-time research project by Laos-based Camille Coudrat, director of a non-profit conservation project called Project Anoulak.
She has teamed up with Eric Losh, an art director and illustrator from New York, to offer colourful illustrations depicting twelve different habitats and 60 species.
"The Annamite Mountains of Laos and Vietnam (Truong Son Mountain Range) are home to an abundance of rare wildlife, and now you can explore the mountain range's natural wonders from your own home," said Coudrat.
Educational project
"For a few years I had in mind a children's book that would feature key species on the Annamite Mountains," said Coudrat.
"This would not only be used at the site where Project Anoulak is working, but all across the region …and beyond. It could also be used in the West to raise awareness of the international community about this very special mountain range and its very special species."
Coudrat said she first became aware of Losh's art through the Holiday cards that he illustrated for the Saola Working Group (of which she is a member).
"They led me to discover more of his artwork, including a beautiful children's book he did in 2013 about primates in Uganda called The Chorus of Kibale. It was clear that he would be a perfect fit for our project."
An Indochinese Tiger (Panthera tigris corbetti) strolls through a bamboo forest past a hidden Annamite Striped Rabbit (Nesolagus timminsi) and its babies. (Illustration courtesy of Eric Losh)
Their collaboration began via a Skype call between the U.S. and Laos.
All the species mentioned in the book are imperiled by habitat loss and rampant poaching, Losh said.
"The situation is grim, and unfortunately, most people outside of conservation circles don't even know that the region exists."
He said he hopes that with the distribution of this book, he and Project Anoulak can raise awareness of local and international communities and also funding for the conservation of the Annamites.
"The Annamite Mountains ecosystem teems with bioperse wildlife, but humans have also been an important part of the landscape for generations. So we would be remiss to not include them in the portrayal of life in the mountains."
Losh said this was why they decided to use a family's journey as a narrative to open and close the story, to give the book some context of the people who live there, and make it relate to their daily lives.
Coudrat came up with a list of the key species she wanted to be illustrated in the book, specifically ones that are endemic, rare, beautiful, iconic, evolutionarily distinct, little known, and highly threatened in the region (and beyond).
Losh spent a lot of time looking through tons of pictures from the field and from camera-traps pre-selected by Coudrat to get a better idea of the details of not just the animals, but everything from orchids to ferns to tree barks.
Many of the illustrations in the book were directly inspired by certain locations in the photos.
"Despite the fact that it remains an illustrated children's book, it was very important for it to be as ecologically accurate as possible, including the representation of certain behaviours of the different species," he said.
The family encounters the rarest animal in the Annamites: the saola (Pseudoryx nghetinhensis). (Illustration courtesy of Eric Losh)
There is a section at the end of the book that provides additional facts and details about all of the wildlife featured throughout.
The authors sought advice, suggestions, and comments from wildlife experts and colleagues working in the region to compile it.
The book will be produced in four language editions as physical and/or e-books in English, English/French, English/Lao, and English/Vietnamese./.
VNF/VNS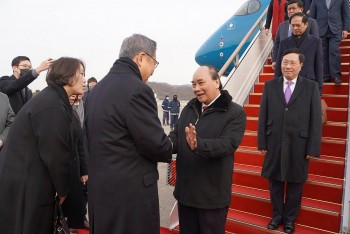 National
Vietnam News Today (Dec. 5): Additional 204 Covid-19 cases recorded on December 4; State President warmly welcomed in Seoul on RoK visit; Vietnam, Venezuela boast potential for fishery cooperation; Northerners feel chill as cold wave intensifies.