Alumni: 'Academic' Ambassadors Connecting UK and Vietnam
The contributions of Vietnamese alumni in connecting Vietnam and the UK were honored at the Gala Dinner "Essence of Convergence - Leading the way to success". It was organized by the British Council in collaboration with the British Alumni Network in Vietnam (UKAV) on the evening of March 10th in Hanoi.
UK Ambassador to Vietnam, Iain Frew said that former British students in Vietnam have been using the skills and knowledge they have learned in the UK to apply in Vietnam. They have been creating successful business models, thereby creating jobs for society.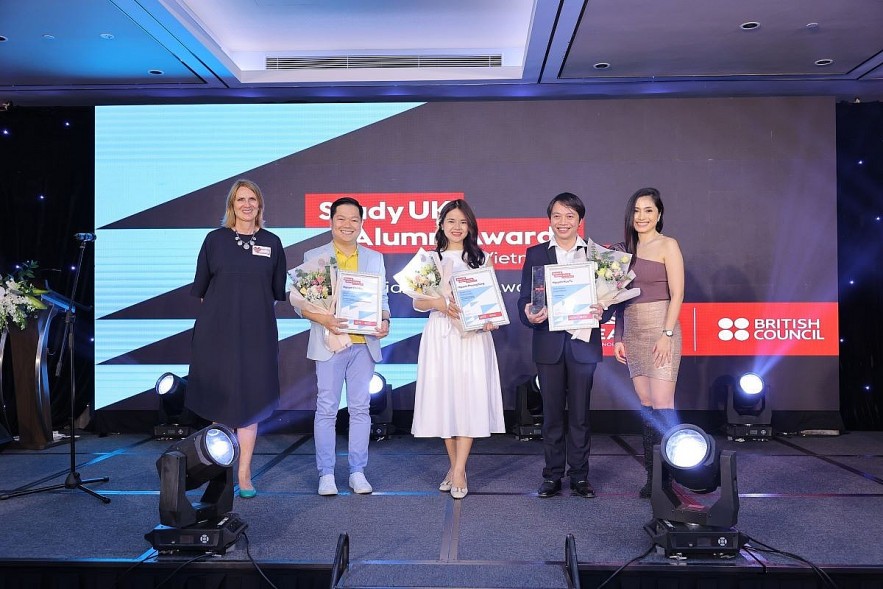 British Council honors one category winner of the UK Alumni of the Year Award 2023. Photo: Vietnamtimes
Nguyen Quang Vinh, Vice President of the Vietnam Confederation of Trade and Industry (VCCI), President of UKAV said that UKAV is honored to connect individuals from different fields. This organization wants to foster a community that supports each other and adds value to one another. UKAV will continue to host special events to inspire, empower and connect with the goal of reaching 10,000 members by 2023-2024.
At the Gala Dinner, the guests were immersed in a space filled with vibrant music. The melodies played are the masterpieces of great British artists. Guests can also enjoy British dishes such as Fish & Chips and Shepherd's Pie.
The British Council has honored the winners of the Student UK Alumni Awards in four categories: science and sustainability, culture and innovation, social impact, and business and innovation.
This award is jointly awarded by British Council UK universities. It is awarded globally with the support of the UK Government.
Established in 2001, UKAV is a gathering place for Vietnamese nationals who have studied in the UK for at least 3 months or more under scholarship programs or self-funded programs.
UKAV's goal is to connect and recognize the contributions of former British students studying in Vietnam; strengthen ties and links between the UK, UK alumni, the British Council, and their institutions. At the same time, creating a solid foundation and a strong network of alumni studying in the UK is a prerequisite for relationship-building opportunities.