Exclusive interview with Ambassador of New Zealand to Vietnam
Ambassador of New Zealand: Support During Pandemic Proves the Real Relations
The Vietnam Times recently interviewed the New Zealand Ambassador to Vietnam, Tredene Dobson, after an exciting announcement about a New Zealand-sponsored pandemic assistance package.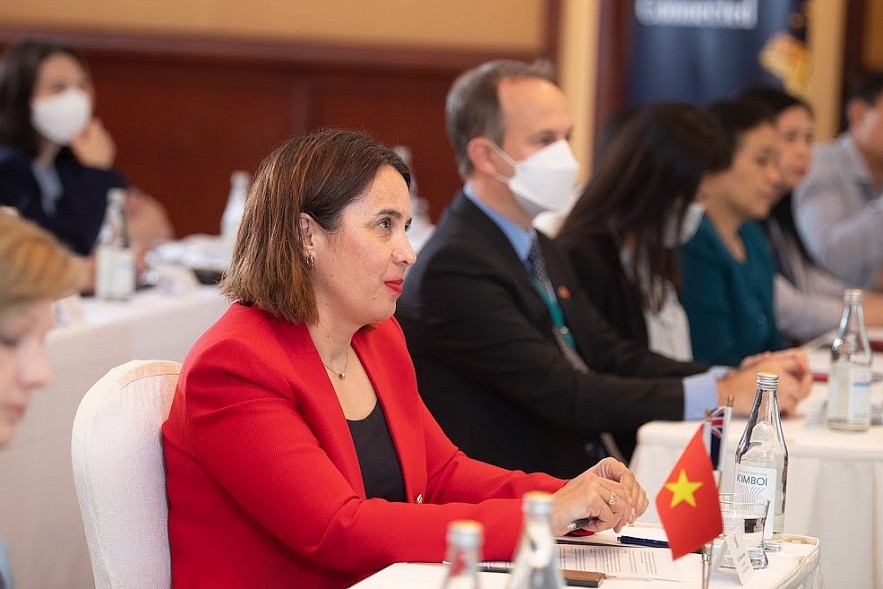 Ambassador Tredene Dobson at the ceremony to announce New Zealand's contribution to support Vietnam's recovery from the COVID-19 pandemic. (Photo: New Zealand Embassy to Vietnam)
A NZ$2 million contribution from New Zealand to support Vietnam's recovery from the Covid-19 pandemic was announced in Hanoi on May 11. The project will include NZ$1 million for medical equipment, provided through UNICEF Vietnam, and NZ$1 million for community-level economic recovery support through CARE International and Oxfam in Vietnam.
After the announcement, the Vietnam Times interviewed New Zealand Ambassador to Vietnam, Tredene Dobson, about the two countries' efforts to support post-pandemic recovery.
How have Vietnam and New Zealand cooperated to support the community, especially vulnerable people, to overcome the pandemic?
Over the past two years, New Zealand and Vietnam have been working closely to exchange experiences and lessons learned from responding to the Covid-19 pandemic. We have kept close contact, we shared similar experiences to Covid in terms of following an eradication approach. Our countries both opened up at the same time and also dealt with the rollout of vaccines at the same time.
The two countries have cooperated in multiple ways, but specifically, in terms of working with the vulnerable communities, New Zealand has found local partners that we can work with to reach support for those who are most affected by providing direct support, including both financial and in-kind support, and ensure that they can be looked after the immediate aftermath of the Covid-19 outbreaks.
What is the package's position in the New Zealand embassy's general strategy?
The embassy's general strategy is always to continue to grow the relationship, making sure to build a real partnership. This package is a two-way exchange. We started by talking with the government of Vietnam about how Vietnam wanted to respond to the recovery phase of Covid and we created this contribution around that.
The partnership is our most important goal. We appreciate the colleagues in the Ministry of Health, the Ministry of Foreign Affairs, and the Prime Minister's Office, who have been really kind to share with us what the needs were in Vietnam so that we could create a response making sure that it targets the right people and that the government of Vietnam wants to go with it.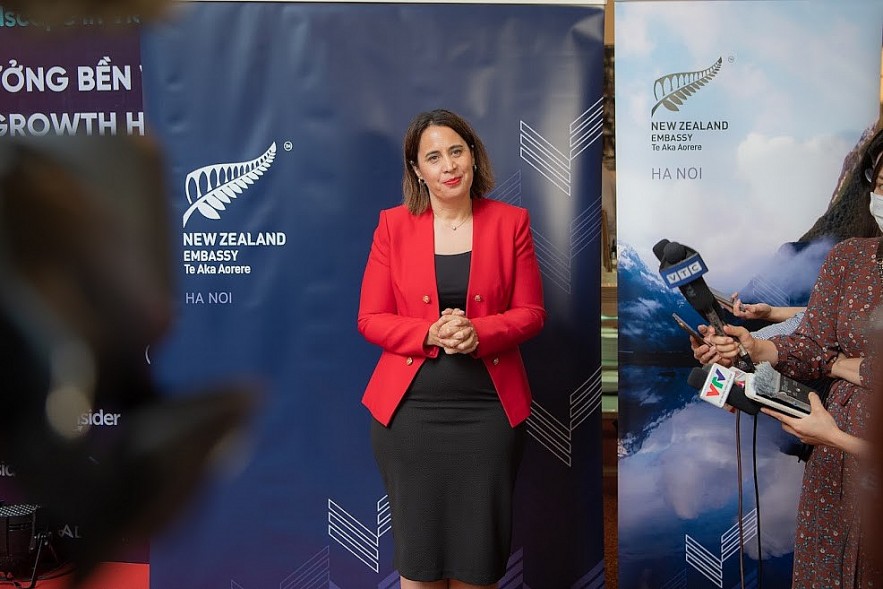 Ambassador Tredene Dobson answers questions from press agencies. (Photo: New Zealand Embassy to Vietnam)
How do you assess Vietnam's vaccine policy?
Vietnam's vaccine policy has been excellent. It has been really remarkable seeing how quickly Vietnam roll out vaccines. I think many countries like New Zealand, starting from a very low base of vaccines, made us all very anxious about the impact of Delta. After seeing Vietnam's very fast response, I want to congratulate the people of Vietnam. I notice how people have been protecting the community, protecting the vulnerable by getting vaccinated. That is very unique in Vietnam.
What is your impression of Vietnam during your term as New Zealand's ambassador?
I have been here a year, unfortunately, because of Covid-19, I have not been able to travel outside of Hanoi much. I am very much looking forward to doing that. Vietnamese people are so friendly, particularly welcoming to me. They know a lot about New Zealand and are very welcoming to New Zealand and New Zealanders. We have been really grateful throughout the pandemic for the support that New Zealand citizens have received in Vietnam. I think it really shows the connection between our countries.
Now that the borders are open, I am so looking forward to having New Zealanders visiting Vietnam again. Before the pandemic, we have 50,000 New Zealanders visiting Vietnam every year. I hope that those 50,000 New Zealanders go back to Vietnam, enjoying this wonderful country.