Apple Vietnam pledges support for affected iPhone users
Apple Vietnam is launching a programme to reduce battery replacement prices for the users that have been affected by the new update which slows older phones.
Apple Vietnam pledges support for affected iPhone users
The Vietnam Competition Authority had asked Apple Vietnam to provide information to customers. Apple Vietnam said they had explained about the problem on their website. In the latest iOS 11.3 update, Apple is adding a setting allowing iPhone owners to avoid a performance downgrade that causes unexpected shutdowns in older iPhones.

Apple Vietnam will reduce the prices of an out-of-warranty iPhone battery replacement from over VND2m (USD87) to VND729,000 no matter if the customers encounter the battery problem or not. Those who didn't buy an iPhone from Apple's distribution network in Vietnam should contact the hotline 1800.1127 for guidance.

Users that still have warranties will have their battery replaced by authorised service providers. The programme is being held from January 3 to December 31.

Customers can also contact with the Vietnam Competition Authority for consultancy.

Last month, Ho Chi Minh City People's Court turned down a lawsuit by two Vietnamese lawyers against Apple over their software that they claim slows down older iPhones due to lack of evidence.

Lawyers Nguyen Ngoc Hung and Tran Manh Tung from Hanoi Bar Association launched a website to encourage iPhone users to register and join the lawsuit. By March 28, over 4,771 people have registered.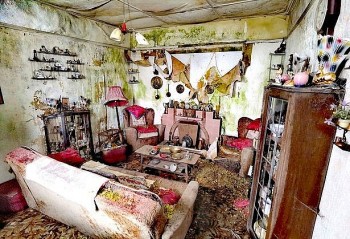 World
An abandoned house from the 1990s, which were pictured by No Limits Urbex, showing the images of furnitures, toys, and other parts of the ruins still remain intact against time and nature.