Aquatic exports fetch over 5.5 billion USD in eight months
According to the Agro Processing and Market Development Authority (AgroTrade), top four markets of Vietnamese aquatic products in the first seven months of this year were Japan, the US, China and the Republic of Korea, with their combined consumption accounting for 56.5 percent of Vietnam's total earnings from the products.
Export revenue of aquatic products in August was estimated at 833 million USD, bringing the result for the first eight months of this year to 5.52 billion USD, a drop of 1.2 percent over the same period last year.
Photo: VOV
In the reviewed period, Vietnam shipped to the US 802.56 million USD worth of aquatic products, up 1.1 percent year on year, while earning 811.07 million USD in the Japanese market.
Strong growth was seen in many markets, including Taiwan (China) (16.3 percent), Mexico (14.6 percent), Malaysia (12.3 percent), and Japan (10.4 percent).
Shrimp and tra fish remained the major export product of the sector. Exports of white-leg shrimps accounted for 25.7 percent of the total export revenue, while that of tra fish made up 24.05 percent of the total.
According to Truong Dinh Hue, General Secretary of the Vietnam Association of Seafood Exporters and Producers (VASEP), after the 13th period of review (POR 13) of anti-dumping tariff on Vietnamese warm-water shrimp exported to the US, 31 Vietnamese firms will enjoy zero percent tax rate in the market.
He held that this is a good chance for businesses to increase export to the US as with the tax rate, Vietnamese shrimp can compete with same product from other suppliers.
Commenting on the shrimp export situation in the future, Hoe said that the demand for shrimp will increase towards the end of the year, thus raising export volume. However, the rise will depend on domestic material supply, he added.
In 2020, bright prospects are forecast for shrimp export, he asserted, adding that the question is whether domestic supply can meet demand.
Meanwhile, Vietnam imported 133 million USD of aquatic products in August, pushing the total for the first eight months of 2019 to 1.19 billion USD, up 3.8 percent year on year./.
( VNF/VNA )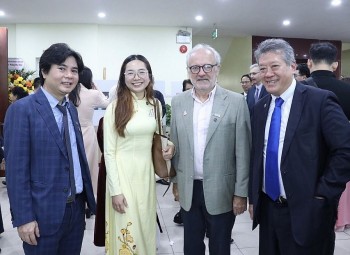 Friendship
Agreeing that the young generation is an important force to promote the friendship between Vietnam and France, many members of the Vietnam-France Friendship and Cooperation Association hope that the Association will hold practical activities to attract the young in its coming term.