Around 15,000 people receive free cancer screening and treatment
Local people wait for their turn for a screen for breast, cervical and colorectal cancer at Hanoi's Vinmec Times City Hospital under a free cancer screening programme launched from September 9 to October 18. (source: NDO)
A free cancer screening programme has been simultaneously launched at 18 medical facilities throughout eight provinces and cities across the country, targeting the early detection of several cancers for around 15,000 people.
The programme, taking place from September 9 to October 18, is sponsored by the Supportive Fund for the Cancer Patients - Bright Future, K Hospital, Thien Tam Fund and Vinmec hospital system, under Vingroup, in collaboration with relevant hospitals.

It aims to raise public awareness on cancer prevention and early detection, while creating habitual routine of screening for early detection of cancer.

It is expected that 15,000 people in eight provinces and cities of Hanoi, Hai Phong, Quang Ninh, Phu Tho, Quang Nam, Da Nang, Ho Chi Minh City and Can Tho will benefit from the programme for screening of the three most common cancers in Vietnam, breast cancer, cervical cancer and colorectal cancer.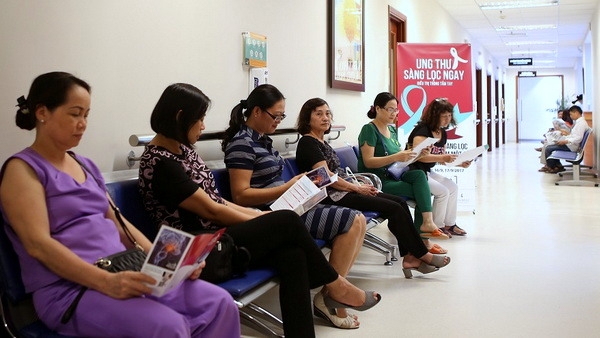 According to statistics, each year there are approximately 126,000 new cases of cancer in Vietnam, including 12,500 breast cancer, 5,700 cases of cervical cancer and around 13,500 cases of colorectal cancer. Late detection is one of the leading causes of death among cancer patients.

With the message "Cancer - prompt screening for timely treatment," the programme is expected to provide an opportunity for early screening and timely detection of the disease to optimise treatment and improve the quality of life for the community.
Associate Professor, Dr. Nguyen Thi Xuyen, former Deputy Minister of Health cum President of the Supportive Fund for the Cancer Patients - Bright Future, emphasised that cancer is a large burden on public healthcare and through this meaningful programme, local people will be given an opportunity to get the best possible examination and treatment, while helping raise awareness among the community about cancer prevention.

The programme is a realisation of the previously signed cooperation agreement between Thien Tam Fund, Bright Future Fund, K Hospital and Vinmec International Hospital. Accordingly, the concerned parties will make full use of their potential on facilities, staff and expertise to provide disadvantaged cancer patients access to the most advanced treatment technologies and to promote cancer prevention among the public.