ASEAN Chairmanship offers Vietnam chance to lead ASEAN out of challenges: Singaporean expert
The assumption of the ASEAN presidency for 2020 will be a good opportunity for Vietnam to demonstrate its strategic leadership in orienting the bloc to addresses and overcome challenges, a Singaporean expert has said.
Choi Shing Kwok, Director of the ISEAS. (Photo: ISEAS)
Choi Shing Kwok, Director of the Singapore-based Institute of Southeast Asian Studies (ISEAS), made that assessment during a recent interview with the Vietnam News Agency.
According to Singapore experts, Vietnam is not only playing an important role in gathering and strengthening solidarity and unity in ASEAN, but is also responsible for promoting and strengthening good cooperative relations between the association and partner and dialogue countries.
He also mentioned the promotion of solidarity and the central role of ASEAN in the region, while recommending Vietnam, who will also be a non-permanent member of the United Nations Security Council during the 2020-2021 term, to adopt strategic directions for the bloc in facing challenges and difficult situations, as well as in increasing the role of ASEAN in the international arena.
He also suggested to mobilise the participation of all the member states in the defence of regional interests in the area.
VNF ( NDO )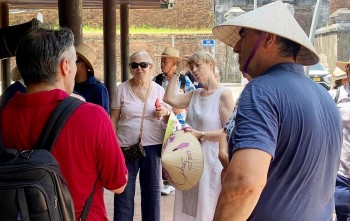 National
Vietnam News Today (Mar. 29): Vietnam to issue e-visa to foreigners of all countries; Vietnam, China beef up defence ties; Outbound tours prove popular during April holiday; Vietnam International Travel Mart 2023 to spotlight cultural tourism.