ASEAN Youth Fellowship: Connect to Drive Regional Growth
Forty youth leaders from 10 ASEAN states gathered for the fifth edition of the ASEAN Youth Fellowship (AYF) from 28 October to 4 November 2023. During the program, they participated in a series of dialogues and panel discussions to address challenges and opportunities, as well as connect and build capacity to become leaders of regional growth.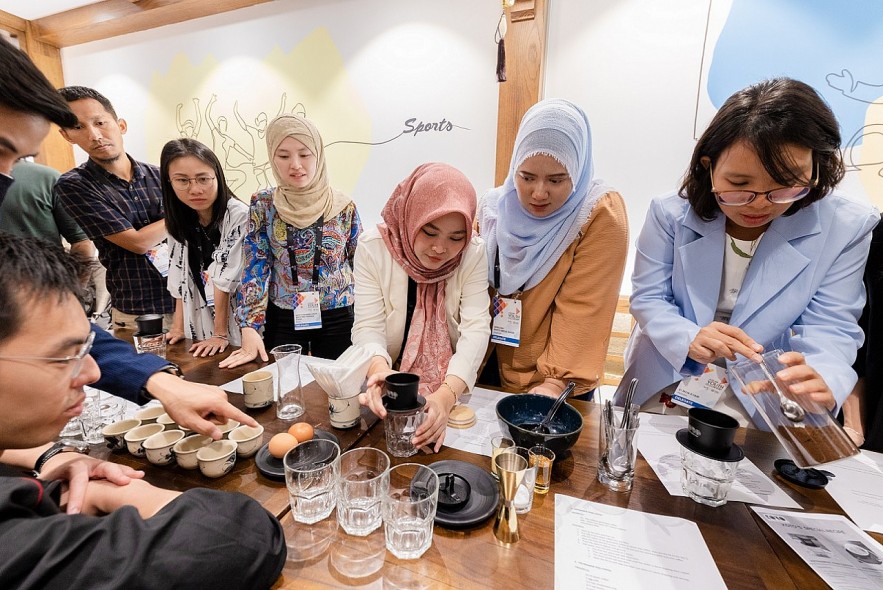 Fellows learnt to make egg coffee with KOTO in Hanoi.
Throughout the eight-day program, fellows gained new perspectives from visits to organizations at the forefront of innovation in healthcare, food security, sustainability, and digital transformation in Hanoi and Singapore, namely the Centre for Healthcare Innovation in Singapore, which seeks to drive healthcare transformation through collaborative innovations and thought leadership, Comcrop, Singapore's first commercial rooftop farming company, and KOTO, a social enterprise that helps at-risk and disadvantaged youth in Vietnam through its hospitality training program.
"The visits showed us the importance of ensuring that everyone is on the same page and has a shared goal. This will allow multiple stakeholders across different sectors to collaborate on solutions to address social issues," said Ophakorn Kouphokham, a Fellow from Laos.
ASEAN Youth Fellowship is co-organized annually by the Singapore International Foundation (SIF) and National Youth Council (NYC) Singapore. This year's theme aligned with Indonesia's ASEAN Chairmanship 2023 theme, "ASEAN Matters: Epicentrum of Growth".
Since 1994, the SIF and the Vietnamese community have collaborated on more than 100 initiatives in Hanoi, Ho Chi Minh City, and across Asia. These include projects in healthcare, education, social entrepreneurship, and the arts and culture.
Fellows also attended SIF Connects! Hanoi – a platform for the SIF to reconnect and renew relationships with program alumni and Friends of Singapore (FOS). More than 150 members of the diplomatic community, FOS, and Singaporeans based in Hanoi attended the event on Nov. 2.
In the program's framework, a dialogue on "Empowerment and Potential Development for ASEAN youth" was held in Hanoi on Nov. 3. The fellows discussed issues and potentials that young people of ASEAN face on their journey to become leaders of the region in various fields.
According to Nguyen Tuong Lam, Secretary of the Central Executive Committee of the Ho Chi Minh Communist Youth Union, Vice Chairman of Vietnam's National Committee on Youth, to better seize opportunities to grow in the future, ASEAN youngsters need to train their adaptability. Given the complicated global situation and constantly changing technology trends, the ability to flexibly adapt to new changes and environments is key for the young to thrive.
David Chua, Chief Executive Officer of Singapore's National Youth Council, emphasized the importance of continuous learning and traveling. While university education can provide young employees with a skill set to start their careers, young people need to learn constantly to keep moving forward. Meanwhile, traveling across ASEAN countries brings young people in the region closer together, equipping them with knowledge and understanding about each country, thereby stimulating solidarity.
Nguyen Tuong Lam and David Chua talked to ASEAN youth at the conference.
Talking about their experience with AYF, Jolly Nguyen, a Fellow from Vietnam, said: "The AYF broadened my perspectives of the sustainability sector as well as its intersection with other sectors throughout ASEAN."
According to Delane Foo Wei En, a Fellow from Singapore: "The AYF is doing important work by bringing young ASEAN leaders together to learn about each other and become friends with shared experiences. This becomes the bedrock of empathy and collaboration as we go about our work and lives. It also reminds us how important it is to be united in goal and spirit despite our differences as neighbors in the region."
The founder and CEO of EVOL Vietnam, a social enterprise that aims to raise awareness on single-use plastics in the ocean, also mentors young women entrepreneurs in the APAC region. She added: "The insights that I have gained through our field trips, panel discussions, and interactions with the Fellows and AYF alumni will also benefit the entrepreneurs that I mentor."