Australia, Vietnam share expertise in rural water management
As countries both affected by extreme weather events, Australia and Vietnam have much to learn from each other in sustainable water management. 
Australia's Ambassador to Vietnam, Robyn Mudie, on November 6 launched the new Vietnam-Australia Rural Water Utility Improvement Program (WUIP) at VietWater 2019.
Australian Ambassador Robyn Mudie speaking at the launch of the Vietnam-Australia Rural Water Utility Improvement Program (WUIP). Photo: Australian Embassy in Vietnam
The WUIP connects three Vietnamese water utilities in Nghe An, Nam Dinh and An Giang, with three Australian utilities, to participate in a two-year knowledge sharing program. The partnership will expose Vietnamese rural water utilities with Australian world-class technology and management practices, helping to improve access to safe and reliable water for thousands of rural Vietnamese.
The Rural WUIP is a partnership between the Australian Government, the Australian Water Association, the National Centre for Rural Water Supply and Sanitation and the Australian Water Partnership. It build on the successful Urban WUIP which supported capacity improvements for five Vietnam urban water utilities to deliver improved water services for millions of customers in HCMC, Son La, Hue, Binh Duong and Phu Tho.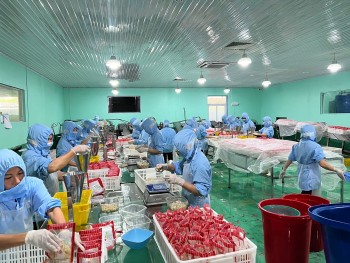 Focus
Not only agricultural products, traditional dishes of Vietnam also penetrate into difficult markets, bringing great revenue to businesses and people.