Banks' Digital Transformation: Where Does Vietnam Stand?
Digital payments have been growing at 40% for the last four years, one of the world's fastest digital transformation rates.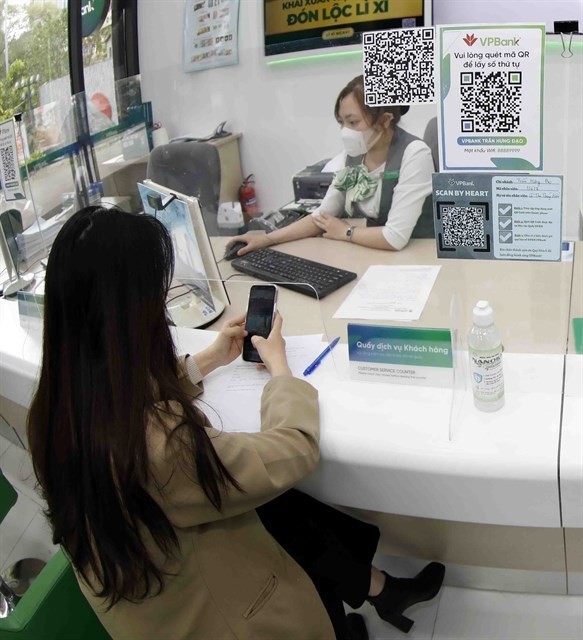 According to Visa's Consumer Payment Attitudes Study 2022, over 70% of Vietnamese consumers are generally receptive to open banking, especially fintech and non-bank service providers that can open an account for them using their existing data with banks. Illustrative image
Vietnamese banks are among the earliest in the world to make the digital transformation, VNA citied experts.
Speaking at the Financial Services – Retail Banking Forum in Ho Chi Minh City last week, Vu Viet Ngoan, former chairman of the National Financial Supervisory Commission, said the habit of using digital products had become more prevalent than ever in Vietnam.
More than 30% of the population uses banking apps, second globally only after China (41%), according to Ngoan.
Vietnam's banking and financial sectors would continue to play a key role in establishing a "fully digitized, human-centered system".
He also pointed out that the digital transformation in the country would be an important process of how banks and financial institutions analyze, interact, and satisfy their customers.
The government has set a target of increasing financial inclusion to cover more than 80% of the adult population by 2025.
Phan Thanh Duc, dean of the management information system faculty at the State Bank of Vietnam's (SBV) Banking Academy, said Vietnam had recorded a surge in digital payment everywhere from online marketplaces to small convenience stores and even vegetable and fruit vendors.
Le Duc Anh, director of the Ministry of Industry and Trade's Centre for Information and Digital Technology, pointed out that technologies such as blockchain, AI, cloud computing, machine learning, and customer data collection, management, and analysis were being adopted.
The banking sector had invested over VND 15 trillion (USD 639.22 million) in digital transformation as of the end of last year, according to a report by the SBV.
Vietnam has 94.2 million smartphone users and 82.2 million mobile broadband subscribers, accounting for 74.3% of the national population by December last year, according to the Ministry of Information and Communications.
The number of Internet users in the country reached 72.1 million, ranking 13th in the world.
The effort has started bearing fruits as the Southeast Asian economy maintained a 40% growth rate in digital payments in the last four years, making it one of the world's fastest-growing economies in banking digital transformation.
According to the report, more than 95% of Vietnamese banks have a digital transformation strategy.
Around 90% of banking transactions are handled through digital channels with 74.6% of adults having a bank account.
As of March around 3.71 million mobile money (or mobile payment) accounts had been opened, over 70% in rural, remote, and disadvantaged regions across the country.
Non-cash payments have also seen significant growth, with 82 credit institutions offering internet-based payment services and 51 offering mobile payment services as of the end of last year.
There are 48 licensed intermediary payment organizations.
Digital transformation has helped the banks bring down the cost-to-income ratio to as low as 30%, on par with regional and international standards.
In 2022, the interbank electronic payment system processed approximately 155.2 million transactions with a value exceeding VND 196.36 trillion, a 29.90% increase in value. The financial switching and electronic clearing system processed nearly 4.83 billion transactions with a value of about VND 46.82 trillion, an increase of 96.63% in volume and 87.30% in value.
By the end of 2022, the total number of ATMs in the country reached 21,038, and the number of POS terminals reached 410,743, corresponding to a growth of 3.11% and 26.94% respectively compared to 2021. The low increase in ATM numbers could also indicate a positive trend, as people increasingly prefer non-cash payment methods.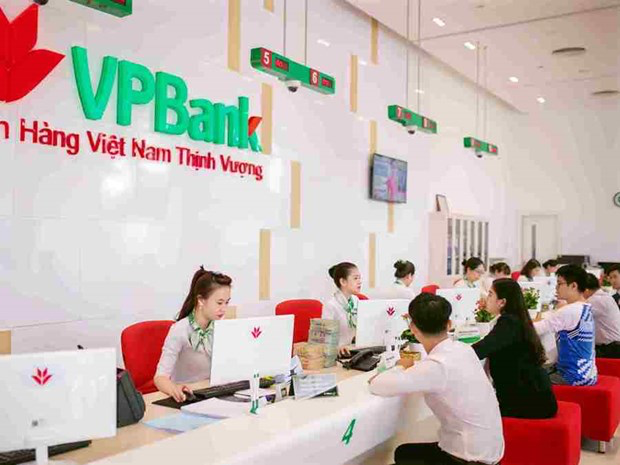 Customers at a VPBank branch in Hanoi. Photo VPB
Non-cash payment activities have experienced significant growth. By the end of 2022, 82 credit institutions had implemented internet-based payment services, and 51 credit institutions had implemented mobile payment services. There are currently 48 intermediary payment organisations licensed by the SBV providing intermediary payment services in the market.
In comparison to 2021, non-cash payment transactions increased by 89.05% in volume and 32% in value. Transactions through internet channels increased by 98.54% in volume and 50.24% in value; transactions through mobile phone channels increased by 139.32% in volume and 106.54% in value; QR code transactions increased by 225.36% in volume and 243.92% in value.
Non-cash payment transactions increased by 53.51% in volume during the first three months of 2023 compared to the same period last year. Transactions through internet channels increased by 88.11% in volume and 7.43% in value; transactions through mobile phone channels increased by 65.55% in volume and 13.31% in value; QR code transactions increased by 160.71% in volume and 43.84% in value; POS transactions increased by 37.57% in volume and 32.09% in value; ATM transactions decreased by 2.37% in volume and 4.02% in value.
The National Public Service Portal has continued to expand its payment services. By the end of 2022, the portal had served over 4 million online payment transactions, totalling more than VND 3.53 trillion. As many as 61% of citizens had access to social insurance and unemployment benefits through personal accounts in urban areas.
But experts say the legal framework for digital financial services is inadequate. It is vital to improve institutional frameworks and upgrade infrastructure, they say.
The lack of human resources with up-to-date skills is another major challenge to digital transformation, they warn. Organized along with the forum was a fair introduction to the advancements needed for the financial industry's digital transformation.
The event was hosted by the Vietnam Association of Securities Business, the Vietnam Digital Communications Association, and the International Data Group.