Bilateral cooperation potential remains vast: PM Phuc
Prime Minister Nguyen Xuan Phuc emphasized that bilateral cooperation potential remains vast and called for greater efforts from both Governments and business communities to contribute to advancing bilateral friendship as well as development and prosperity in each country.
Prime Minister Nguyen Xuan Phuc at the event. Photo: VGP
PM Phuc and his visiting Cambodian counterpart Samdech Techo Hun Sen co-chaired the Vietnam – Cambodia trade and investment promotion conference 2019 in Hanoi on October 4.
About 500 delegates from ministries, agencies and the two countries' business communities attended the event.
Addressing the conference, PM Phuc briefed about recent developments in Vietnam, especially the country is one of the fastest-growing economies with the annual growth rate of nearly 7%.
Core inflation has been controlled under 2% while middle-income class accounts for more than 15% of the total population of approximately 100 million, he said.
Vietnam is also one of the most open economies to international trade as trade represents 200% of GDP and the trend will continue thanks to its active international integration process, according to Phuc.
He took the occasion to hail the outcomes of the Vietnam-Cambodia trade and investment ties, in which the former has 214 projects with total registered capital of over US$3.1 billion while the latter has committed to pouring US$64 million in 21 projects in Vietnam.
The two-way trade will surpass US$5 billion this year and the two countries have set new goal to lift up the figure to US$10 billion, according to the Vietnamese Government chief.
Phuc welcomed Cambodian investors to Vietnam and asked Vietnamese firms to invest responsibly and sustainably in Cambodia.
Prime Minister Nguyen Xuan Phuc (second from right) and Cambodian Prime Minister Samdech Techno Hun Sen (third from right) witness the signing ceremony of a Memorandum of Understanding on investment cooperation between the Vietnamese Ministry of Planning and Investment and the Cambodian Development Council. Photo: VGP
PM Hun Sen, for his part, called on Vietnamese firms to continue investing in Cambodia in fields of its demand such as agriculture, tourism, transportation, logistics, construction, education and technical training.
He said the Cambodian government is striving to improve business environment via dialogue mechanism between the government and enterprises, cut business costs and devise new draft law on investment and exclusive economic zones.
The Cambodian PM spoke highly of the signing of the Vietnam – European Union free trade agreement and expressed interest in bilateral trade and transportation, saying that the Cambodian government is studying measures to further promote the construction and connectivity of expressways in the southern economic corridor in the Greater Mekong Sub-region.
According to Minister of Planning and Investment Nguyen Chi Dung, Vietnam invested in 178 projects worth nearly 2.8 billion USD in Cambodia as of September 2019. Cambodia ranked third among the 76 countries and territories invested in by Vietnam. During the period, the total Vietnamese investment in the country neared 50.4 million USD, up 49.5 percent year on year, mostly in agriculture, banking, telecommunications – information technology, manufacturing and processing.
Cambodia also poured 63.7 million USD in 21 projects in Vietnam in the fields of agro-forestry-fisheries, trade, transportation, manufacturing and processing. In the first nine months of this year, Cambodia's investment in Vietnam reached 3.2 million USD.
Trade between the two countries is forecast to reach 5 billion USD before 2020, he said.
Hun Sen pledged to meet with Vietnamese investors annually while suggesting regular meeting between the Council for the Development of Cambodia and the Vietnamese business community in Cambodia to seek ways to ease obstacles.
He also expressed support for the establishment of Vietnam-Cambodia special economic zone designated for Vietnamese investors in his country.
Hun Sen said more tourists will travel between the two countries once the sides open new direct air route between Phnom Penh and the central city of Da Nang in the coming time.
On the occasion, the two leaders signed three memoranda of understanding on trade infrastructure connectivity along border areas, construction and transfer of a model market to Cambodia, and raising two-way trade.
A memorandum of understanding on cooperation between the Vietnamese Ministry of Planning and Investment and the Council for Development of Cambodia was also signed./.
VNF/VNA/VGP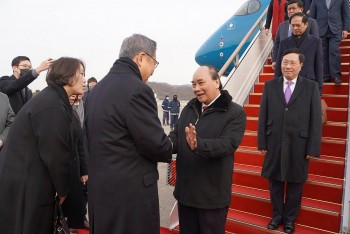 National
Vietnam News Today (Dec. 5): Additional 204 Covid-19 cases recorded on December 4; State President warmly welcomed in Seoul on RoK visit; Vietnam, Venezuela boast potential for fishery cooperation; Northerners feel chill as cold wave intensifies.