Biography of Jennifer Lawrence: Early Life, Career, Personal Life, Net Worth
Famous American actress, Jennifer Lawrence, has announced her pregnancy, and the news soon went viral. Let's learn more about her biography and career.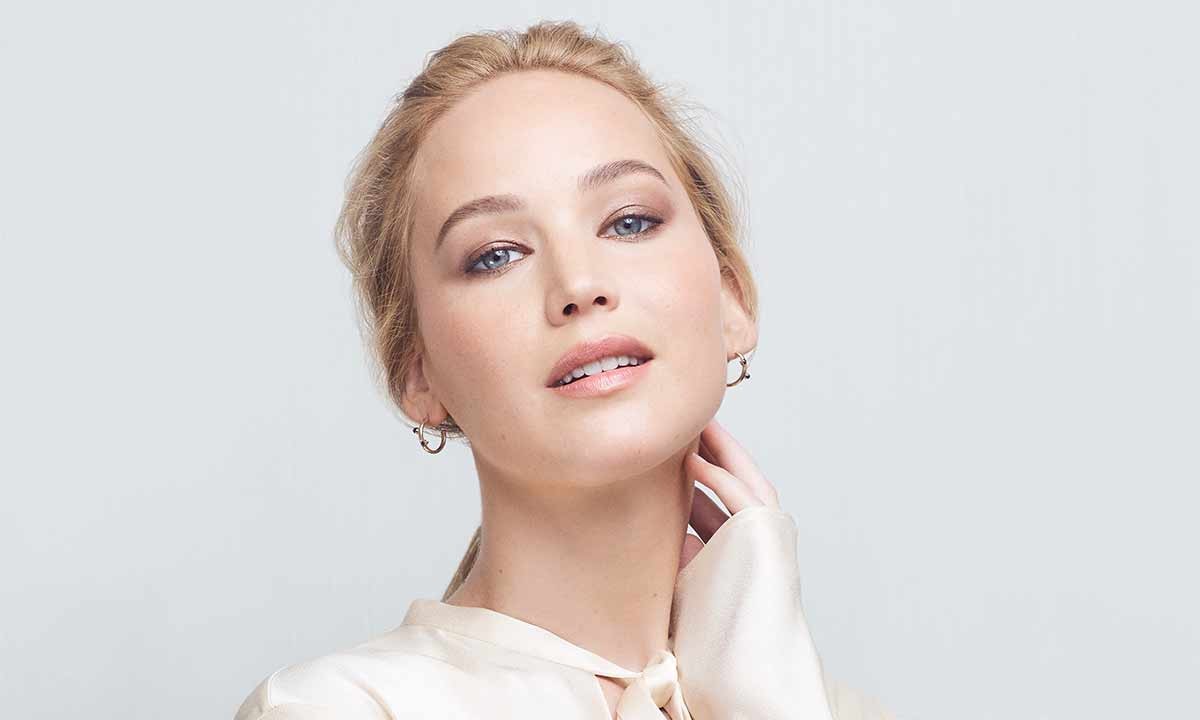 Photo: Getty Images
One of the world's highest paid actresses since 2016, Jennifer Shrader Lawrence, is an American actress who is currently ruling Hollywood. She has been nominated four times for the Academy Award, taking the Oscar home in the category of 'Actress in a Leading Role' for the movie 'Silver Linings Playbook' at only 22 years, the second youngest to ever receive an Oscar for 'Best Actress'. Her movies gross over 600 million dollars a year, collectively they have crossed 5 billion dollars. She has outdone some of the mega stars of tinseltown to acquire a net value of over 46 million dollars. Since her school days she has performed at plays and musicals. Her performances evolved with time and was eventually spotted by the television industry in her teens. In a couple of years she advanced from television to the big screen with memorable roles such as 'Mystique' in 'X-Men' and 'Katniss Everdeen' in the 'Hunger Games'. Jennifer Lawrence is one of Hollywood's most versatile and talented actresses. She is not known to hold back; she is vocal and states her opinion outright. Lawrence is a firm feminist and philanthropist, propagating gender equality, and financially assisting various foundations for the marginalized.
Jennifer Lawrence: Early Life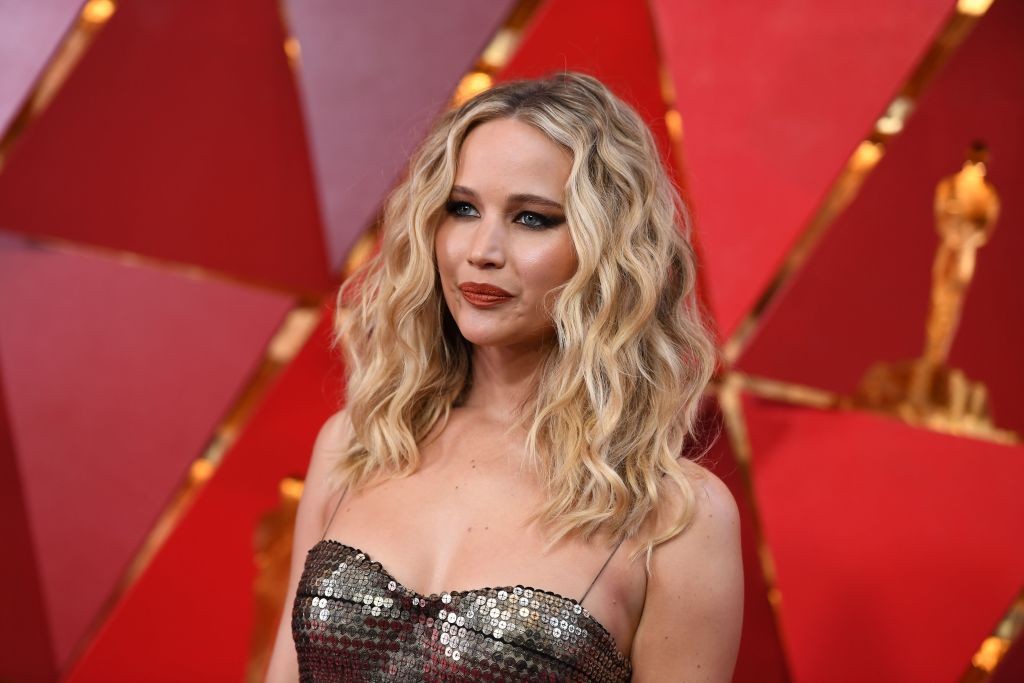 Photo: Getty Images
Jennifer Shrader Lawrence was born on August 15, 1990, in a suburb of Louisville, Kentucky. She has two older brothers, Blaine and Ben, and her parents, Karen and Gary, owned a farm just outside the city.
Lawrence was an athletic child, involved in cheerleading, field hockey and softball, and thought she might be a doctor when she grew up. She did some modeling and community theater, but never dreamed that she'd become an actress.
Jennifer Lawrence: Career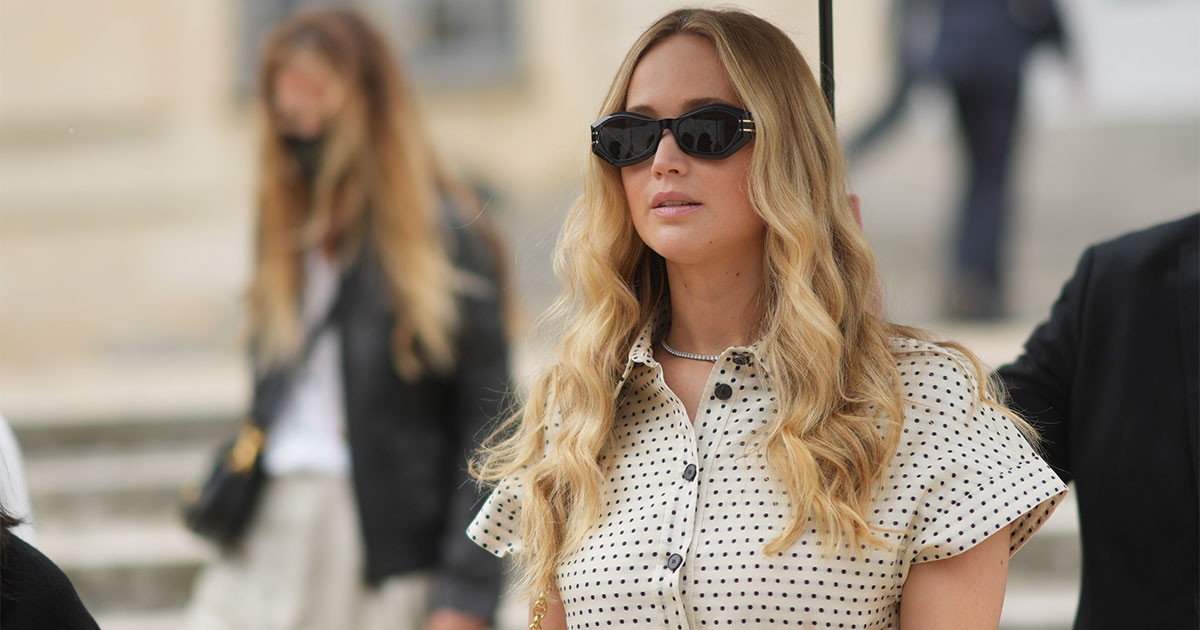 Edward Berthelot/Getty
Lawrence's big break came when she was discovered at 14 while on spring break in New York with her family. A stranger asked to take her picture and took her mother's phone number, then called the next day to ask her to do a screen test. Things happened quickly after that: Lawrence stayed in New York City for the summer, acting in commercials for MTV and filming the 2007 thriller Devil You Know with Lena Olin. (The film was shelved due to lack of distribution and was eventually released in 2013.)
Soon after, Lawrence and her family moved to Los Angeles, where she had small roles on the series Medium, Monk and Cold Case, before landing a part on the TV series The Bill Engvall Show. While working on the series, she also appeared in feature films including The Poker House and The Burning Plain alongside Charlize Theron and Kim Basinger.
After The Bill Engvall Show was canceled, Lawrence went on to appear in the critically acclaimed Winter's Bone in 2010, which earned her nominations for an Academy Award, a Golden Globe and a Screen Actors Guild Award. Opportunities continued to pour in, and in 2011 Lawrence appeared in The Beaver with Mel Gibson, Jodie Foster and Anton Yelchin. She also took on the role of Mystique in X-Men: First Class.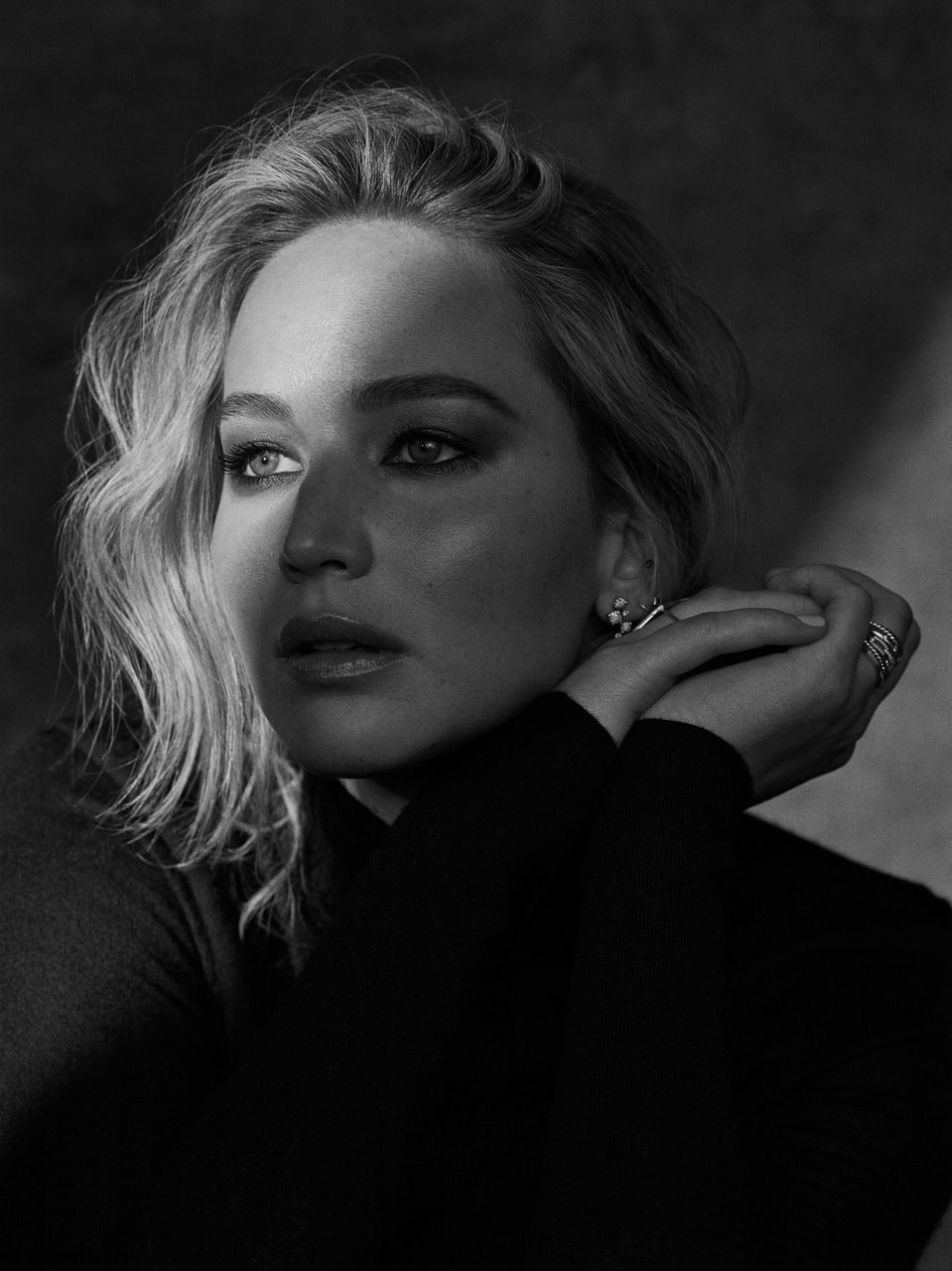 Photo: Andrea Eguia
In 2012, Lawrence became a box-office sensation as Katniss Everdeen, the lead in The Hunger Games, the film adaptation of the bestselling novel by Suzanne Collins. Set in a post-apocalyptic state, Lawrence's character must participate in an event in which 24 teens fight to the death as televised entertainment. The film broke box-office records on opening weekend, and Lawrence reprised her role in 2013's The Hunger Games: Catching Fire as well as the two-part Mockingjay (2014 and 2015). As of late 2015, the franchise had earned more than $2.8 billion dollars at the global box office.
Other 2012 releases for Lawrence included the thriller House at the End of the Street, co-starring Elisabeth Shue, and two dramas with Bradley Cooper: The Falling and Silver Linings Playbook, which earned an array of award nominations and a Golden Globe win (best actress in a comedy or musical) for Lawrence. She took home the Oscar for best actress at the Academy Awards in February 2013. Lawrence seemed overcome with emotion as she accepted the honor.
Lawrence continued to work with Silver Linings Playbook director David O. Russell on 2013's American Hustle, playing the emotionally complex wife of a con artist (Christian Bale). The film co-starred Amy Adams and Cooper. Lawrence received her third Oscar nod for the part and won her second Golden Globe. In 2014, she co-starred again with Cooper in the little-seen drama Serena before once again captivating moviegoers as the mutant Mystique in X-Men: Days of Future Past.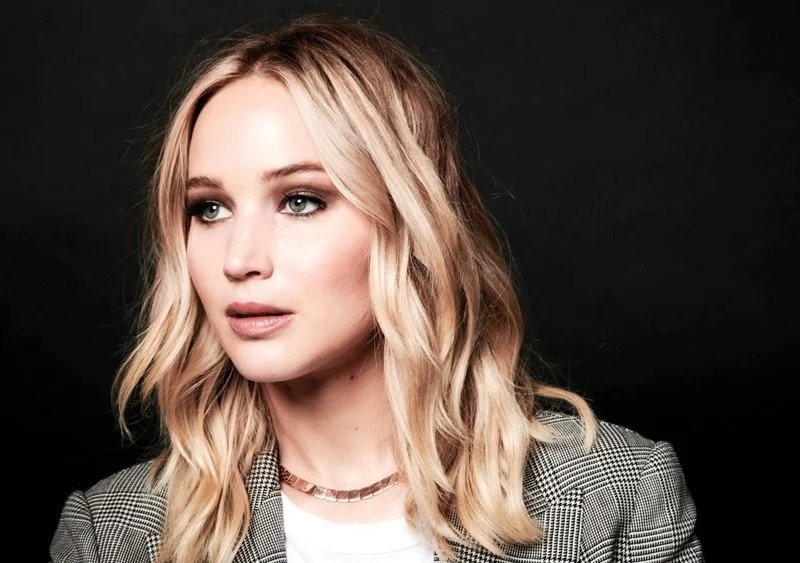 Source: Michael Buckner/Deadline/Shutterstock
Lawrence, Cooper and Russell later signed on to bring the story of Miracle Mop inventor Joy Mangano to the big screen, with Lawrence taking on the title role. Joy had a Christmas Day 2015 U.S. release, and Lawrence soon won her third Golden Globe for her performance. Days later she received another Oscar nod. At 25, she became the youngest performer in history to have earned four Academy Award nominations.
Continuing with her high-profile work, in 2016 Lawrence co-starred in X-Men: Apocalypse and the science-fiction film Passengers. She then made an impressive leap into the horror genre with the critically acclaimed Mother (2017), before starring as a Russian intelligence agent in the thriller Red Sparrow (2018).
Jennifer Lawrence's net worth and salary
Jennifer Lawrence is an award-winning American actress who has a net worth of $160 million. In 2013, she won the Academy Award for Best Actress in for her performance in 2012's Silver Linings Playbook. As of this writing, the films Lawrence has appeared in have grossed more than $6 billion worldwide. She was the highest-paid actress in the world in 2015 and 2016. In 2013 she was on Time's list of the 100 most influential people in the world.
Jennifer Lawrence: Personal Life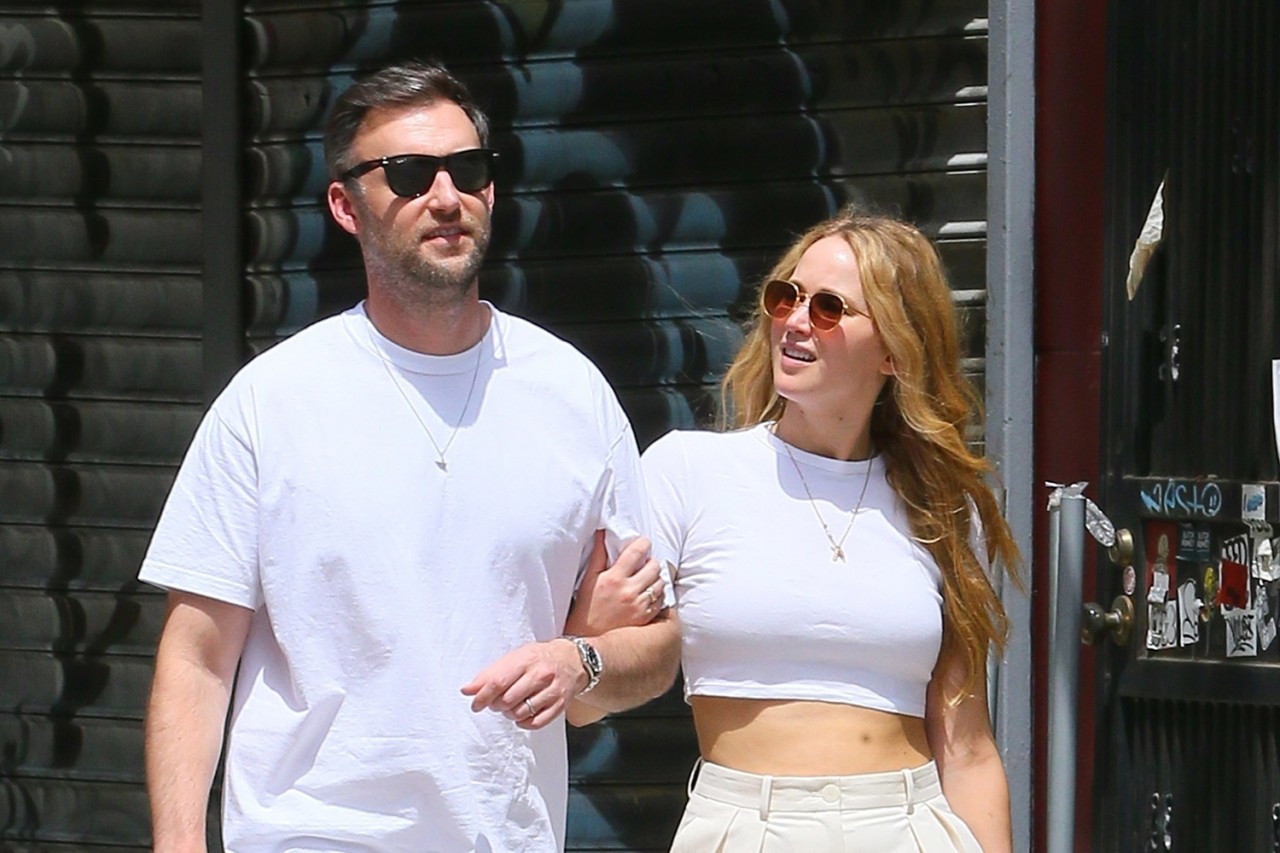 Photo: People
She dated her X-Men co-star, Nicholas Hoult, from 2011 to 2013. A year later, she was involved in an on-and-off-again relationship with Coldplay's Chris Martin, which reportedly ended in the summer of 2015. The actress went on to date Mother director Darren Aronofsky, before admitting in a November 2017 appearance with Adam Sandler on the Actors on Actors series that the pressures of professional obligations led to their split.
In February 2019, Lawrence confirmed her engagement to New York art gallery director Cooke Maroney. The two tied the knot in Newport, Rhode Island, that October.
The actress has also established the Jennifer Lawrence Foundation, which leverages independent philanthropy initiatives, community events and donations and auctions to assist other organizations that service abused youth, people with intellectual disabilities and those in need of medical care.
When is Jennifer Lawrence's baby due?
Jennifer Lawrence's baby is expected to be due sometime between December 2021 and February 2022 but this is not official.
The due date can roughly be calculated according to when a woman confirms her pregnancy, which is advised not before 12 weeks. Therefore if she is in her second trimester – more than 12 weeks pregnant – the above date range would be expected.
Although this is merely speculation at this point as neither Jennifer nor Cooke have confirmed the due date or what gender their baby will be.
In July, the Hunger Games star looked radiant when she was pictured wearing a chic white dress with short sleeves and polka dots, a Dior thin leather belt, outside Dior, during Paris Fashion Week.
Who is Jennifer Lawrence married to?
Jennifer Lawrence is married to an art dealer called Cooke Maroney. He directs the prestigious Gladstone gallery In New York.
The pair married in October 2019 on the beautiful island of Rhode Island, where they were surrounded by A-list friends and family – with guests ranging from Emma Stone and Kris Jenner to Adele.
Jen, 31, and Cooke were first rumoured to be dating back in June 2018 after they met through mutual friends, and they announced their engagement in February 2019.
ennifer is very private about her personal life – she doesn't even own an Instagram account – but she has previously opened up about her relationship with Cooke.
Speaking about their relationship and choice to marry, Jen said he is the "greatest person" she's ever met.
She confessed on Catt Sandler's podcast Naked with Catt Sandler, "I don't know, I started with the basics: 'How do I feel? Is he nice? Is he kind?
"It's just – this is the one, I know that sounds really stupid but he's just, he's – you know. He's the greatest person I've ever met, so I feel very honored to become a Maroney."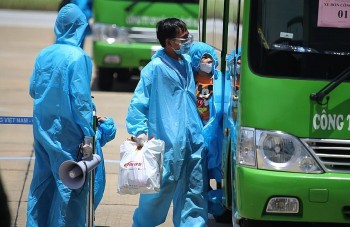 National
The country has to date logged 695,744 Covid-19 cases, ranking 47th out of 222 countries and territories worldwide in terms of infections per one million people.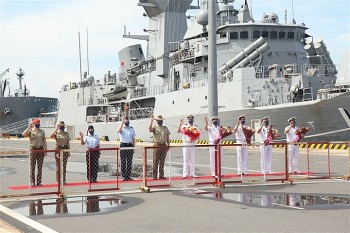 Friendship
Australian warships, amphibious assault ship HMAS Canberra, missile frigate HMAS Anzac and tanker HMAS Sirius, arrived in Vietnam as part of the Indo-Pacific Endeavour 2021.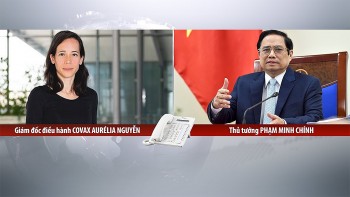 Focus
Prime Minister Pham Minh Chinh on September 20 asked the COVAX Facility to quickly allocate Covid-19 vaccines to Vietnam.