Canada company helps build international education city in Vietnam
Recently, a Canadian design and planning company signed strategic partnership for building international education city in Vietnam.
A signing of a strategic collaboration agreement was held on July 25 between B+H Architects (Canada) and Nguyen Hoang Group (NHG) on their International Education City (IEC) partnership in key provinces in Vietnam, including Hue, Vung Tau, Quang Ngai, and Dak Lak.
This partnership will combine over 65 years of design and planning experience worldwide by B+H and 20 years of education development by NHG to build an education ecosystem in Vietnam from kindergarten to PhD level.
"It is great to see the fantastic strategic partnership between an architect leading global design firm of Canada and Nguyen Hoang Group, a leading high-quality educational organization. This cooperation will bring tangible benefits to the generation, while visualize the growing partnership between Canada and Vietnam. Congratulations for the signing of agreement between Nguyen Hoang Group and B + H Architects" – shared by Kyle Nunas, Consul General at Consulate General of Canada in HCMC.
Robert Marshall, Principal 1/Global Director, planning and landscape affairs of B+H shared: "We are tremendously excited to be a strategic partner with the Nguyen Hoang Group and to progress their innovative IEC model. B+H's master plan for the International Education City campus exemplifies how a holistic approach to campus design can integrate the physical environment as a critical component of the learning experience".
According to the agreement, NHG appointed B+H Architects to advise the design and planning ideas for projects of IEC, which are invested and constructed by NHG in the coming time in Vietnam. In addition, B+H Architects will coordinate a team of experienced and professional experts to build up a design plan of international level, yet still meeting the situations and construction regulations in Vietnam.
With the goal of creating a creative and comprehensive educational environment for students, NHG is in preparation for the next IEC projects (after IEC Quang Ngai) at many key cities and provinces of Vietnam, such as: Hai Phong; Thanh Hoa; Nam Hoi An; Daklak; Bac Lieu; etc. Therefore, with the experience of cooperation in project implementation between the two parties and 65 years of experience in designing and planning of B+H Architects team, NHG believes that innovative, impressive and inspiring design solutions from B+H Architects will be well-presented in the future IEC projects.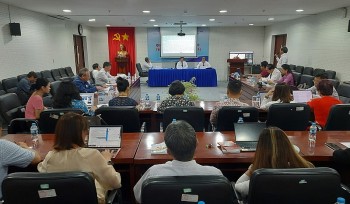 Friendship
The Vietnam - India Friendship Association's Ho Chi Minh City branch, the Ho Chi Minh City Union of Friendship Organizations (HUFO) and the Southern Institute of Social Sciences on March 21 held a scientific seminar themed "Vietnam - India relationship: tradition and present".