Case regarding seizure of 700kg of crystal meth in Nghe An prosecuted
The Investigation Police Agency of central Nghe An province has begun criminal proceedings against the case of "illegally transporting drugs, not denouncing criminals and taking property by force" for further investigation.
The traffickers abandoned 700kgs of drug on the roadside near a salt field in Quynh Thuan commune, Quynh Luu district (Source: baonghean.vn)
Five days ago, on April 17 the local police busted a drug trafficking ring, seizing 700kg of crystal meth and arresting three suspects.
Being raided by the police, the group abandoned the drug on the roadside near a salt field in Quynh Thuan commune, Quynh Luu district in the province. Two suspects managed to escape.
According to the police, the trans-national ring is headed by a foreigner.
Later the same day, the police checked the storage of Nguyen Thi Tam, a resident in Hamlet 1, Quynh Hong commune of Quynh Luu district, and discovered 50 cabinet loudspeakers and 50 carton packages which were used to hide drugs.
The three detainees include Nguyen Van Phu (born in 1990, residing in Nam Dan district), Nguyen Bao Trung (born in 1996, residing in Vinh city) and Vo Sy Manh (born in 1983, residing in Vinh city).
The police said three Taiwanese people were allegedly involved the case but they had left Vietnam on April 15 and 16.
Two others, namely Nguyen Duc But (born in 1991, residing in Vinh city) and Nguyen Thi Tam (born in 1977) were also summoned by the police to serve the investigation./.
VNF/VNA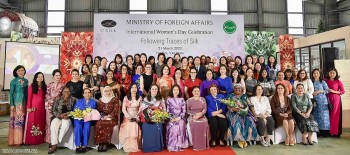 Friendship
Female ambassadors, representatives from diplomatic corps and international organizations, along with spouses of diplomats in Vietnam gathered together to find about more about silk weaving and silk products in Vietnam.