Charming Meditative Japanese Tea Ceremony in Hanoi
At Ikebana House Center (Hanoi), fun yet relaxing class of Japanese tea ceremony by tea master Mitsue Hashimoto awaits.
Since October of 2022, Osaka-native tea master Mitsue Hashimoto (born in 1962) has been running a Japanese tea ceremony class in Hanoi.
"I started coming to tea ceremonies when I was 10 years old, since then. At that time, when I was small, I only looked forward to the tea ceremony to drink tea and eat delicious sweets. Before I knew it, it had been more than 50 years [of practicing tea ceremony]. Eight years ago, I received the highest degree in tea ceremony for women. Four years ago, I received a qualification for teaching," said Hashimoto.
Sharing the love for tea ceremony in Vietnam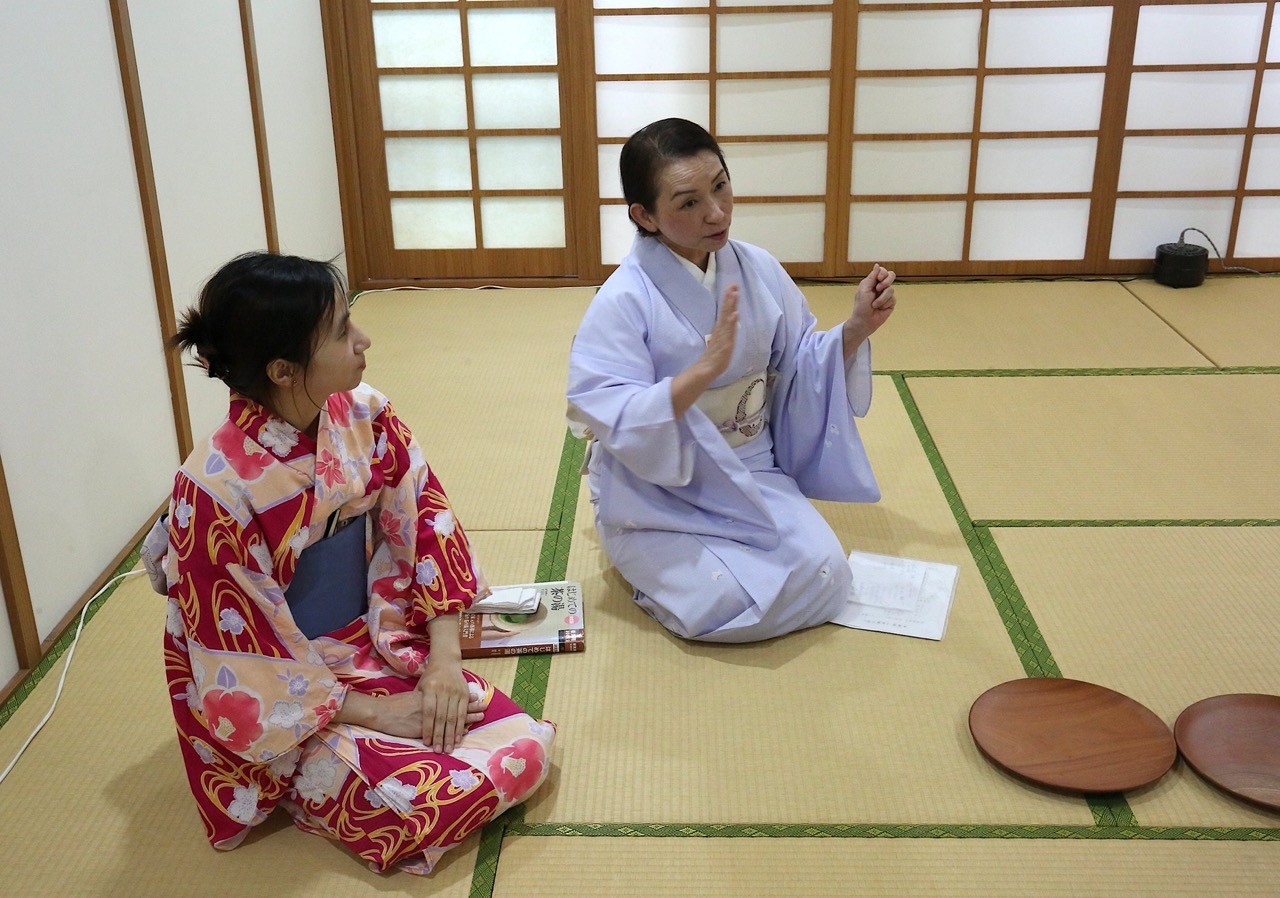 Tea master Mitsue Hashimoto (right) belongs to the Omotesenke school in Japan (Photo: Nhung Nguyen).
When first arrived in Hanoi a year ago, Hashimoto did not expect to find a place for tea ceremony practice so soon. Even the opportunity to host classes came as a surprise for her. With the support from the Ikebana House Center, she began to guide Vietnamese people on their journey to learn Japanese tea ceremony with a few workshops, then eventually, her courses.
In Japanese belief, practicing tea ceremony is a way of meditation that can bring comfort and relaxation to our souls. So no matter what brings you to study tea ceremony, it is important that you can have fun doing it, said Hashimoto.
Originating in the late 12th century, the practice of tea ceremony is considered one of Japan's most distinctive traditional arts.
Tea ceremony is famous for being an elegant art that brings the Zen spirit of Buddhism into making and serving teas, to enjoy being in harmony with nature and celebrate the simplicity of life.
"The tea ceremony is a Zen ritual in Buddhism that gives us peace and relaxation so I would recommend it to everyone. After taking the [tea class], students may or may not continue to practice them later on.
But I can see the students' hard work in the tea ceremony. Even for first timers, they all did well, and tried to sit in the correct kneeling posture during the tea ceremony," said the tea master.
Another of the reasons for teaching in Vietnam is because Hashimoto wants Vietnamese people, when returning home from Japan, will continue studying and practicing the tea ceremony. She made this suggestion to her school of tea ceremony, the Omotesenke school in Japan, in the hope of popularizing it to more Vietnamese people.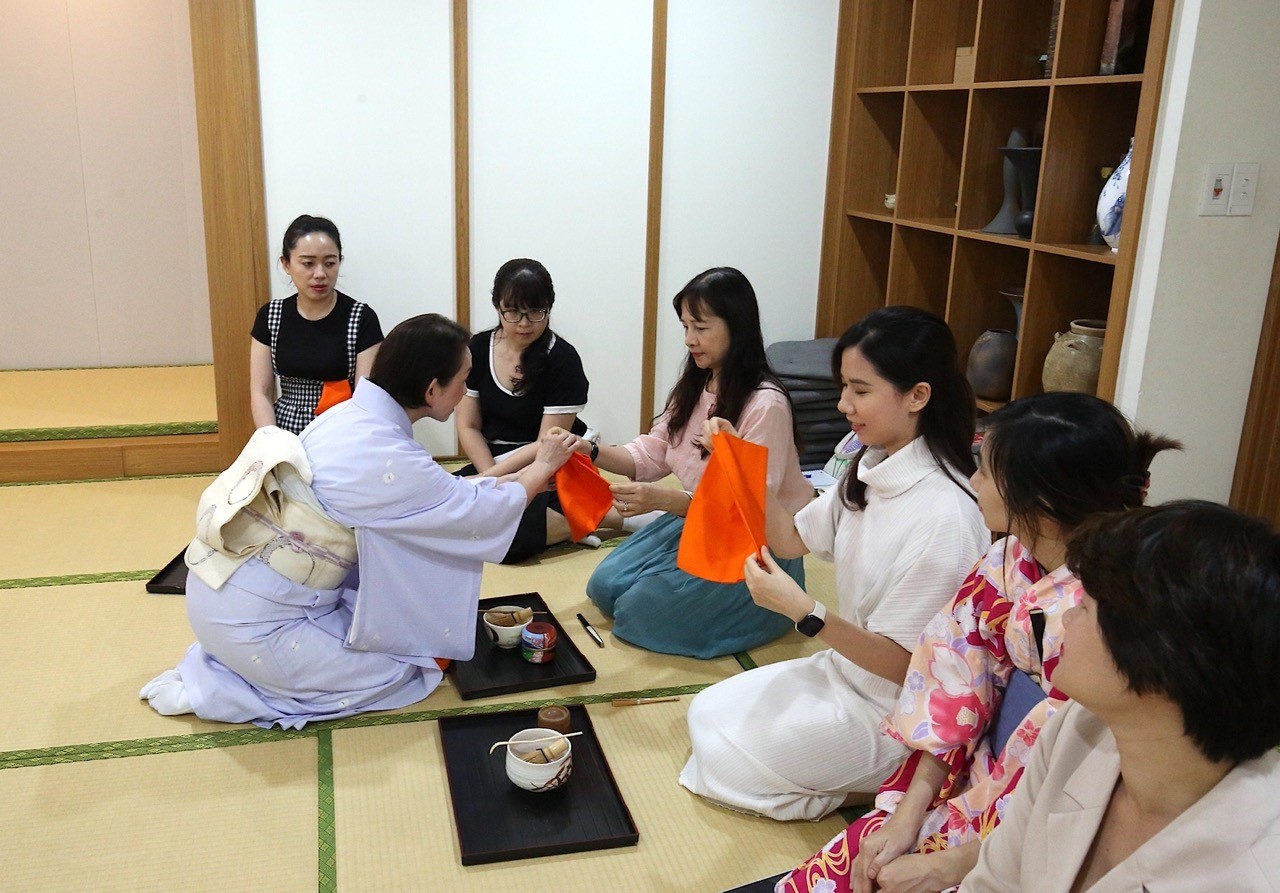 Charming Meditative Japanese Tea Ceremony in Hanoi
More than teaching etiquette
According to Hashimoto, despite spending half a century mastering this craft, teaching tea ceremony in Vietnam is an one-of-a-kind experience.
"The tea ceremony class in Vietnam is different from that in Japan in terms of language and cultural barriers. Japanese students can understand me when I teach but for Vietnamese students, I have to communicate with an interpreter. Nevertheless, I am happy to see that many Vietnamese people want to learn about Japanese culture," said the tea master.
To break down the language barrier, Hashimoto carefully demonstrates using gestures instead of words when walking the students through the steps like greeting, preparation, etiquette. When students raise questions about the meaning of each step, she explains how the procedure represents the Japanese way of life.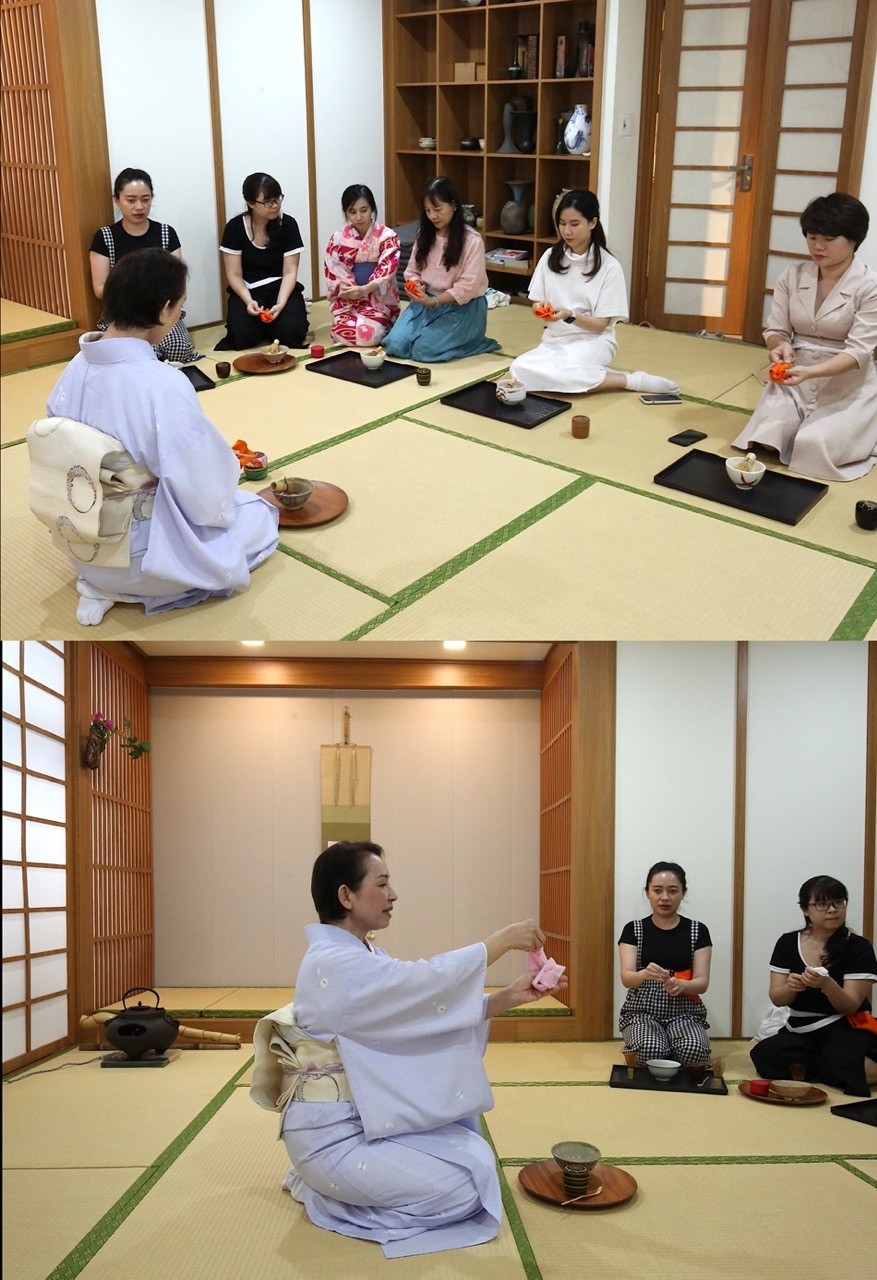 Charming Meditative Japanese Tea Ceremony in Hanoi
"To answer questions in class, I have to study hard. Thanks to that, I myself understand more about tea ceremonies. For the 3 hours of class, I would spend 1 hour on introducing tea ceremony, the rest on practicing. Since the tea ceremony has many complicated steps, I would slowly show each movement so that they copy," said Hashimoto.
While there are usually no more than 5 students in one class, the atmosphere is lively from beginning till end. It is because of Hashimoto's cheerful voice and friendliness when helping the students one by one that they can master the steps. Even first timers with little knowledge of this artform can follow the pace of the class and eventually gain more confidence when performing the tea ceremony.
Charming Meditative Japanese Tea Ceremony in Hanoi
Student Ha Thi Hai Yen (Hanoi) shared that she joined this classto curate her love for tea and Japanese culture. After only a few lessons, she already grew to love and respect the Japanese people for their sophistication, meticulousness and love for nature.
"The class was very interesting. I learned more than just how to fold a handkerchief and make tea from Hashimoto. For example, she is the one who arranges the vase herself at the tea class, she explains the reason for choosing the flower vase shaped like a cicada or how the sweets are related to the four seasons. This is a cultural aspect that I always wanted to know,", said Yen.
Also, Yen claimed that there is a strong sense of motivation coming from the Japanese teacher.
"Hashimoto's dedication and enthusiasm is the motivation for me to improve my knowledge and sensitivity, and show respect for traditional values ​​as well as for simple things in life," said Yen.
Ikebana House Center was established on the 5th floor, No. 36, Ly Thuong Kiet Street, Hoan Kiem District, Hanoi in October 2020. It is a common home for those who love Ikebana (Japanese-style flower arrangement), as well as a space to host cultural exchange activities between Vietnamese and Japanese people.