Korean Couple's Stylist Photoshoot in Hanoi
There is not better place to have a wedding photoshoot in "retro" concept than in Hanoi, exclaimed Korean couple Lim Jun-ho and Choi Seo-A.
The streets of Hanoi became a scene from a romantic K-drama thanks to a couple from South Korea. Lim Jun-ho (born 1991) and Choi Seo-A (born 1992) had a "retro" wedding photoshoot at various Hanoian landmarks. In white wedding dresses, with flower bouquet, couple shirts and shoes, the couple explored many attractions around Hanoi like the Hoan Kiem walking street, the St. Joseph's Cathedral. They also went to lesser-known places that show authentic Hanoian lifestyle such as vintage bookstore and cafe. They received a lot of positive comments from people on social media.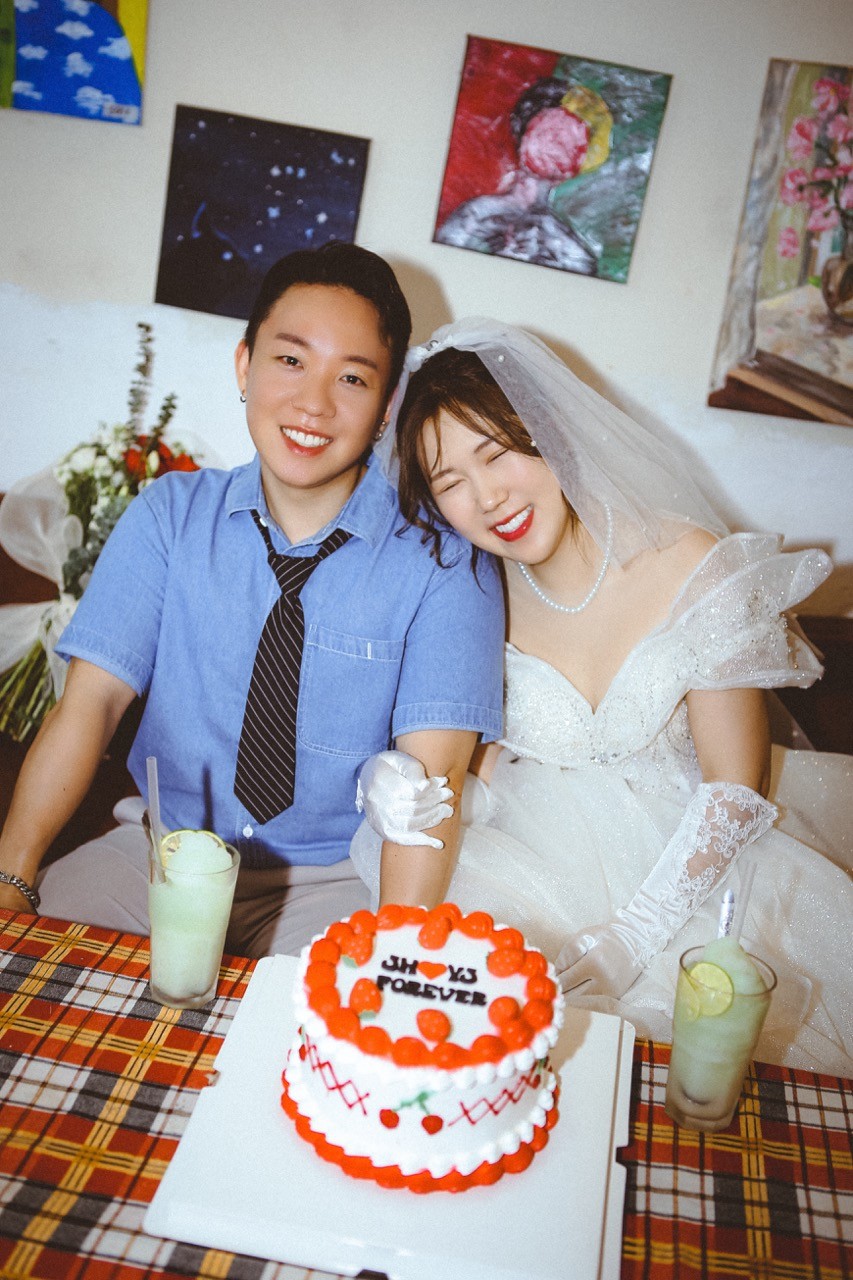 Lim Jun-ho & Choi Seo-A
Sharing the story behind the beautiful photos, Korean hair stylist couple Lim Jun-ho and Choi Seo-A said that they made Hanoi their second home in 2019. Although got married 4 years ago, they recently fulfilled their wish to have an unique pre-wedding photoshoot.
"We have lived here for about 4 years and held an intimate wedding with family and friends in Dai Lai, outside of Hanoi. Although we took couple photos by ourselves before and have photos taken at the wedding, we didn't have a pre-wedding photoshoot like other people. Korean couple usually take [pre-wedding photoshoot] with a very simple concept. I used to work as a make-up artist so I had seen the same concept so many times," said Seo-A, explaining the couple's determination to do something special for their love keepsake.
The idea came as a surprise. Jun-ho and Seo-A received an invitation from a photo studio owner, also a customer of the hair salon owned by the couple, asking them to model for a wedding concept photoshoot. They knew this was an opportunity to do something fun, original and memorable so they agreed with no hesitation.
"[The owner of the photo studio] is a friend who knew that we didn't have pre-wedding photos like other couples and even offered to pay us modeling fee [for the photoshoot]. We said no because we loved the idea of an unique wedding photos and were already happy to have [the photos in] our own style," said Seo-A.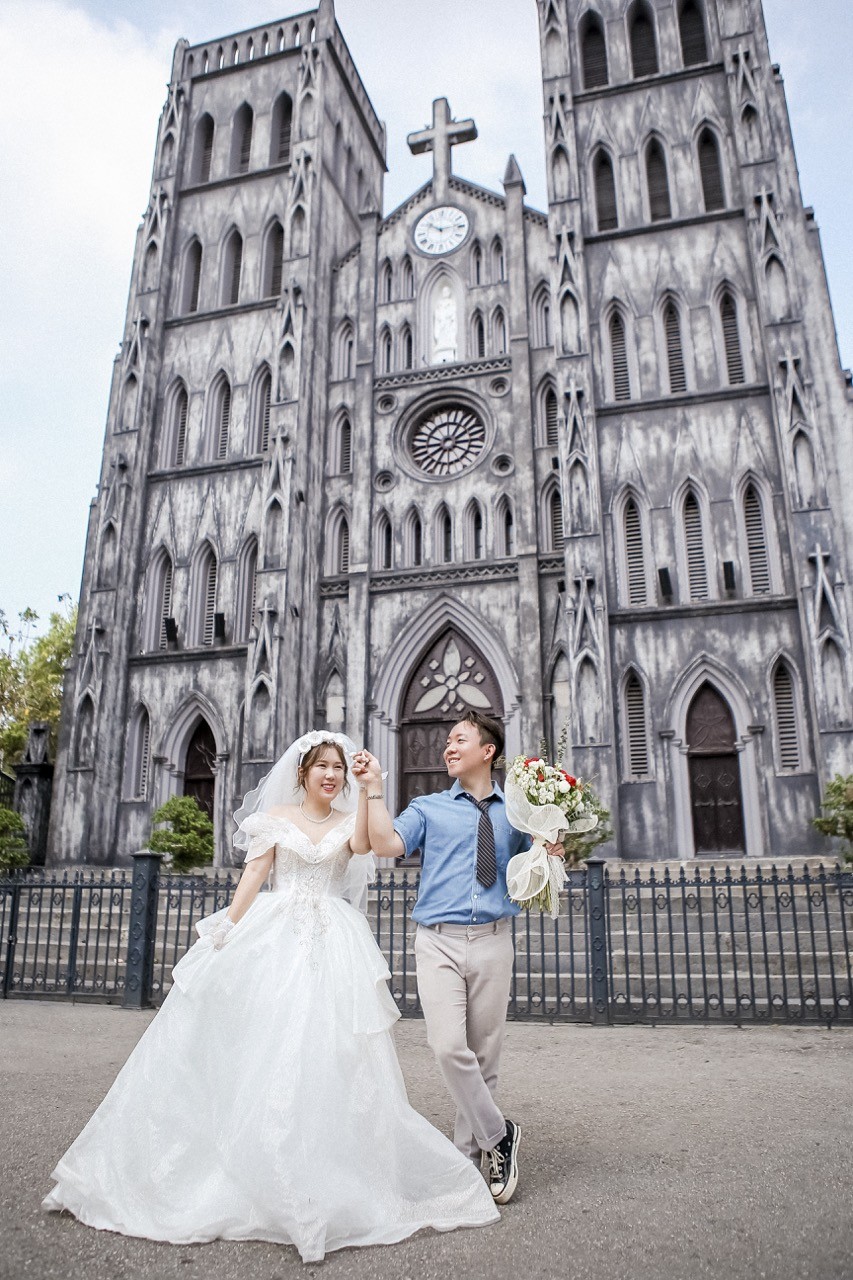 Lim Jun-ho & Choi Seo-A
One of the most buzzing trends among Korean couples was created when a TikToker couple came to take wedding photos with the "retro concept" in Da Lat. Since last year, many attempts to recreate that concept in the Korea can be seen all over the internet, said Seo-A, but the "feeling" is not the same as in Vietnam.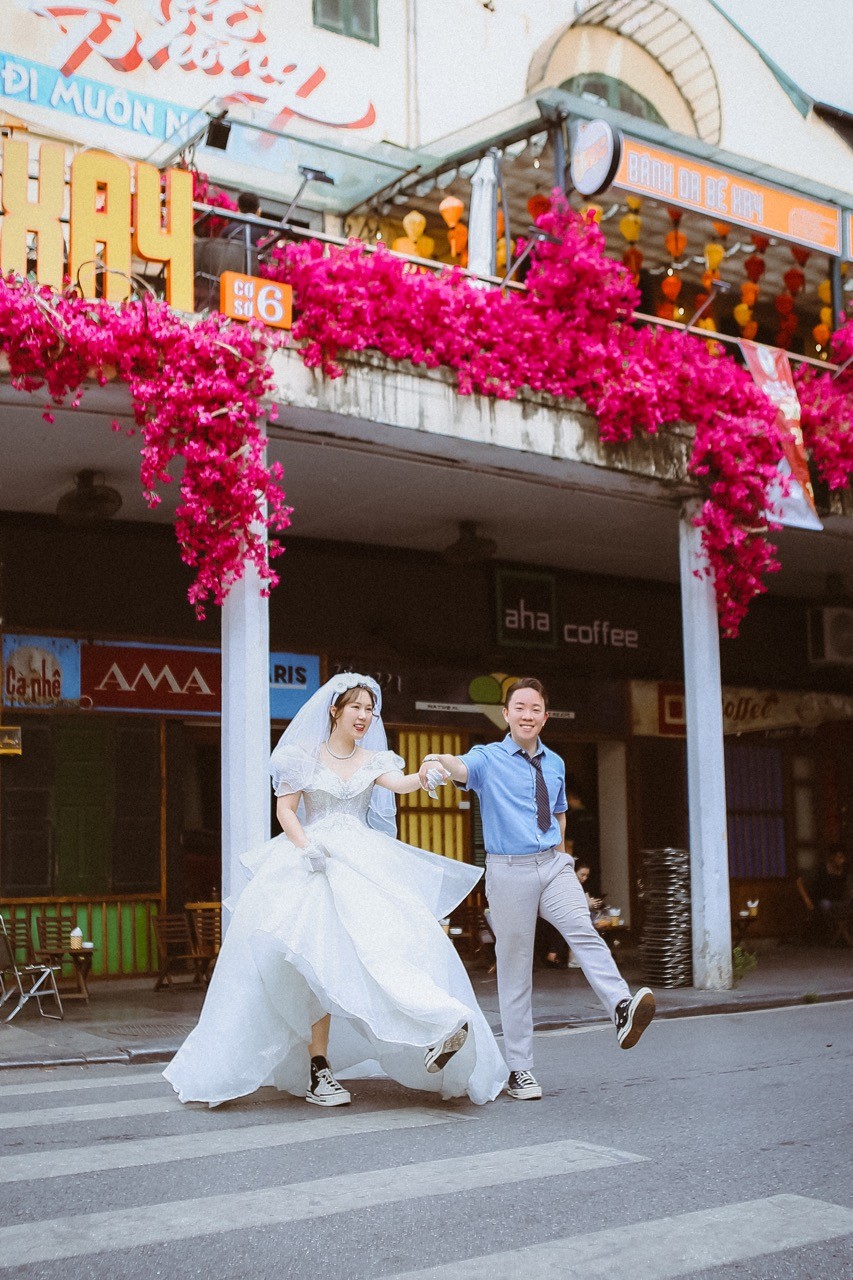 Lim Jun-ho & Choi Seo-A
Recalling the day of shooting, the Korean couple went to a total of five different places in Hanoi. The process went smoothly thanks to the preparation from the studio crew, said Seo-A, but there were some challenge taking outdoor photos in the heat of early June. While they never came to these places before, Seo-A and Jun-ho were especially impressed of how well they matched with concept, especially at the vintage bookstore in the small alley.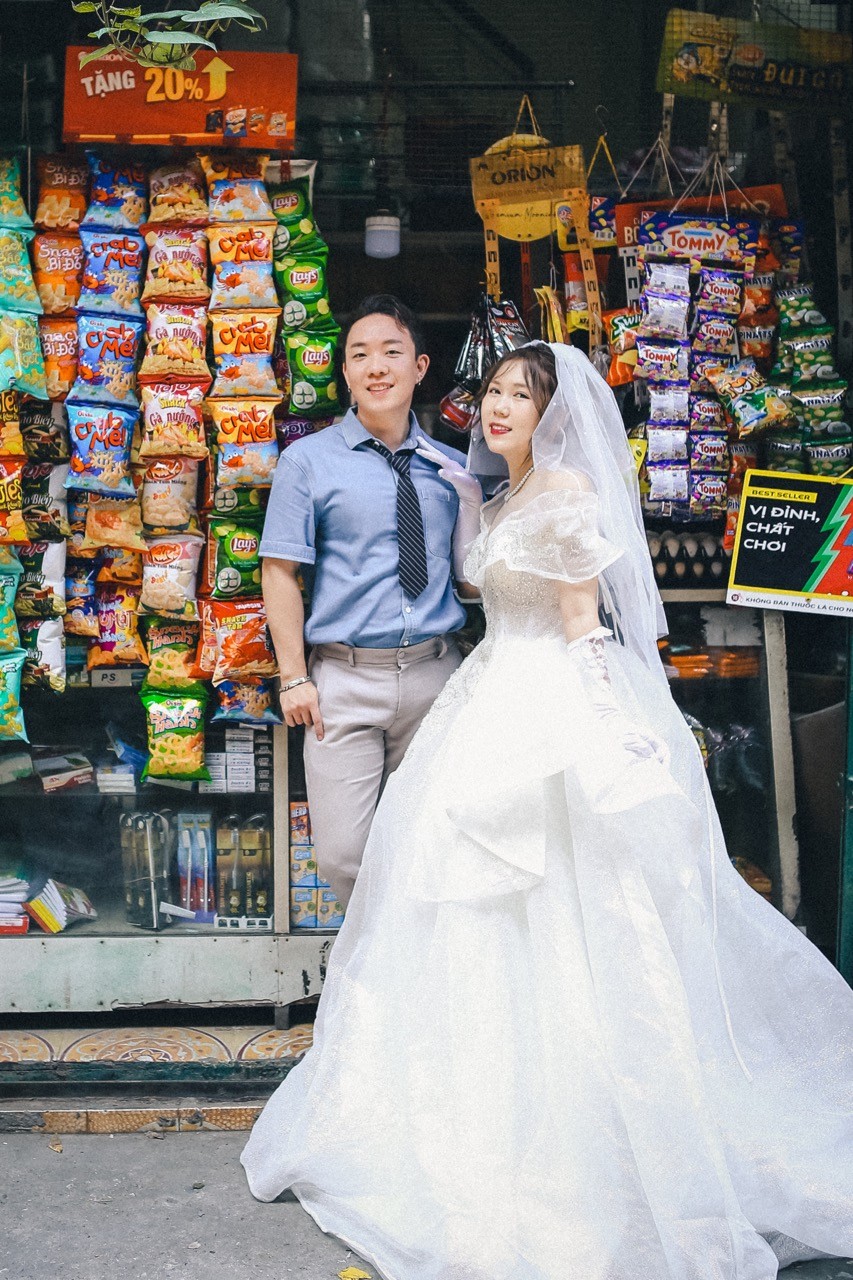 Lim Jun-ho & Choi Seo-A
"This is the first time we have been to such places. Unexpectedly, all the way in the small alley, there is a space of a store full of books. We took about hundreds of photos in each place and had a wonderful experience. Both Jun-ho and I should keep smiling," side Seo-A.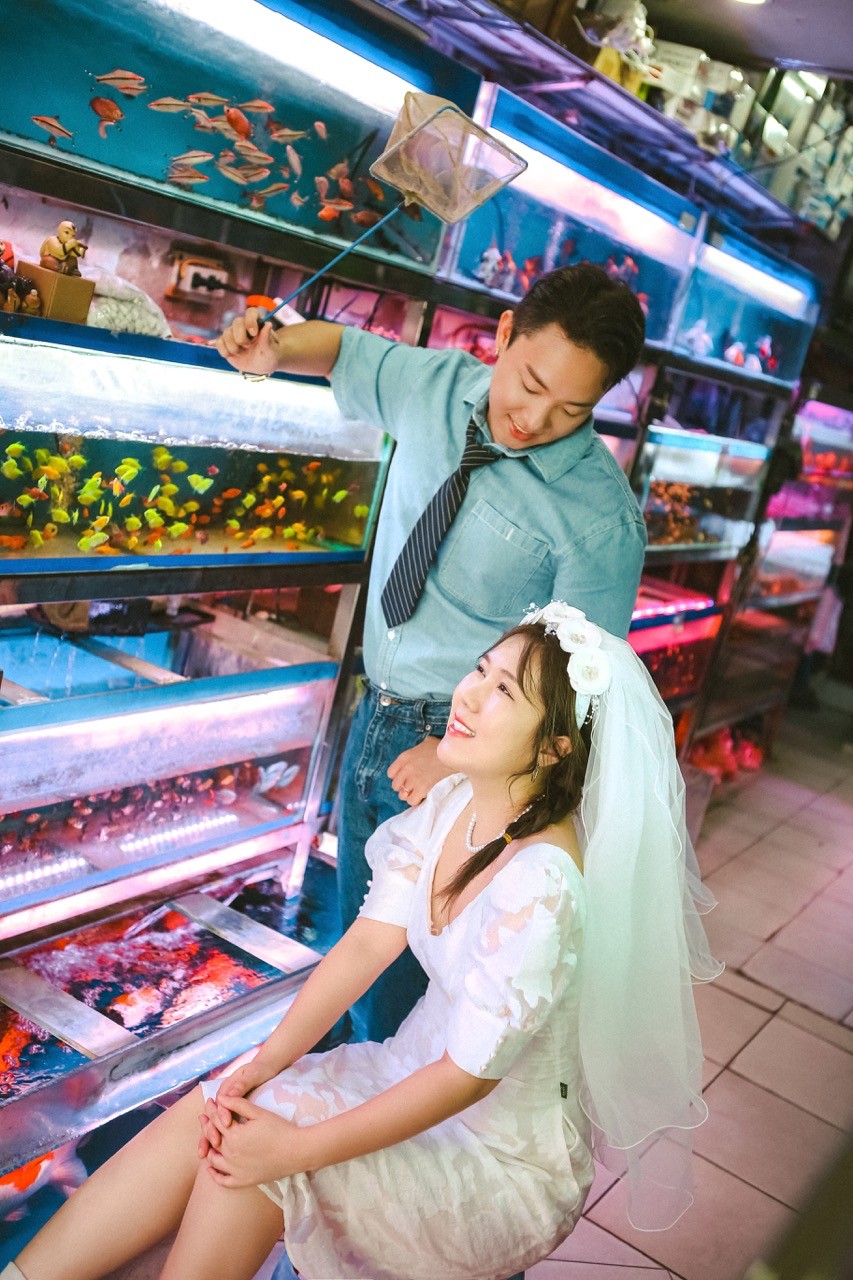 Lim Jun-ho & Choi Seo-A
"Sometimes it would take hundred of snaps to get the best shot, so we always have to keep smiling. Before [the photoshoot] we practiced a few times but we are a couple who are very comfortable and playful with each other so the photos showed our natural feelings," Seo-A revealed her favorite thing about the outcomes.
Looking at their love keepsake, Jun-ho and Seo-A felt they have granted their wish without having to spent a fortune. They also received many compliments saying how professional they modeled.
"We didn't have to prepare much [for the set]. In some pictures I wore the exact dress I wore on my wedding day. My family and friends also loved it and congratulated us. I also suggested to my sister, who is also about to get married, to come here for wedding photoshoot, combining with travel. The distance [from Korea to Vietnam] is close, [traveling in Vietnam] is convenient and inexpensive," said Seo-A.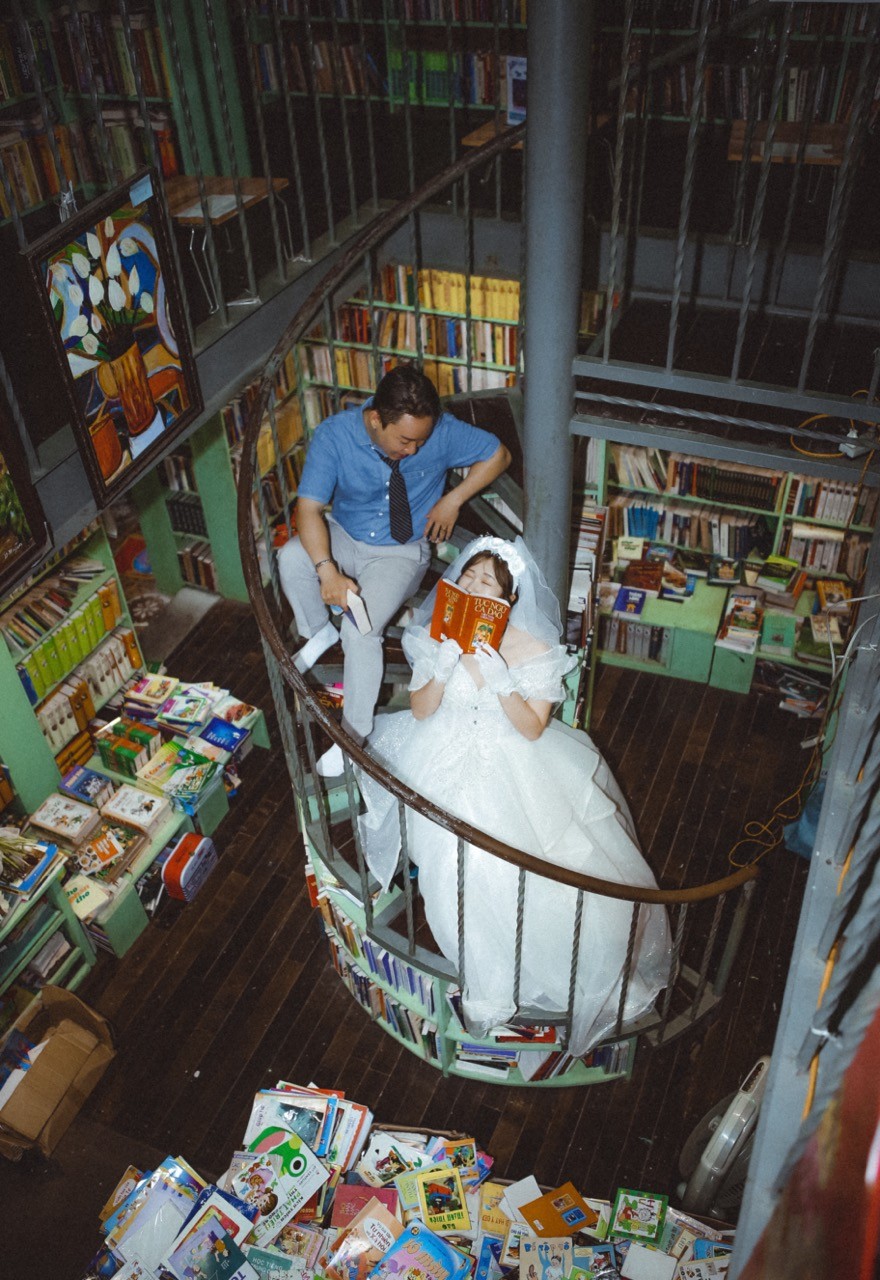 Lim Jun-ho & Choi Seo-A
Besides working hard to create beautiful hairstyles for people of Hanoi, the Korean said that some of their favorite things to do in free time are exploring Vietnam and taking beautiful photos. This wedding album is not only a celebration of their marriage, but also a milestone marking the 4-year milestone of living in Hanoi which they much cherished.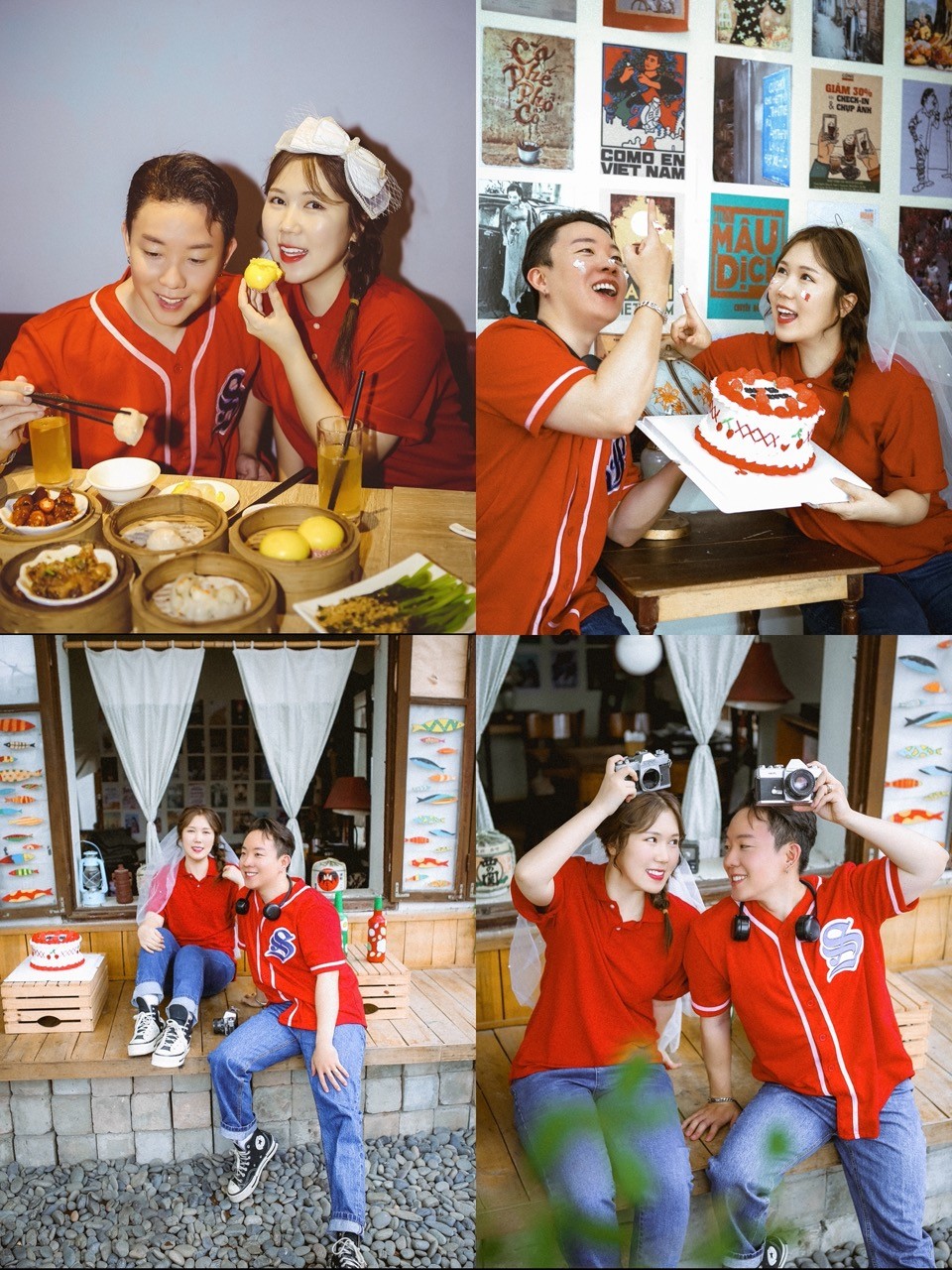 Lim Jun-ho & Choi Seo-A