Children join film making festival in Bac Kan
ChildFund Vietnam and Managing Board of ChildFund of Ngan Son district (Bac Kan province), Kim Boi district (Hoa Binh province) and Quang Uyen district (Cao Bang province) launched an event "Nurturing leadership for the future" in May 24-26.
Students make their own film.
Lives through the children's camera lens
Movie making is an activities launched in 2016 as part of the project "Connecting and Creating Leader", implemented by ChildFund Vietnam in three provinces: Hoa Binh, Cao Bang and Bac Kan, with the sponsorship from the Australian government's Direct Aid Program (DAP).
10 short films and 2 reports were made by 12 groups of 8 – 16 years old children of Ngan Son district, Kim Boi district and Quang Uyen district. Their twelve films conveying the thoughts of highland students on daily life issues like relationships in the family, friendship, hopes and dreams, the young film makers even ventured into burning issues of the society such as dangers of social network.
On the other hand, the suggestions for parents, teachers and local authorities to counter those problems also were conveyed in some films.
The activity provided young participants with first-hand experiences in every step of a movie-making process, including script writing, directing, acting, editing, with the use of digital technology. More importantly, throughout the process, the participants had chance to enrich themselves with valuable soft skills such as team work, leadership skills, self-protection skills.
Many films' contents and characters get high appreciations. It proved that the children's skills to not only construct the scenarios, shoot camera and direct film but also give decisions were trained carefully.
Developing every children's potential
Dinh Thi Bich Trung, teacher and curator of Thuan Mang village confessed that it were the second time, she guided the filmmaking group and students were interested in the activities, they can develop the living skills as well as, communication and group – working for themselves. Thuan Mang was remote village, thus, some students had not approached the modern facilities. However, they could use computers and cameras proficiently. The teachers could see the change of themselves.
Trung also illustrated the case of one student in the filmmaking group as an example of student's progress. "Ha Vi Minh Quan, a student of our school, was witnessed the difficult circumstances of his peers after joining in making a film. Therefore, Quan have a great change that he helps his parents with houseworks, plays with his younger brother more and study hard when in class time". She added not only Quan, but also other students had the great novelty which teachers and their family could recognize.
The film produced by Thuan Mang village's student group "Why no one care about me?" showed the story of the girl who was born in the family without boy. She was beaten and neglected by her alcoholic father and was teased alienated by her classmates that she ran away from home. Although it was not an uncommon story, the contingent plots and the slick taken – down scenes got the concentration and applause of the audiences.
The film received the best film award and the Judge's Choice award. Hoang Vi Minh Quan achieved the award of the best supporting actor.
Students receive their award.
Ngo Phuong Thao, student of ethnic minority day boarding middle school Thuan Mang, one of actor of the film "Why no one care about me?" said that the movie was based on the real story in her village. With this film, students presented the hope that other girls was in the same situation would receive caring and support from teachers and classmates and their father would stop drinking alcohol for the family's happiness.
Pham Duy Hung, Vice Chairman of Bac Kan People's Committee shared that besides the "connecting potentials of leadership", ChildFund held meeting between children and provincial and departmental leaders annually. We usually heard and apprehended the students' opinions and aspirations to have adjustments such as: supporting students to improve their living skills and communication, drowning, violent and abuse prevention.
According to Le Ngoc Bao, expert of child protection of ChildFund, the project helped 480 children, youth and adolescent in the region of ethnic minority. This year, disabled children and children of the poor families took part in the program. In addition, teachers and local leaders gradually comprehended the purposes and advantages of children when participating in the skills practicing activities and supported the project of Childfund.
Childfund considered every child has the potential to be a leader. If the adults gave them opportunities, they could show their efficiencies and the skills of leadership were communication, leading, giving decision, solving problems and encouragements. The students was trained and practiced these skills in the project and their abilities expansion depended on their attributes./.
Translated by Thanh Van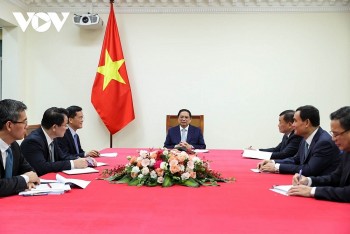 National
Vietnam News Today (Nov. 29): Vietnam records 333 new Covid-19 cases on November 28; Economic cooperation a solid pillar of Vietnam – France strategic partnership; Science, technology development key to sustainable agriculture; Glorious Ashes wins top prize at Three Continents Film Festival.