China's top diplomat says Vietnam 'maritime problems' should not interfere with bilateral ties
China's Foreign Minister Wang Yi said maritime problems involving Vietnam should not interfere with bilateral relations, according to a report released by China's Ministry of Foreign Affairs.
China's Foreign Minister Wang Yi attends the ASEAN-China ministerial meeting in Bangkok, Thailand, Jul 31, 2019. Photo: Reuters/Athit Perawongmetha
China released the statement following a meeting between Wang and Vietnamese Foreign Minister Pham Binh Minh on August 1 in Bangkok. Wang said China-Vietnam relations continued to develop and the two sides will "properly control and manage the situation at sea."
Addressing the ASEAN-China Foreign Ministers' Meeting in the framework of the 52nd ASEAN Foreign Ministers' Meeting (AMM-52) in Bangkok on July 31, Vietnamese FM Pham Binh Minh showed concern on complicated developments in the East Sea, including unilateral actions that harm trust and peace with Chinese geological survey vessel group Haiyang Dizhi 8's activities violating Vietnam's exclusive economic zone and continental shelf in the waters.
He underscored the principles agreed by ASEAN, while calling on parties to exercise restraint, not to use or threaten to use force, and not to conduct actions that complicate the situation and increase tension.
He also stressed the need for upholding international law, including the UN Convention on the Law of the Sea 1982 (UNCLOS 1982), the full implementation of the Declaration on the Conduct of Parties in the East Sea (DOC), and the soon formation of a Code of Conduct in the East Sea (COC).
The ministers shared Vietnam's concern and agreed on the significance to strictly abide by international law and not to make actions that raise tension and complicate the situation.
He then suggested ASEAN maintain solidarity and common voice, reaffirm its principles and commitments to peace and stability, call for restraint and non-unilateral actions that harm dialogues and regional cooperation and hinder legitimate economic activities of the coastal countries, and try to build an effective and practical COC./.
VNF/Reuters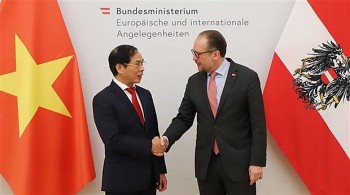 Overseas Vietnamese
Fifty years have passed since the establishment of the relationship, the two countries have enjoyed great strides in bilateral cooperation.