Christina Noble Children's Foundation provides job opportunities to those without
Lacking the legal documents to obtain bank loans, those living in poverty in Vietnam have no means to develop their small businesses in order to improve their lives.
Since 1996, CNCF's Microfinance Loan Programme has been supporting impoverished communities by providing access to financing micro-enterprises, from rice farming to retail businesses.
The Micro Finance Programme (MFP) was first established in December 1996 by the Christina Noble Children's Foundation (CNCF). This project maintains an objective of poverty eradication for destitute households in selected areas of southern Vietnam through the provision of and access to loans at low-interest.
After 23 years of operation, the project is now only implemented in Kien Giang Province (New Agreement valid through February, 2022), located in Son Kien Commune - Hon Dat District with 18 loan recipients after the withdraw of Ben Tre Department of Labour - Invalids and Social Affairs in 2017 and then Long Thanh Women's Union (Dong Nai Province) since May, 2019.
In 2018 alone, more than 30 families in Kien Giang province were enrolled in the programme. To date, loans provided have benefited low-income families in destitute villages, empowered women and ensured that children from recipient families remain in school.
Core to CNCF's values is that they achieve a sustainable impact for the communities in its care by addressing poverty at grassroots levels.
Thanks to CNCF's Microfinance Loan Programme, they were able to invest in more equipment and spare parts in 2015.
In 2011, in a remote rural area in Kien Giang province, Phuong got married in 2010 and together with her husband – Thang, the young poor couple started their own motorbike repair shop, small and limited in supplies.
In a rural impoverished countryside where inhabitants living scattered and vehicles are even limited, the shop had undergone great difficulties in finding customers and even when they came, it failed to retain them due to lack of facilities, necessary spare parts and equipment, despite the owners' skills and hard work. The income therefore was too tight to make ends meet, let alone paying monthly rental cost of the shop, about 400,000 VND/month and savings for their 2-year-old child.
In 2015, the couple joined CNCF's Micro-Finance Programme and thanks to the loan of 5 million VND which was then invested on expending their micro-enterprise, buying tools and spare parts, the shop had gradually been more stable and gained trust from the local customers. This enabled Phuong's husband to improve his mechanical skills and perform repairs quickly and reliably which attracted more and more customers each day. With profits earned from the shop, in 2016, the couple eventually bought the land and ended their rent.
After the first 3-year cycle, with her positive outcomes, Phuong wanted to engage in another cycle with Micro-Finance Programme to completely break out of the poverty trap. On considering her effort and determination, her loan has been increased to 10 million VND to help her focus on expanding the business and upgrade the management skills.
The shop has also been renovated to be bigger and well-equipped to attract more customers. The monthly income helps cover all daily expenses, including tuition fees for their 2 school-aged children. Furthermore, Phuong is able to support her 3 nephews and niece whose parents are working in Binh Duong Province.
Thanks to CNCF's support, 8 years later the shop has now expanded, flourished and receives enormous support from countless loyal customers. In addition, five children in the family now have access to education, transforming their futures and an opportunity they would have otherwise not had./.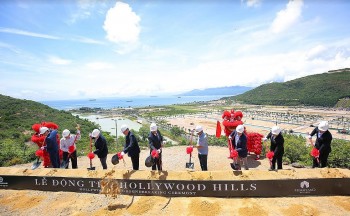 Economy
On October 2, at Hai Giang peninsula (Quy Nhon city, Binh Dinh), Hung Thinh Corporation held the groundbreaking ceremony of Hollywood Hills by YOO Inspired by Starck – a subdivision at MerryLand Quy Nhon. The event marks the first time that the world's No.1 ranked design and branded residence company YOO Inspired by Starck is officially present in Vietnam, with a collection of villas designed by creative director, Philippe Starck.