CNCF helps bring clean water to rural families
Christina Noble Children's Foundation (CNCF) has supplied over 250 deep water wells and over 640 water tanks to communities in southern Vietnam since the Rural Water Programme started in 1998.
Clean Water for All: Water tanks for each family. Photo: CNCF
According to a report by WHO, each day nearly 1,000 children die due to preventable water and sanitation-related diarrheal diseases (2016), 785 million people remain without basic drinking water services (2017). Contaminated water and poor sanitation are linked to transmission of diseases such as cholera, diarrhoea, dysentery, hepatitis A, typhoid, and polio.
Although Vietnam has improved its water supply situation in the past decade, water pollution has now become a very serious issue. River water quality has been severely affected as economic development has led to increased amounts of toxins and pollutants in the water. Almost 80% of the diseases in Vietnam are caused by polluted water, according to the Vietnamese Ministry of Natural Resources and Environment. There are many cases of cholera, dysentery and malaria. Dysentery is now one of the leading causes of child mortality under the age of five in Vietnam. Each year millions of children and their families in Vietnam remain at serious risk from water borne disease, poisoning and skin problems.
Scarcity of clean water occurs not only in urban areas such as Hanoi and Ho Chi Minh City but also in rural areas due to the reduced rainfall and high salinity in freshwater.
As clean water is vital for the survival and development of children and their families, CNCF's Rural Clean Water Programme was established with the goal of eradicating waterborne diseases. To date, more than 79,000 inpiduals have benefited from the Programme.
With access to safe water, proper sanitation and good hygiene, they are less likely to fall ill and incur medical costs, and are better able to remain physically and economically productive, for children, in particular, it can result in better health, and therefore better school attendance./.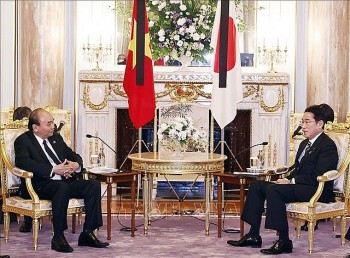 Friendship
Vietnam always treasures the extensive strategic partnership with Japan and views Japan as an important and long-term strategic partner, President Nguyen Xuan Phuc told Japanese Prime Minister Kishida Fumio in Tokyo on September 26.