Contaminated land at Bien Hoa airbase area handed over for dioxin remediation
Vietnam and the US on November 1 signed an agreement on handing over 37ha of land at Bien Hoa airbase for dioxin contamination remediation.
At the signing ceremony. Photo: USAID
The United States Agency for International Development (USAID) Deputy Administrator Bonnie Glick and U.S. Ambassador to Vietnam Daniel J. Kritenbrink joined Vietnam's Vice Minister of National Defense Senior Lieutenant General Nguyen Chi Vinh and other National Defense officials at their headquarters to mark the formal transfer of 37 hectares of the Bien Hoa Airbase by the Air Defense-Air Force Command (ADAFC) to USAID, a key initial milestone in the Dioxin Remediation at Bien Hoa Airbase Area Project.
At the ceremony, Deputy Administrator Glick highlighted the importance of US-Vietnam efforts at Bien Hoa to deepen the US-Vietnam Comprehensive Partnership by addressing legacies of war.
Bien Hoa airport is the largest remaining hotspot of dioxin contamination in Vietnam. An estimated 500,000 cubic meters of soil at the airport in Dong Nai province are contaminated with the deadly chemical. Last year, USAID signed an agreement with ADAFC for a USD 183 million USAID contribution for the first initial five years of remediation work at the Bien Hoa Air Base area and the Project was officially approved and launched in April 2019. USAID estimates overall remediation efforts will be completed over a ten-year period.
The project follows the successful cleanup of Da Nang airport, where nearly 33ha were isolated and treated with thermal desorption technology./.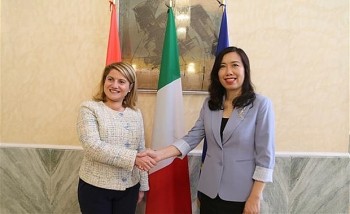 Friendship
The Vietnam - Italy political consultation is part of the occasion of the 50th anniversary of diplomatic ties and the 10th anniversary of the framework of the strategic partnership.