Cuba's Giron victory marked in HCMC
Vietnam and Cuba were a companion in the toughest stages. This brotherhood was boosted deeply by the visits and meeting of two countries' leaders to make the more effective and practical relationship.
The Ho Chi Minh city Union of Friendship Organizations (HUFO) and the city's Vietnam – Cuba Friendship Association held a gather marking the 58th anniversary of Cuba's Giron victory (April 19, 1961 - 2019) in Ho Chi Minh city on April 17.
Special musical performances at the event.
Chairwoman of Ho Chi Minh City's chapter Truong Thi Hien emphasized, in her speech, the Giron victory in 58 years ago was an important event of Cuba that pointed the U.S troop assault's failure.
"Vietnam and Cuba were stuck together in the most challenged periods. Leaders of state, Party and army of two countries constantly pay visits each other to extend the united brotherhood relation and in depth cooperation, that supports successfully and actively to inherit the result of the revolutions of both Vietnam and Cuba" said Hien.
Cuban Consul General to Ho Chi Minh City Indira Lopez Arguelles said the celebration of the victory demonstrates the hope for bloodshed not to be repeated in Cuba or anywhere else in Latin America. It marked the start of socialism building in Cuba, the first of its kind in the Western Hemisphere, she added.
The diplomat expressed her deep gratitude for Vietnamese soldiers, who fought for the independence and socialism of not only their home country, but also Cuba.
Recently, the Cuban business delegation was headed by General Secretary of Chamber of Commerce Omar De Jesus Fernandez Jimenez, came to Vietnam to participate in International Trade Fair in Hanoi.
In Ho Chi Minh City, the delegation cooperateđ with friendship organizations in Ho Chi Minh City to hold a meeting "Strengthening the trade between Cuban business and Ho Chi Minh City business" to advertise the productions and services of Cuba in aspects, for example: healthcare, tourism, high technological agriculture, biological product…
During the Cuban delegation's visiting, the Vietnam – Cuba Friendship Association and Thai Binh Trading Company's chapter discussed the establishment of Vietnamese friendship house of culture in Cuba and Cuban friendship house of culture in Vietnam.
This activity was also interested by Vietnam Union of Friendship Organizations, Vietnam – Cuba Friendship Association and Consulate General of Cuba in Ho Chi Minh City to deploy for extending the people' steadfast friendship of two countries./.
Translated by Thanh Van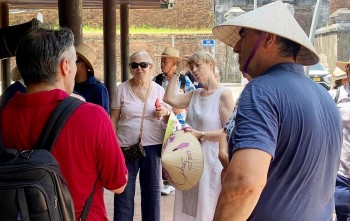 National
Vietnam News Today (Mar. 29): Vietnam to issue e-visa to foreigners of all countries; Vietnam, China beef up defence ties; Outbound tours prove popular during April holiday; Vietnam International Travel Mart 2023 to spotlight cultural tourism.