Da Nang city invests nearly VND572 billion new style rural areas
In 2014, Da Nang city spent nearly VND572 billion carrying out the program on building new style rural areas.
Accordingly, the city built and upgraded 34 road crossings, 29 kilometres of village roads, 14 bridges, 29 irrigation works and 17 electricity constructions.
In addition, the city focused on carrying out effective production models, including planting flowers, mushrooms and raising shrimp.
The activities helped to increase the income per capita in rural areas to nearly VND21 million per year, an increase of VND2 million compared to 2013 while reducing the poverty rate from 16.52% to below 10% at the end of 2014. Moreover, the program also raised the rate of rural labourers getting regular employment to over 95%.
The program on building new style rural areas in the city targets to set up a modern infrastructure system for socio-economic development; establish suitable production models with increased agricultural production in line with rapid industrial and service production; build up democratic, stable and culturally rich rural areas with protected ecological environment, reinforced security and increasingly improved spiritual and material lives for people.
The city plans to help 100% of its communes recognised as new style rural areas by 2017; and strive to keep the achievements in the years to come./.
Compiled by VNF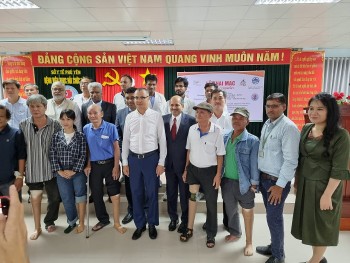 Friendship
This is the 5th time the Jaipur Foot Artificial Limb Fitment Camp has been held in Vietnam since 2018 by the Indian Ministry of Foreign Affairs, Indian agencies and organizations.