Da Nang City Steps up Cooperation with Italy
The Consul General will connect organizations and businesses in Italy to explore opportunities for cooperation in the central city of Da Nang, affirmed Enrico Paluda, Consul General of Italy in Ho Chi Minh City with the city leaders at the meeting.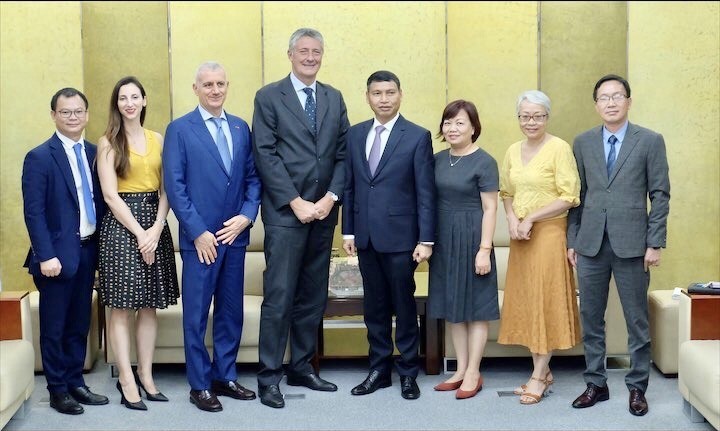 Da Nang People's Committee Vice Chairman Ho Ky Minh (fourth, right), Italian Consul General in Ho Chi Minh City Enrico Padula (fourth, left) and members of the delegation posing for a group photo. Photo: Kim Phuong/danang.gov.vn
Da Nang People's Committee Vice Chairman Ho Ky Minh recently hosted a reception for Enrico Padula, Consul General of Italy in Ho Chi Minh City, Da Nang Today reported.
Vice Chairman Minh informed his Italian guest about the city's socio-economic achievements and its development orientation. He took the opportunity to ask for support from Enrico Padula to reinforce the friendship and cooperation relations with Italian partners in various fields, especially tourism and port development.
He remarked that 2023 marked the 50th anniversary of the establishment of the bilateral diplomatic ties (March 23, 1973 - 2023), and the 10th founding anniversary of the Strategic Partnership.
The Italian diplomat informed that the Consulate General of Italy in HCM City planned to organise a number of cultural exchange activities in Da Nang, aiming at further tightening the Vietnam - Italy relationship.
He added cultural exchange activities will be even more meaningful when the forthcoming Da Nang International Fireworks Festival (DIFF) 2023 will see the return of the Italian fireworks team.
Da Nang has been the only place in Vietnam to have hosted a fireworks festival, making it a magnet for the best fireworks producers from around the world each year since 2008. It has been building a "Fireworks Festival City" reputation to promote it as a top destination in central Vietnam and Asia.
This year's DIFF will feature eight teams from the UK, Italy, Poland, France, Australia, Canada, Finland, and Vietnam competing over five nights across two months.
Consul General Enrico Padula thanked and accepted the invitation to DIFF 2023 made by the city leader.
He hoped that the much-awaited festival will open up many cooperation opportunities in services and trade between Italy and Vietnam, especially Da Nang.
Padula affirmed that he will do his utmost to boost cooperative relations in the field of culture and education with Da Nang in the time to come.
The People's Council of Da Nang City approved a resolution on the Da Nang City Master Plan for the 2021-2030 period, with a vision to 2050 which will be soon submitted to the government for approval, VNA reported in March.
Accordingly, by 2030, the city expects to achieve an average annual economic growth rate of 9.5-10% and a gross regional domestic product (GRDP) per capita of about VND 200-220 million (USD 8,500 – 9,350) per person.
By 2030, the city's economic development will focus on three pillars, namely tourism, knowledge-based economy, and service center.
Iconic bridges across the Han River in Da Nang in central Vietnam, are lit up at night. Photo by VnExpress/Nguyen Sanh Quoc Huy
Under the master plan, the city also strives to have an annual budget revenue increase of 9-11%, and total investment capital for social development by 11-12%.
The city targets to mobilize about VND 800 trillion in investment capital for social development in the period of 2021-2030.
Its population is expected to increase by 2.9% yearly during the period and will reach about 1.56 million people by 2030.
Each year, about 32,000-35,000 jobs will be created in the city. The city also plans to keep the unemployment rate below 5% and trained workers will account for 66% of its total workforce.