Decades after war, Vietnam and the U.S. battle a legacy of bombs
Decades after war, Vietnam and the U.S. battle a legacy of bombs
Red skull-and-crossbones markers dot the horizon in a barren patch of land in Vietnam where missteps could be fatal.
The signs warn of landmines and bombs, the legacy of a war with the United States that claims casualties even today, four decades after the war ceased in 1975.
Unexploded ordnance (UXO) has since killed 42,000 people and wounded 62,000 in Vietnam, according to official data. Three in every 10 casualties were children.
Quang Tri province, once the demilitarized zone in the war, remains one of the world's most dangerous places.
Much of it is wasteland and like five nearby provinces, its vast swathes hide leftover explosives. Ten percent of the 15.4 million tons of ammunition used during the war never detonated.
After diplomatic relations with Vietnam were normalized in 1995, the United States has spent $80 million in helping clear war-era bombs that leave survivors blind, deaf or missing limbs.
"It's important to remember how important it is to get rid of the results of war as fast as we can," U.S. Under Secretary of State for Arms Control and International Security Rose Gottemoeller told Reuters.
The goal is to reclaim 52 million square meters (62 million square yards) of Quang Tri farmland, unused for half a century in one of the world's top agriculture exporters.
Signs reading "Caution! UXO clearance in progress" are a fixture. Bamboo poles with red ribbons mark locations earmarked for clearance, hooked up to cables and readied for detonation.
This week, Gottemoeller pushed the button and four simultaneous explosions sent plumes of debris into the air.
But clearing efforts could take generations. Just 2.5 million square meters have been reclaimed since Britain-based Mines Advisory Group (MAG) started working in Quang Tri 15 years ago.
"Vietnam is the most contaminated place I've worked," said Daniel Dobb, a MAG field manager. "We're finding items all the time, possibly over 100 items a week."
The United States will spend some $10 million on UXO efforts this year, part of a diplomatic offensive on a former enemy that includes health and education programs, a soft power campaign for a new Asian alliance to offset China's regional influence.
Gottemoeller said collaboration seemed unlikely a few years ago.
"It would have been really hard for an American like me to envision we would be working so closely together," said Gottemoeller, whose brother served in Vietnam. "I can only see it continuing."
Tuoitrenews.vn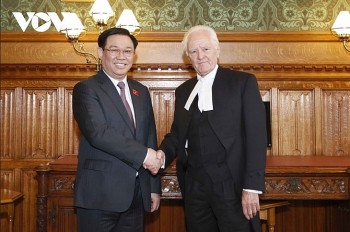 Friendship
Vietnam is willing to create all favourable conditions for investors of the UK to operate in the Southeast Asian country, National Assembly (NA) Chairman Vuong Dinh Hue told UK Secretary of State for International Trade Anne-Marie Trevelyan during their meeting on June 29 (UK time).