DHL Global Forwarding Asia Pacific recognized as Top Employer 2023
DHL Global Forwarding, the air, ocean and road freight specialist of Deutsche Post DHL Group, has been certified as Top Employer in Asia Pacific for the fourth time in a row.
Also certified as Top Employer 2023 in 45 country organizations spanning Africa, Asia Pacific, Europe, Middle East and North America
DHL Global Forwarding is the only freight forwarder and one of only 15 companies to be named a global Top Employer 2023
The certification recognizes the company's outstanding human resources policies and practices
The certification acknowledges DHL's extensive efforts to create a positive, safe and encouraging workplace for its employees. In addition to being certified Top Employer 2023 in Asia Pacific, DHL Global Forwarding was also recognized as a Top Employer globally in 45 country organizations, including Bangladesh, India, Indonesia, Malaysia, Philippines, Singapore, Thailand and Vietnam.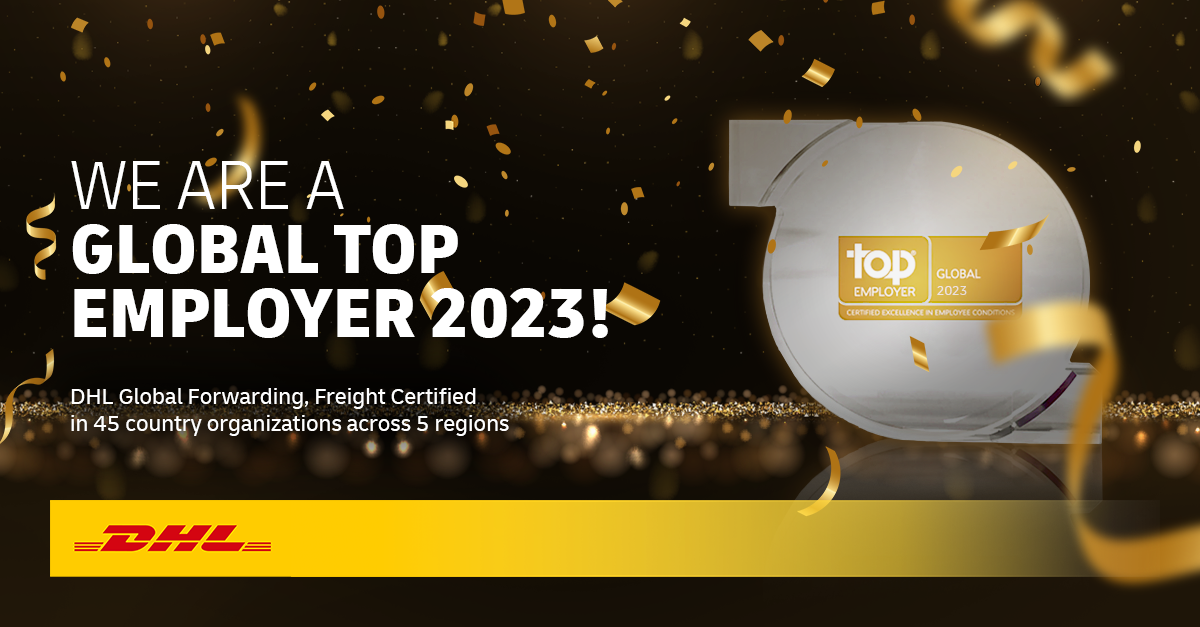 Globally, DHL Global Forwarding receives the certification as Top Employer Global 2023, Top Employer Africa 2023, Top Employer Europe 2023, Top Employer Middle East 2023 and Top Employer North America 2023.
"Being recognized as a Top Employer in Asia Pacific for the fourth year is a row is a testament that we are moving in the right direction of our people-first practices. Our people are our greatest asset, and we will keep investing in initiatives on our employee's well-being, training and career development opportunities, and to foster a diverse and inclusive work culture. We will continue to build an environment where people can thrive at work and in their personal development. Our people's commitment to excellence is what drives our business forward where we provide world-class logistics and transport solutions. Congratulations to all colleagues who make this possible," said Kelvin Leung, CEO, DHL Global Forwarding Asia Pacific.
The Top Employers Institute program certifies organizations based on the participation and results of their HR Best Practices Survey. This survey covers six HR domains consisting of 20 topics including People Strategy, Work Environment, Talent Acquisition, Learning, Diversity & Inclusion, Wellbeing and more. DHL Global Forwarding carries out numerous HR initiatives and activities in these areas worldwide, to create a positive working environment where talent and excellence can grow.
Among other things, DHL Global Forwarding was recognized for introducing sustainability as a new key performance indicator in 2022. This process will be completed in 2023.
"Being awarded as one of the best employers in Asia Pacific makes me really proud," says Celine Quek, Senior Vice President and Head of Human Resources, DHL Global Forwarding Asia Pacific. "Our success is built on the talent and expertise of our people, which is why we offer many learning opportunities while providing a flexible work environment to support the different needs of our colleagues. We also champion diversity and inclusion to promote an environment where everyone feels valued and respected. Thank you to all my colleagues. We will continue to do more to stay ahead of the evolving needs of our people, our business and the environment that we operate in."
In addition to DHL Global Forwarding, all other Deutsche Post DHL Group divisions were certified as Top Employer 2023, either at global, regional or country level. For the first time, Deutsche Post DHL Group received the Top Employer Award as a Group in Europe. With 590,000 employees working in five divisions in more than 220 countries and territories Deutsche Post DHL Group is one of the largest employers worldwide.
DHL – The logistics company for the world
DHL is the leading global brand in the logistics industry. Our DHL divisions offer an unrivalled portfolio of logistics services ranging from national and international parcel delivery, e-commerce shipping and fulfillment solutions, international express, road, air and ocean transport to industrial supply chain management.
With about 380,000 employees in more than 220 countries and territories worldwide, DHL connects people and businesses securely and reliably, enabling global sustainable trade flows. With specialized solutions for growth markets and industries including technology, life sciences and healthcare, engineering, manufacturing & energy, auto-mobility and retail, DHL is decisively positioned as "The logistics company for the world".
DHL is part of Deutsche Post DHL Group. The Group generated revenues of more than 81 billion euros in 2021. With sustainable business practices and a commitment to society and the environment, the Group makes a positive contribution to the world. Deutsche Post DHL Group aims to achieve net-zero-emissions logistics by 2050.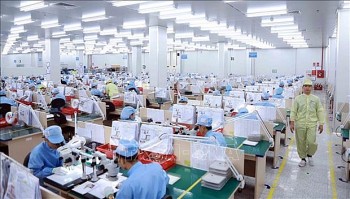 National
Vietnam News Today (Jan. 26): Vietnam - important partner of RoK; HCM City maintains growth momentum, reaps successes in 2022; Vietnam's tourism forecast to strongly rebound in five years; Many localities attract a large number of visitors during Tet.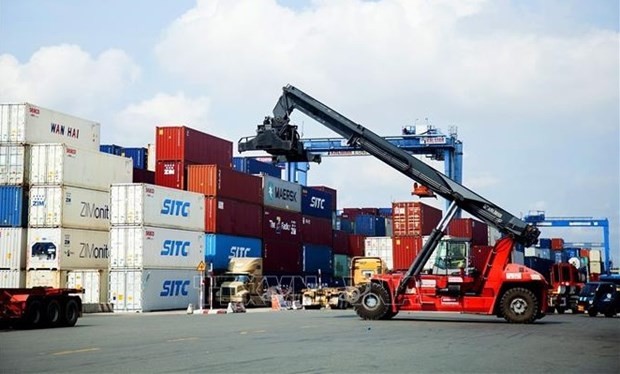 Economy
With export-import revenue hitting $732 billion for the first time, Vietnam has been listed among the leading economies in terms of international trade.
January 25, 2023 | 09:13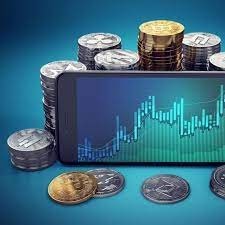 Economy
Changelly makes exchanging Bitcoin to Ripple XRP an effortless task. Additionally, we offer competitive rates, reduced transaction fees around the clock customer care for a smoothened user experience. Users can choose a fixed or floating rate when exchanging currencies on our platform.
January 22, 2023 | 17:52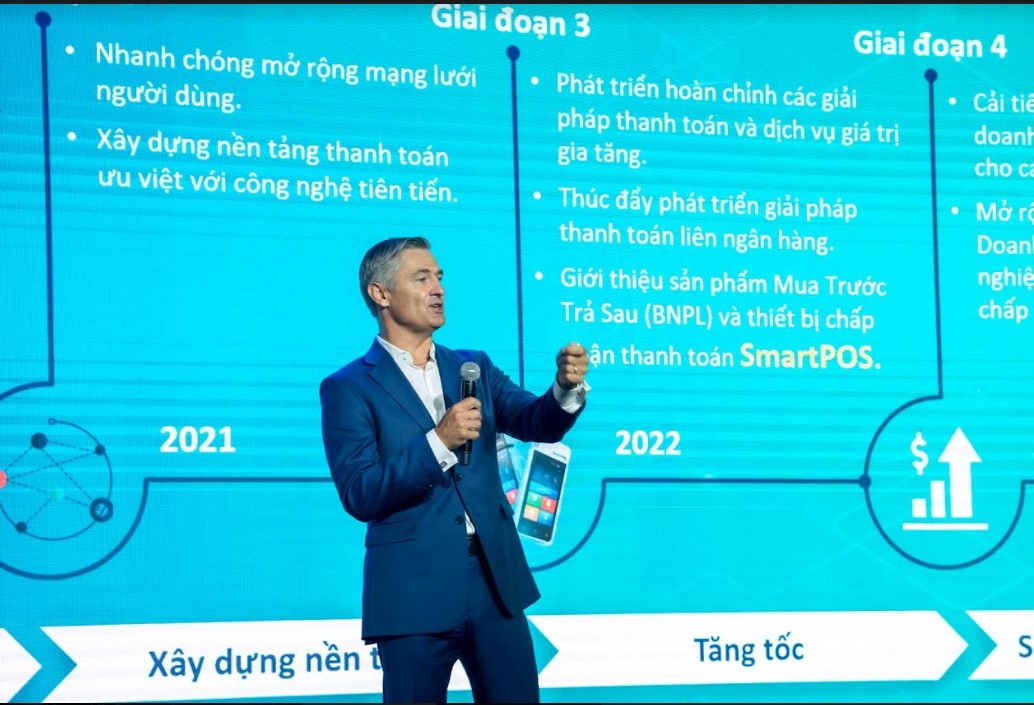 Economy
Only with the investment number of US$ 10 million from SMBC as a part of a US$30 million Series A funding round, be it supposed to open up many great growth opportunities for SmartNet - the owner of SmartPay - in the coming time.
January 06, 2023 | 08:00