'Direct route to the US is our goal No.1': Bamboo Airways Deputy Director
"We consider Bamboo Airways a startup in the field of aviation. For a startup business, there is no time to worry or hesitate. Sometimes you must endeavor over 200 percentages. At the present, a direct route to the US is our goal No.1", shared Mai Dinh Toan, Bamboo Airways Deputy General Director of Technical.
Mr. Mai Dinh Toan, Bamboo Airways Deputy General Director of Techinical
"Bamboo Airways is a startup airline"
Mai Dinh Toan is one of Bamboo Airways co-founders since its beginning, who witnessed every milestone that determines the company's formation and development until this day.
He said, in the early days, Bamboo Airways had merely 1 to 2 aircraft put into operation. However, only 6 months later, it developed a fleet of large, including Airbus A320 and coming more Boing B787 Dreamer.
"The impressive development of Bamboo Airways fleet is a pride for us. Because you know it is result of a massive, detailed and meticulous plan which is seriously implemented and closely guided by the Board of Directors. It is also result of tireless efforts, sacrifices and dedication of Bamboo Airways staffs''.
"Aircraft engineer is the person who supervises and monitors the technical status for each flight, so going early and returning late, working on holidays is all in a day's work. I never thought I would do anything other than aviation, nor did I expect another job to be more leisurely. This is my passion since I was a child."
Mai Dinh Toan also shared "In rushing periods, we worked regardless of day and night. We consider Bamboo Airways a startup airline. For start-up, there was no time to hesitate or worry. Once the goal was set out, it had to be done till the end. Sometimes, we must endeavor over 200 percentages.''
"Who doubts but we don't. The inherent boundaries to develop a conventional airline cannot be applied to our case. For Bamboo Airways, to develop is to think different. In other words, there should be a specialized development model and a special mechanism of fundamental resources, procedures and legal." he affirmed.
Flight safety is paramount
There are two factors determining the fate of an airline, that is resources and strategic direction of development. Both of these factors are being built quite particularly by Bamboo Airways, Mr Mai Dinh Toan added.
As a result, Bamboo Airways has served 1 million passengers, coming to welcome the 10,000th flight on its first anniversary. It is undeniable that Bamboo Airways has recorded many remarkable achievements even as a rookie. The most prominent is punctual index (OTP) in the first six months of 2019 93.8%, top in Vietnam's aviation industry.
As the Technical Manager, Mai Dinh Toan has a different perspective to evaluate a flight. For him what is important besides ground service and cabin crew, is "safety".
"With many years of experience, I see the principle of operating a pyramid is the core principle. The first and most important criteria is safety, the second is quality, the third is reliability, and the fourth is efficiency. For aviation business, every value comes from safety, safe plan, technical safety, safety in operation and safety during the flight", Toan said.
The direct route to the US is goal No.1
Referring to the development strategy, Bamboo Airways leader said the airline will standardize its fleet of A321 NEO and B787-9.
Mr. Toan said the airline will focus on exploiting Airbus A321 NEO and Boing B787 new generation, with an environmentally friendly design, 15-20% saving of fuel consumption, 50% noise reduction, body and wings made of super durable and lightweight composite material, new generation engine, modern cabin interior utilities, high-class entertainment equipment.
It is expected that the first Bamboo Airways' Boing 787-9 Dreamliner aircrafts would be handed over by 2020. This aircraft will serve Bamboo's direct route to US.
Luxirious interior in Bamboo Airways' B787-9 aircraft
"Boeing appreciated Bamboo Airways' plan. Although we are new airline, we have an ambitious, bold and reliable plan to develop our fleet", Toan said.
"Boeing pledged to support Bamboo Airways in developing a standard framework, supporting the registration procedures for B787 flight permits with the Vietnam Aviation Administration, training in pilot training, maintenance techniques.
In this August, BamBoo Airways will organize a string of activities, including Bamboo Airways Golf Tournament 2019; the ceremony to welcome 10,000th flight, the first anniversary of the airline's establishment.
Translated by Ha Thuong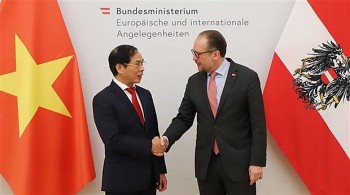 Overseas Vietnamese
Fifty years have passed since the establishment of the relationship, the two countries have enjoyed great strides in bilateral cooperation.