Doctor Masatoshi Makuuchi: the seeker of perfection
(VNF) - Not until after 14 years since the first successful implementation of liver transplant in Vietnam has Professor Masatoshi Makuuchi (Japan) made a comeback. Over 70, even though, he keeps devoted to sharing his top-notch medical technology.
(VNF) - Not until after 14 years since the first successful implementation of liver transplant in Vietnam has Professor Masatoshi Makuuchi (Japan) made a comeback. Over 70, even though, he keeps devoted to sharing his top-notch medical technology.
The surgery of history
Professor Makuuchi was born and raised in a reputable family in the surgical field in Japan. His father is a renowned urology surgeon while his brother is a leading professor of esophageal surgery. In 2004, Vietnam marked an important event, which was the first time the 103 Military Hospital in cooperation successfully implemented the liver transplant for baby Nguyen Thi D. (Nam Dinh province).
The doctor who performed the 17-hour surgery was none other than Masatoshi Makuuchi. "At that time, me and my team was strongly objected because of outdated equipment and high risk. The 17-hour is an endless time for us. Fortunately, the operation was successful. Now you have a lot of modern, advance equipment and transplantation technique, you must be successful,'' said Masatoshi Makuuchi.
Professor Masatoshi Makuuchi, who was named the "living legend" in organ transplants
In medical techniques, organ transplants are considered complex, meticulous and require high precision. In addition, according to Makuuchi, there are too many people with liver disease in Vietnam due to their unhealthy habits and their environment and living conditions.
"I want this technology to be developed in Vietnam, and I hope hospitals will be able to master it because many patients need you. Patients face a lot of things, not only health but also economic conditions, the care of society, "he added.
Bring advantage technology to Da Nang Hospital
Just came out from the operating room, Mr. Masatoshi Makuuchi consulted with his partners at Da Nang Hospital. His five-hour operation was a success. The patient is an older man with tumors in the liver that needs to be removed.
Dr. Nguyen Hoang, Dean of the Department of Digestive, Da Nang Hospital said "This technique has been applied in the hospital for many years. However, witnessing firsthand Dr. Masatoshi Makuuchi performing the surgery, we will have more knowledge. Medical knowledge is endless. Who don't want to learn from a master in organ transplant?''
In September, 2018, the Vietnam – Japan Medical Association singed a contract with Da Nang Hospital to train a team of doctors in liver transplant.
Accordingly, the Vietnam – Japan Medical Association and Team Medical Rounds (Japan) will create favorable conditions for Japanese doctors to come and work in Da Nang Hospital, to transfer technology, directly perform complex cases.
"Though this is the second time I've been to Da Nang, I'm impressed with the people here, their enthusiasm and friendliness. The team is really cute and has studious.", said Professor Masatoshi Makuuchi.
The golden rules
Closely following and greatly supporting Professor Makuuchi in complex surgeries is Dr. Keiji Sano, Teikyo University Hospital (Japan).
For more than 20 years working with his respected teacher, Dr. Keiji Sano has witnessed record long-lasting surgeries, some over 30 hours. Now turning to 73, Makuuchi's hands and eyes remain exceptionally flexible.
Professor Masatoshi Makuuchi and doctors at Da Nang Hospital performed a liver transplant for an older patients.
"My master's philosophy is 100 percentages successful, none of the nearly 5000 surgeries performed by him failed," said Dr. Keiji Sano.
"If impossible to perform a surgery, it is absolutely necessary to find the best method for patients, absolutely can not refuse patients. That's what he taught us'', added Dr. Keiji Sano.
When asked about the key to success in liver transplant surgery, Makuuchi said: "It is important to set the rules for yourself and to be absolutely adhered to them whatever the circumstances ".
"Do not give up the patient for any reason; Always be careful with each disease, be careful before every decision to cure them. Be considerate, close to the patient to truly understand the disease, understand living habits and analyze the cause of disease; "Makuuchi said.
The cooperation program, technology transfer of Dr. Makuuchi in Da Nang will be implemented at the Cancer Hospital and Da Nang Hospital.
"What we learned from Professor Makuuchi is that the cautious spirit, not arbitrary for any part of the body of the patient. Working with the professor is also an opportunity for us to improve our surgical technique and apply it to many other surgeries, "said Dr. Nguyen Ngoc Son, Da Nang Cancer Hospital, who directly performed surgery with Professor Makuuchi, share.
Ngoc Tran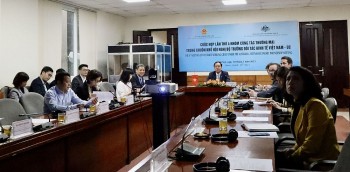 National
Vietnam and Australia facilitate the effective implementation of free trade agreements to beef up ramp up economic and trade cooperation.