Education must move with the times
Vietnam's education system needs to more accurately reflect the needs of the economy. This requires reforms and easier access to the domestic education system for foreign investors, writes Eric Johnson, an attorney at the international law firm Freshfields Bruckhaus Deringer LLP.
Vietnam's education system needs to more accurately reflect the needs of the economy. This requires reforms and easier access to the domestic education system for foreign investors, writes Eric Johnson, an attorney at the international law firm Freshfields Bruckhaus Deringer LLP.
In Vietnam, the importance of education and learning are traditional cultural values with ancient roots. This bodes well for the Vietnamese economy, which continues its rapid expansion and integration into the global economy, and will require thousands more skilled workers to maintain its current trajectory. Singapore and South Korea both have leading education systems that serve not only their own populations, but attract students from abroad as well. These two countries illustrate the point well – in order to have an advanced economy, you first need an education system that can produce a creative, skilled, and productive workforce.
The unfortunate reality in Vietnam is that the education system is not keeping up with the demands of Vietnam's dynamic economy. Complaints from employers that they cannot find qualified workers are common. Discouragingly, unemployment among college graduates is actually higher than among non-graduates, suggesting that employers in practice do not value the skills and training that graduates obtain from studying the outdated curriculum still taught at many colleges and universities across the country.
To its credit, the government is keenly aware of the problem and has taken a number of steps to improve the situation and reform the outdated system. But despite these efforts, the pace of change remains slow. In order for Vietnam to realise its potential, progress on education is imperative.
Making progress will require co-ordinated efforts among all key stakeholders, which includes the private sector. The private sector will not be the solution to all of the problems, but it does have a prominent supporting role to play in the development of the education system. Investors can bring to bear their expertise to efficiently build and grow education and training businesses that complement the public education sector by being responsive to the immediate needs of students, employers, and the economy as a whole.
Private equity firms have been particularly active in the sector recently. In the last two years, there have been at least three significant private equity education deals – the Abraaj Group's 2016 investment in Vietnam-US Society English International, a language training facility; Mekong Capital's sale of its investment in Vietnam Australian International School to TPG in 2017; and Mekong Capital's investment in YOLA, an integrated education services business, also in 2017.
These deals demonstrate the feasibility of investing in education in Vietnam as a foreign private investor – it can and has been done. However, there are a number of issues that investors must be prepared for when making investments in the education sector. Three of the key issues are highlighted below.
From the administrative procedures for foreign investment to the restrictions of teacher work visas, updates to the education system are key to supporting the local economy
Limitations on enrolment
Foreign-invested schools providing foreign education programmes are subject to restrictions on the admission of Vietnamese students, expressed as a percentage (10-20 per cent) of total enrolment. These restrictions currently raise difficult issues in any deal involving a foreign investor. Outside the major cities, it is effectively impossible to comply with the limitations, because there are few if any of the foreign students needed to create space for Vietnamese students. There is a proposed draft law to replace the current education law that would remove these restrictions – which would be a welcome development – though it is not clear when, or even if, it will take effect.
Onerous administrative procedures
Numerous licences, permits, approvals, and consents are required in connection with the operation of schools in general, and there are additional requirements if the school is foreign-owned. The procedures are often duplicative, inconsistent, and involve the participation of multiple governmental agencies, some of whom may have different views on which permits, licences, and consents are required for particular activities, and how a school must comply with the requirements once operational.
The issue of onerous administrative procedures is by no means unique to the education sector in Vietnam. However, education seems as good a starting place as any to simplify administrative procedures for investors, given the national importance of developing education, the general interest from the market, and the fact that there is substantial room for simplification without sacrificing the government's legitimate oversight role.
Employment issues
There are a number of requirements that apply to teaching staff at schools in Vietnam that create difficulties for education and training businesses. For example, work permits for foreigners are only supposed to be used for a specific job at a specific location, preventing part-time teachers from working at multiple schools on a single work permit.
In addition, there are strict qualification requirements imposed on educational institutions, some of which are misguided. For example, instructors at the college level must generally have a post-graduate degree. This makes it difficult for many otherwise well-qualified instructors to teach at colleges. This is particularly true in non-traditional but highly sought-after disciplines such as digital media or information technology, where highly-qualified practitioners with substantial work experience are less likely to hold post-graduate degrees than in traditional fields such as law, humanities, or economics.
The effect of these restrictions is to limit the supply of much needed teachers, and it is not uncommon to find that corners have been cut at existing businesses, in one way or another. Even if a potential target company has complied with the laws, these restrictions can still put a brake on future growth and expansion.
Challenge and opportunity
At the end of the day, the skills shortages and gaps that the Vietnamese employment market is currently experiencing are evidence of a dynamic economy that is creating new types of jobs, many of which require new skills. Therefore, the situation is best viewed as an opportunity to achieve Vietnam's economic potential through the development of an education system that better serves Vietnamese students and employers, which will in turn support economic growth and development.
All stakeholders will need to work together to meet the challenge, and it is hoped that the government will remove some of the obstacles to private sector investment in education businesses in the near future. These steps would make it easier for the private sector to fulfil its supporting role in building a new education system that can serve as a foundation for a flourishing Vietnamese economy for decades to come.
VNF/VIR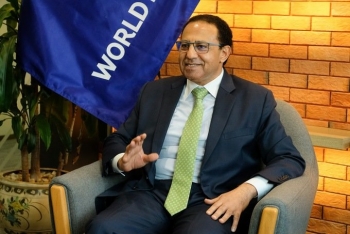 Economy
Vietnam's agriculture is transforming from quantity targets towards profit, environment and farmer income targets. Ahmed Eiweida, Vietnam Sector Leader for Sustainable Development (World Bank).