Eiffel Tower Reopens After Nine-Month Closure, With Covid Passes Required
The Eiffel Tower was ordered shut in October, and now visitors are allowed to enter after showing proof of vaccination or a negative Covid test.
People relax at the Champ-de-Mars garden next to the Eiffel Tower in Paris, Friday, July 16, 2021. Photo: AP
The Eiffel Tower reopened to visitors on July 16 after nine months of shutdown due to Covid-19, the landmark's longest closure since World War II.
The Associated Press (AP) said with the tower reopened to the public even as France introduces new virus rules aimed at taming the fast-spreading delta variant.
The "Iron Lady" of Paris was ordered shut in October as France battled its second virus surge of the pandemic, and remained shut for renovations even after other French tourist draws reopened last month.
The tower's reopening came four days after President Emmanuel Macron announced new measures aimed at warding off a fourth surge, including mandatory vaccinations for health workers and mandatory Covid-19 passes to enter restaurants and tourist and other venues.
From July 21, all visitors to the Eiffel Tower over age 18 will need to show a pass proving they've been fully vaccinated, had a negative virus test or recently recovered from COVID-19.
Masks are required, and the number of daily visitors to the tower will be limited to about half the pre-pandemic norm of 25,000.
The rules didn't seem to scare crowds away on July 17.
"Bienvenue - Welcome - Wilkommen - Bienvenido" flashed on a screen as families, couples and groups lined up or posed for photos beneath the tower.
Half of visitors expected to be French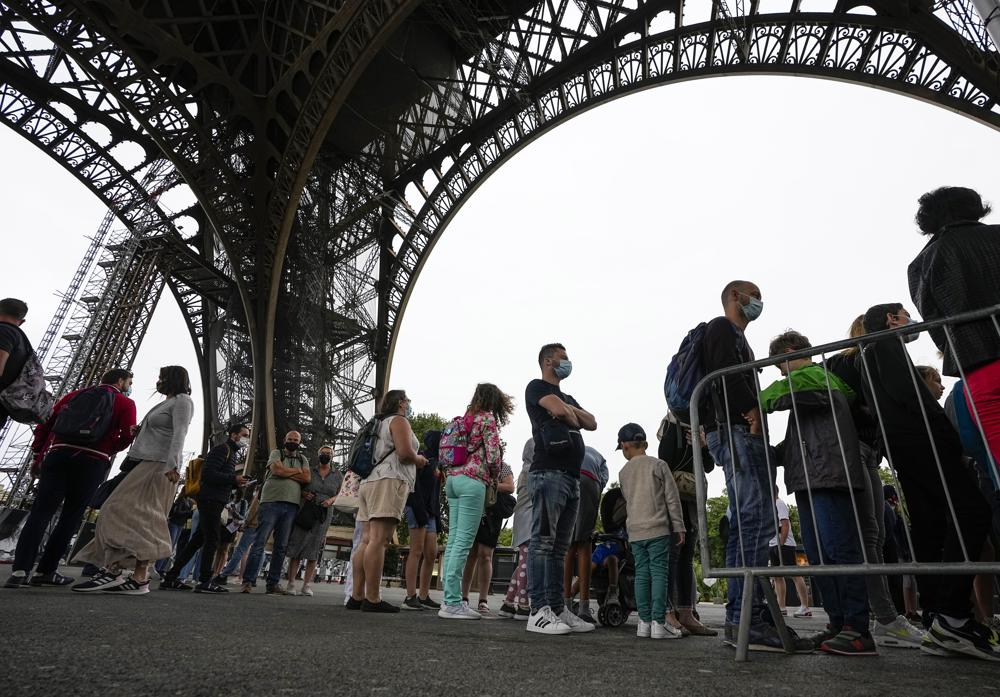 Visitor line up at the Eiffel Tower in Paris, Friday, July 16, 2021. Photo: AP
Early reservations for tickets during the French summer holiday period underline how the tourism industry in Paris has changed due to travel restrictions, Al Jazeera said.
Jean-Francois Martins, head of the tower's operating company, said there was an "almost total absence" of British ticket holders, while only 15 percent were Americans and very few were from Asia.
Half of visitors are expected to be French, while Italians and Spanish make up a higher proportion than usual.
The long closure has caused havoc with the finances of the operating company, Sete, which runs the monument on behalf of Paris city authorities.
It is set to seek additional government aid and a fresh 60-million-euro ($70m) cash injection to stay afloat, having seen its revenues fall by 75 percent to 25 million euros ($29m) in 2020.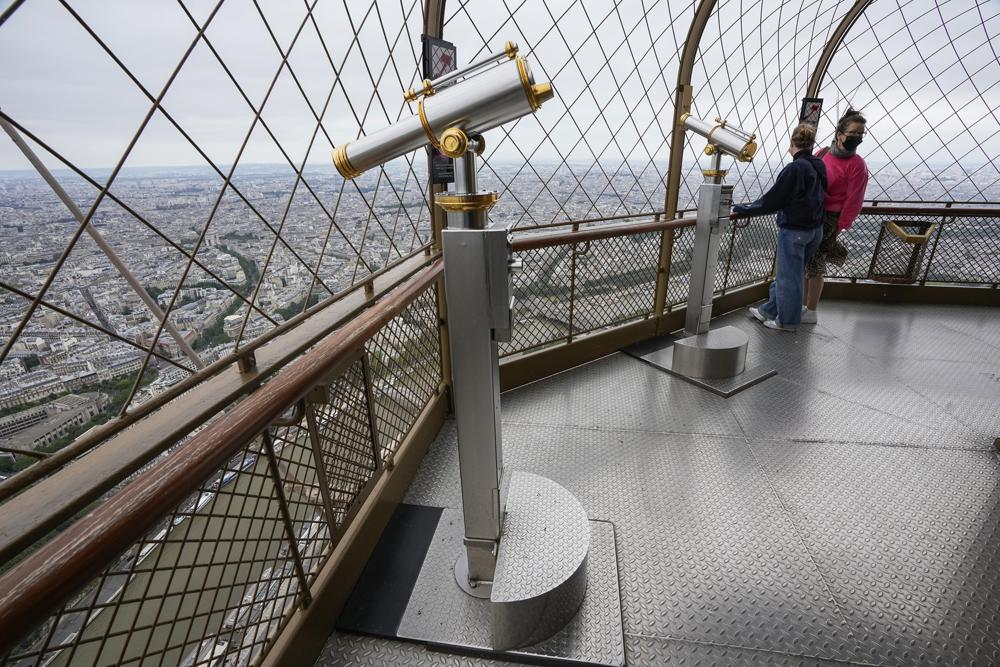 Visitors enjoy the view from top of the Eiffel Tower in Paris, Friday, July 16, 2021. Photo: AP
The masterpiece by architect Gustave Eiffel has also been hit by problems linked to its latest paint job, the 20th time it has been repainted since its construction in 1889.
Work was halted in February because of high levels of lead detected on the site, which poses a health risk to labourers.
Tests are continuing and painting is set to resume only in the autumn, meaning a part of the façade is obscured by scaffolding and safety nets.
France has opened to international tourists this summer, but the rules vary depending on which country they are coming from. While visitors are trickling back to Paris, their numbers have been far from normal levels, given continued border restrictions and virus risks./.
Travel restrictions in place in every country in Europe
Many countries have travel restrictions in place in a bid to control the spread of Covid-19, according to Euronews.
The latest big changes include:
• After adding 15 new countries and territories to its quarantine-free travel list, the UK has placed the Balearics back on its amber list from 19 July.
• Croatia is being added to the UK's green list.
• Plus, experts claim up to 22 more could be added in the coming days.
• The EU Digital Covid Certificate is now being used across Europe (EUDCC).
• The EU has added the US among others to a list which recommends countries that may be able to travel to the continent.
• Germany has lifted travel restrictions for visitors from UK and Portugal.
The European Centre for Decease Prevention has now put the Netherlands, Spain, Portugal, Luxembourg, Cyprus and parts of Greece and Denmark in the list of code red (high-risk) countries due to the high number of coronavirus infections, Forbes said.
A country is labelled red if there are 200 to 499 infections per 100,000 inhabitants in the past 14 days, according to the EDCD. Dark red is if there are 500 or more infections per 100,000.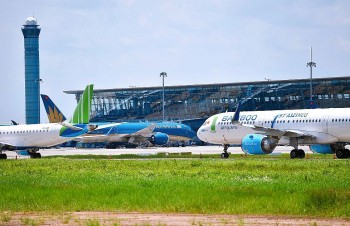 Economy
Vietnam Business & Weather Briefing (August 9): Vietnam's economic growth is expected to reach 7.5% in 2022, new securities accounts hit a near two-year low in July.