English summer camps for locals in Ha Giang
Members of the QuanBa Taigoo cooperative have homestay accommodation built in the traditional architecture of the Dao ethnic minority with stone walls to keep cool in summer and warm in winter. Each homestay provides shared or private guest rooms on the second floor and the ground floor is used by the family and for common area activities./. 
An English Summer Camp was recently held in Nam Dam village, Quan Ba district, Ha Giang province to improve English skills for tourism livelihood.
An English Summer Camp is held from July 22 to 27. Photo: AAV
The activity aimed to promote local strategies for tourism development as well as QuanBa Taigoo cooperative (meaning 'Hello QuanBa') to local people, and 24 members who are teachers of primary and secondary schools. This group will be the core team to participate and support the community in teaching English and contributing to the development of local tourism.
Activities were informed by Dao culture and built under the context of tourism to enhance the effectiveness of the community-based tourism in Nam Dam village.
Participants in the five-day camp were equipped with English communication skills and confidence to communicate and operate activities. Participants are better at introducing basic local cultural features to foreign tourists.
As a result, there were 3-5 participants met the standard of being qualified tour guides, hosting events such as English exchange competitions and marketing on community-based tourism in Nam Dam village.
The activity was implemented by the Management Board of Supporting Program for Development and Education and Training Department of Quan Ba district, with the financial support of ActionAid Vietnam.
QuanBa Taigoo is a community owned and operated cooperative of small tourism businesses that supports sustainable livelihoods. QuanBa Taigoo cooperative follows the community-based tourism model to achieve improved community well-being and protection of socio-cultural traditions.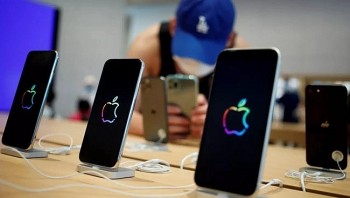 World
India exported iPhones worth $1 billion from May to September 2022, according to a Bloomberg report, but a closer look at the data shows the country is a long way from rivalling China's iPhone manufacturing chops