Expat Spotlight: Beatrice Updegraff - Seeking Intimate Portraits of Viets & Expats
While Beatrice has captured citizens of various Southeast Asian nations via her film camera, she particularly loves taking snapshots of Vietnamese and expats in her beloved Hanoi.
"I found myself quite nervous to be photographed and interviewed but I realize that makes sort of a hypocrite," says Beatrice Updegraff with a laugh.
Since October 2019, Beatrice, an expat from England, has been hard at work with her photograph collection, entitled "Someone I Met Today." Modeled after the "Humans of New York" collection by American photojournalist Brandon Stanton, Beatrice's collection showcases the thoughts, faces, and smiles of the random people she encounters on her daily adventures throughout Southeast Asia.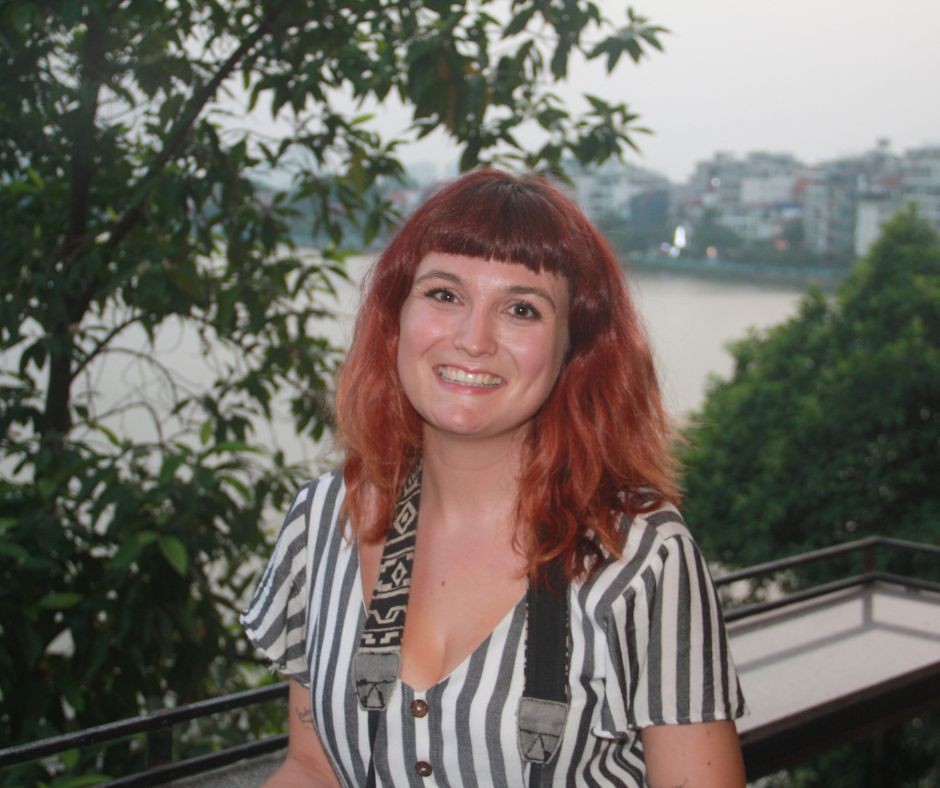 In a rare occurrence, Beatrice is in front of the camera (Photo by Glen MacDonald).
While her photography features individuals from Vietnam's remote corners, as well as Thailand, Philippines, Malaysia, Singapore, Cambodia, and Korea, a majority of Beatrice's photos are set in Hanoi, her second home. The young photographer credits the capital city's close-knit expat community as the catalyst for her work.
"Whatever hobby you want to pursue, you have the time and the money to pursue it [when in Hanoi]," says Beatrice. "The expat community is non-judgemental and supportive [of the arts]; from DJing to starting a band or, in my case, photography."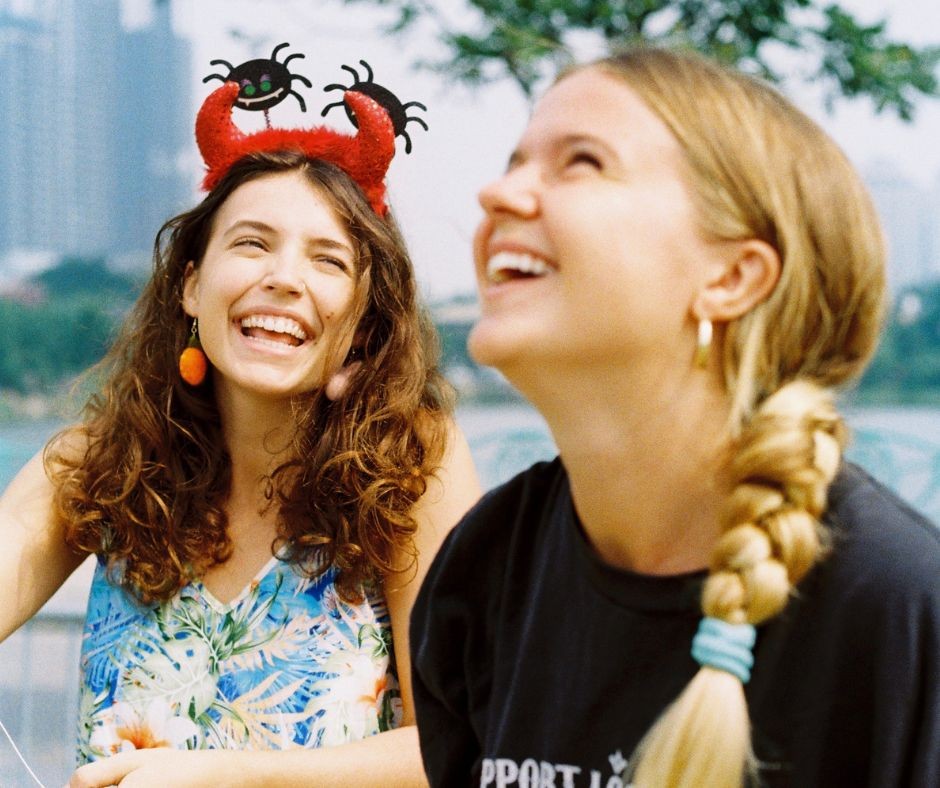 American expats, enjoying their time in Hanoi (Photo courtesy of Beatrice Updegraff).
Surprisingly, Beatrice's background is in drama, not film photography. Yet her ambitions outweighed her doubts, motivating her to find a suitable camera for her travels. Upon scouring various photography shops in Hai Ba Trung, she came across a refurbished Canon AV1 and it has been by her side ever since.
The reason for starting this massive project stems from her theater background, where she learned the values of truth and storytelling. Additionally, she wanted to learn more about Vietnam. For Beatrice, her photo expeditions allow her to break free of the expat bubble, bringing her closer to Vietnamese culture.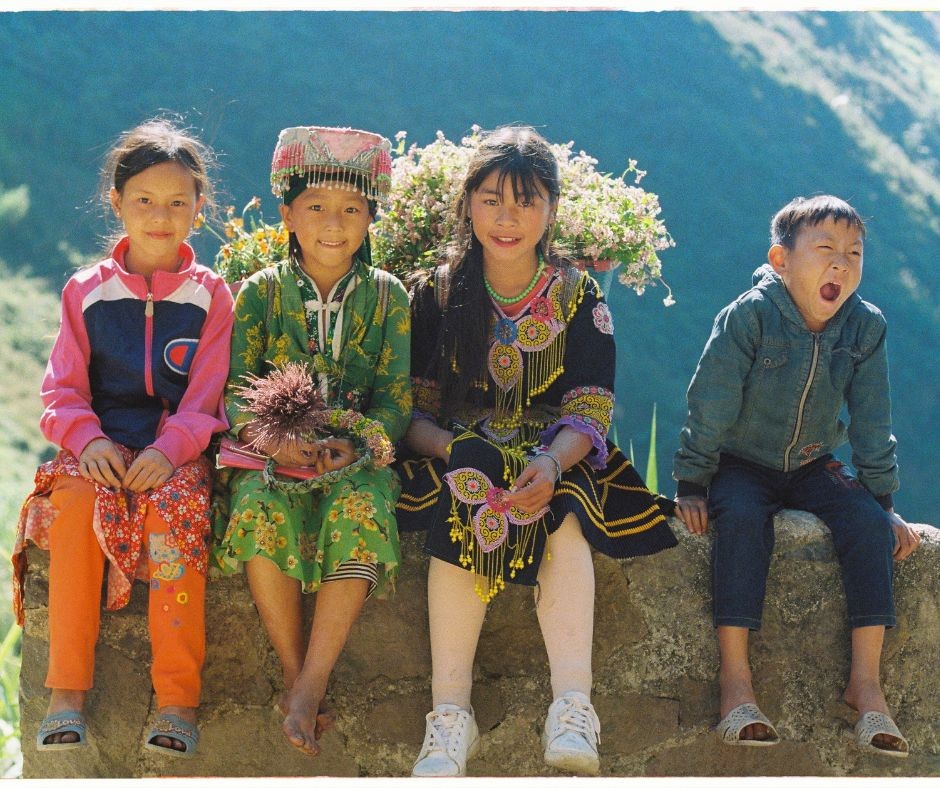 This Ha Giang boy has little regard for photos (Photo courtesy of Beatrice Updegraff).
"[When I'm searching for good photo opportunities], I look for something interesting and unusual to someone who doesn't live in Vietnam but also something that is very typical for locals and expats."
As an example, she points to a photo of her neighbor, an 88-year-old Vietnamese woman. This woman spoke no English but agreed to be Beatrice's model for an afternoon. The woman's granddaughter translated for Beatrice and gave a few glimpses into her extensive life story; she was born under French occupation and, towards the end of her life, lived within a large expat community, imbuing the native Vietnamese woman with life plenty of worldly influences.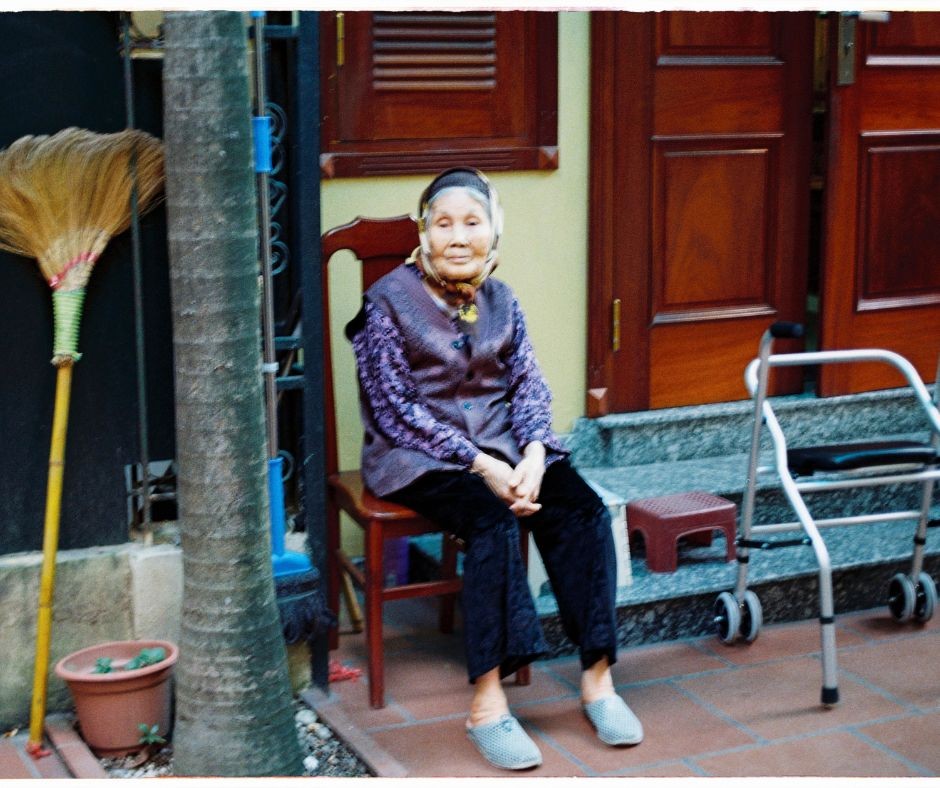 A treasured photo. Photo courtesy of Beatrice Updegraff.
Although she passed earlier this year, the woman lives on in Beatrice's photography. The photo is one of Beatrice's favorites.
While she is a self-taught photographer, Beatrice learned a lot through trial and error.
"I recently found my first roll of film and had it redeveloped. The first ten or fifteen pictures were complete duds because it is so hard to work with film."
Fortunately, she stuck at it and learned how to balance light under a fiercely-bright sunlit sky or at a shaded tra da spot. The film photography captures such intimate detail, showcasing gentle moments within a warm, heavenly glow.
A quick scan through her collection reveals a hodgepodge of different subjects such as uniform-clad students with crooked smiles at an international school, Western yogis stretching by the shoreline, or a cheery Vietnamese grandfather proudly displaying his bicycle.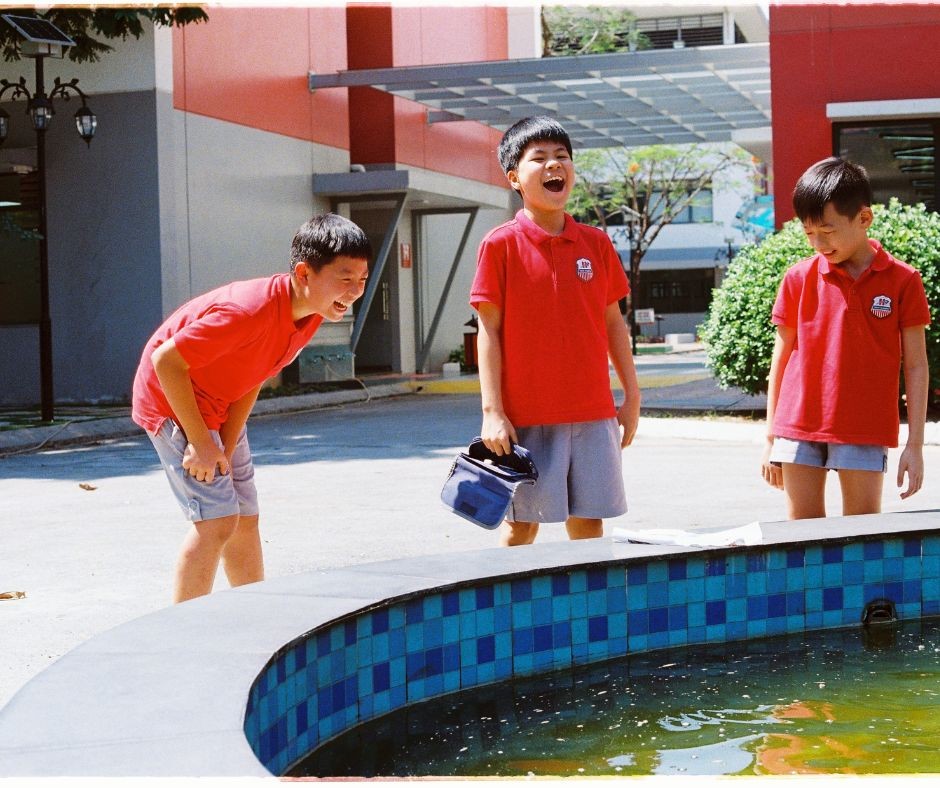 Some of Beatrice's students. Photo courtesy of Beatrice Updegraff.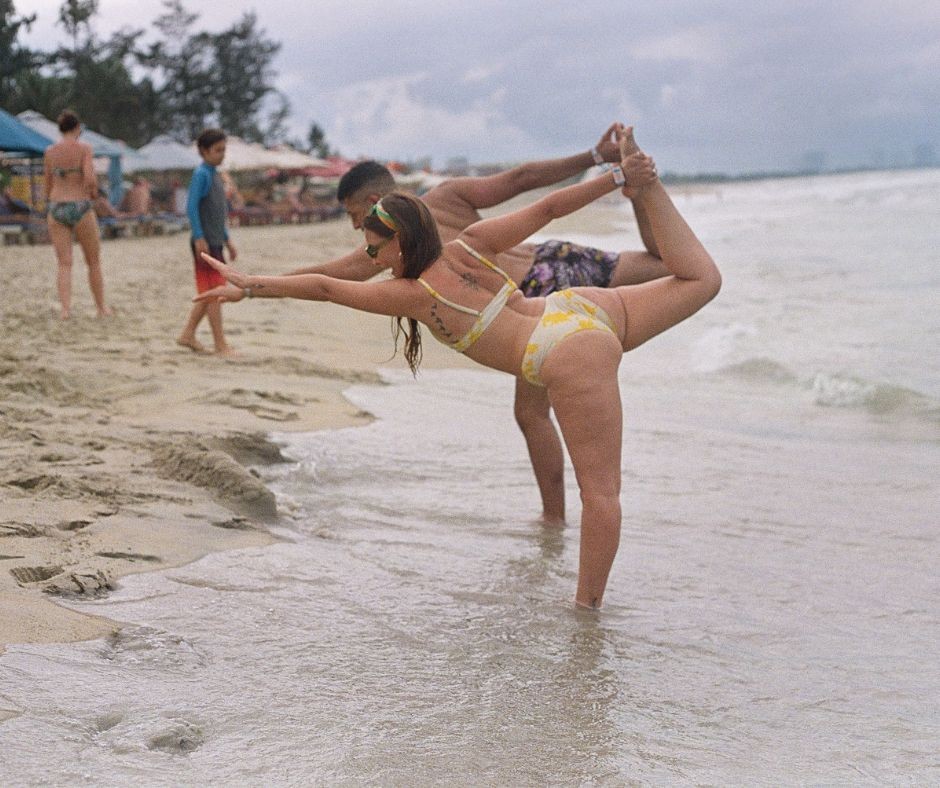 Stretching by the sea. Photo courtesy of Beatrice Updegraff.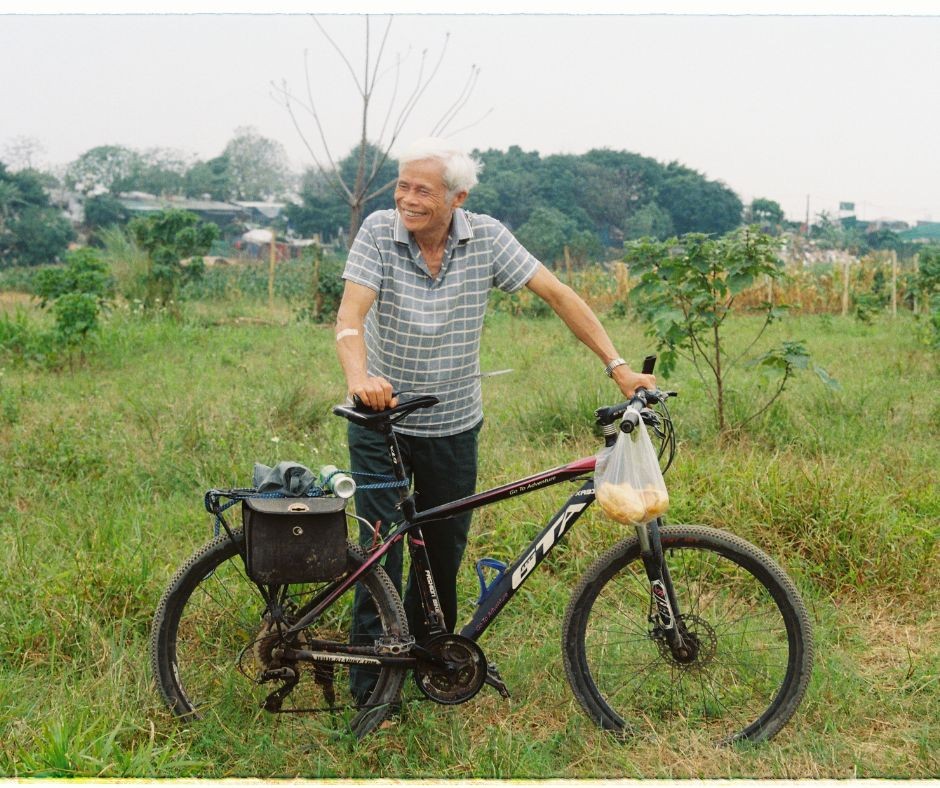 A white-haired cyclist with a youthful smile. Photo courtesy of Beatrice Updegraff.
Although she features people from all walks of life, Beatrice notices some commonalities between her diverse subjects.
"People in Vietnam are very keen to talk about their COVID experience. They're happy that borders are reopened and tourists have returned," says Beatrice, who also took part in Vietnam's lengthy lockdowns. Through her photojournalism, her international, online audience can learn firsthand about life during Vietnam's successful anti-COVID crusade.
Last November, Beatrice hosted her first photo exhibition at ARCH Cafe, unveiling three years of photographs to the public. Utilizing her theater knowledge, she based her photos around the Shakespearean phrase "All the World's a Stage" and organized her subjects by their different ages. While the experience might be nerve-racking in her native England, Beatrice feels confident showing off her work to her Tay Ho peers, as Hanoi's expat community is quite receptive to artistic endeavors.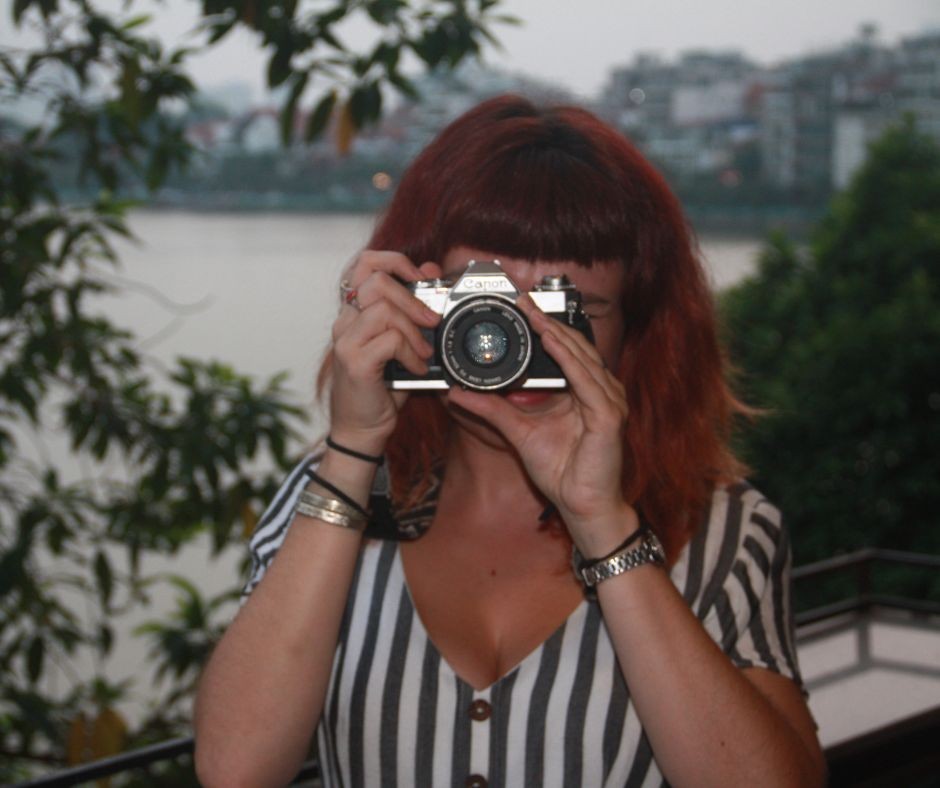 Beatrice and her trusty film camera. Photo by Glen MacDonald.
Beatrice does not think she will live in Hanoi forever but she doesn't plan to stop the project anytime soon. Currently, she is in the process of getting her Masters's in Documentary Photography & Photojournalism in the hopes of sharing her passion with like-minded students. No matter where she ends up, her camera will still be put to good use.
"Wherever I am in the world, I would like to capture the time and space of where I am at. Photography has the ability to do that. It can capture the psyche of a place."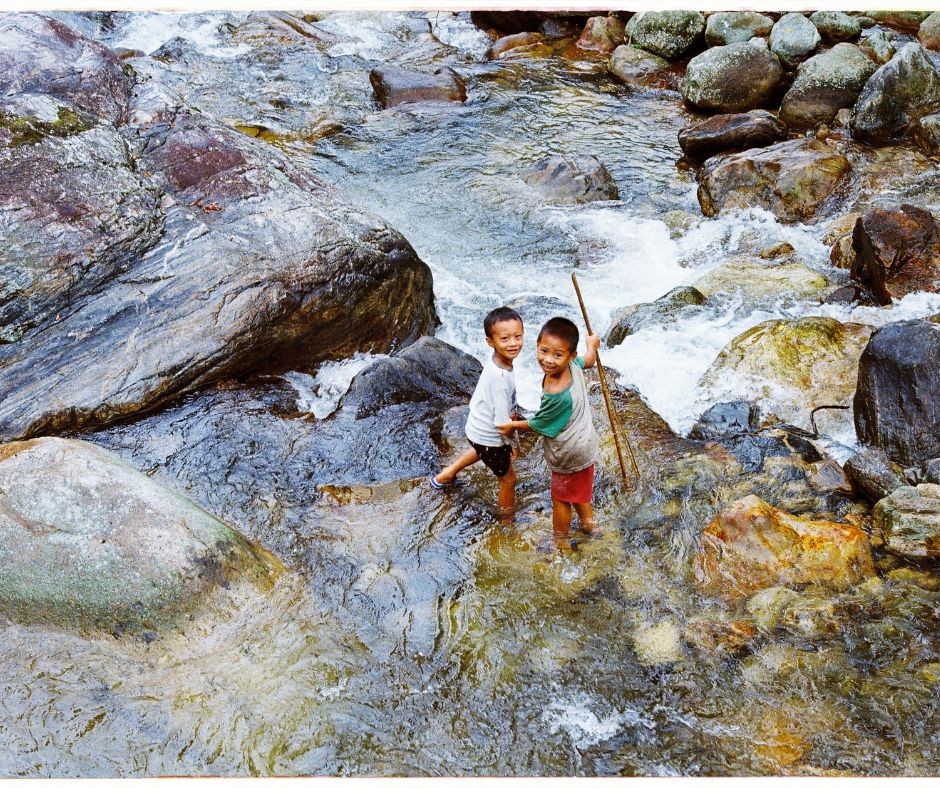 Summertime fun in Sapa. Photo courtesy of Beatrice Updegraff.
As a monthly series for the Vietnam Times, the "Expat Spotlight" aims to highlight exciting members of Vietnam's diverse expat community. Be it through travel, charity, business, art, or diplomatic works, these expats have a deep love for Vietnam and wish to see it progress. Stay tuned to learn about the other expats and their various projects. If you would like to nominate someone for a future feature, please message the Vietnam Times via Facebook.