Expats and Young Vietnamese Celebrate Halloween
Many young Vietnamese and foreigners have their own ways of celebrating Halloween, which takes place on October 31 every year, in Vietnam.
Streets in Hanoi's Old Quarter, such as Dong Xuan, Hang Luoc, and Hang Ma, became fairly busy as dusk approached on the evening of Halloween. Shops along HCMC's Nguyen Hue walking street, on the other hand, are not decorated for Halloween this year.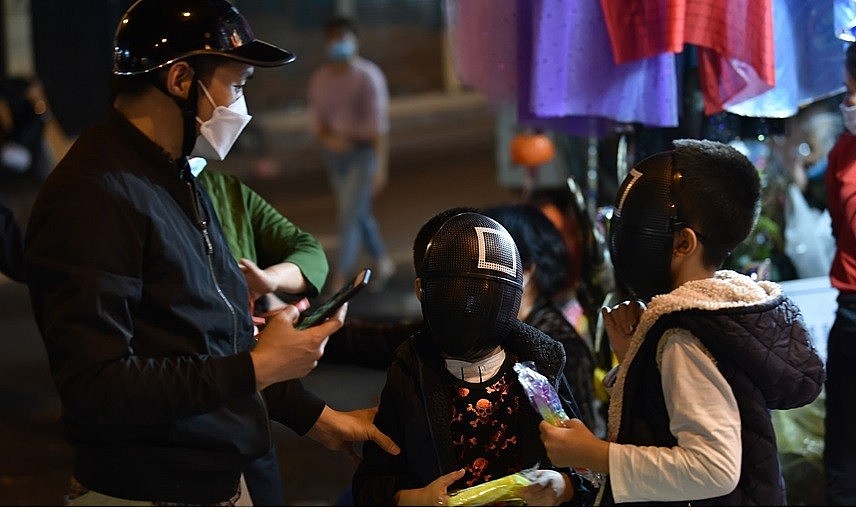 After the epidemic was controlled, festival activities in Hanoi began to resume, Halloween festival has shown. Photo: People's Army News
Halloween is not a traditional holiday. In recent years, Halloween is imported to Vietnam and welcomed by young people. Due to the impact of the epidemic, this year's Halloween is somewhat less exciting than previous years. However, many young Vietnamese or foreigners are still being able to enjoy a little festive atmosphere.
Shops selling Halloween decorations and costumes attract customers during Halloween. Photo: People's Army News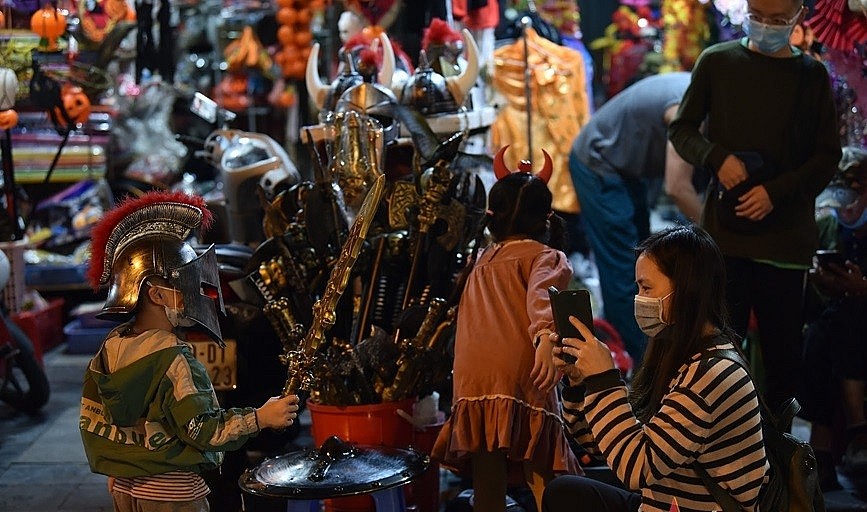 After a long time of social distancing and quarantine, Halloween brings a lot of fun for children. Photo: People's Army News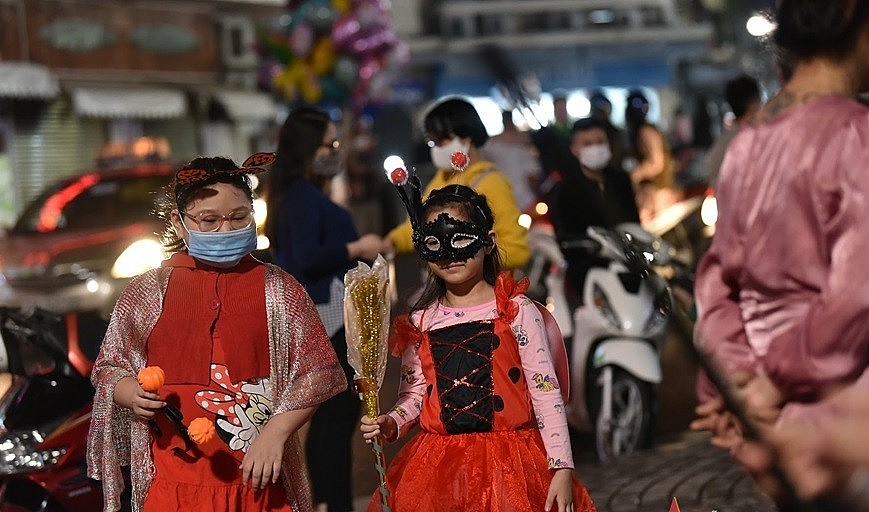 Halloween is an opportunity for children to be creative on their options of streetwear. Photo: People's Army News
Going down the street to enjoy the Halloween atmosphere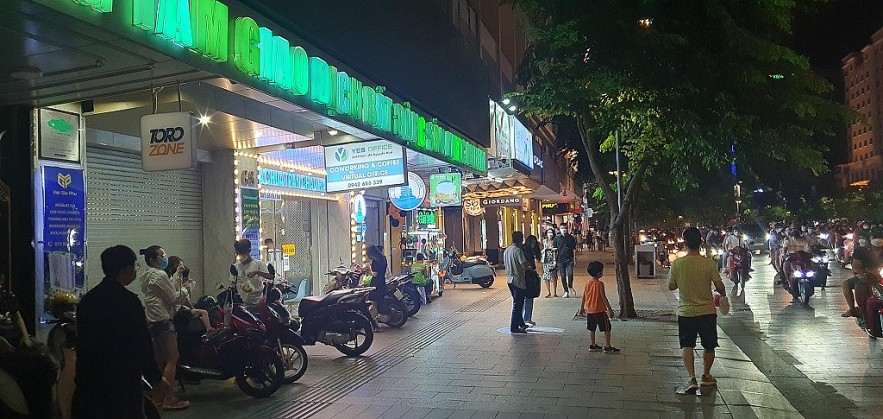 Many restaurants are not decorated to welcome the costume festival in 2021. Photo: Thanh Nien
Thousands of people gathered at Nguyen Hue pedestrian street to enjoy the Halloween atmosphere over the weekend. Walking from the beginning to the end of the pedestrian street, however, it is difficult to find people dressed up as superheroes, princesses, princes, or some more monstrous creatures.
Tran Phan Thien, a freelance photographer in Phu Nhuan District, HCMC, dressed up as the evil Darth Maul, the wicked figure from the Star Wars film, for Halloween this year. The iconic mask and dark robes turned many heads.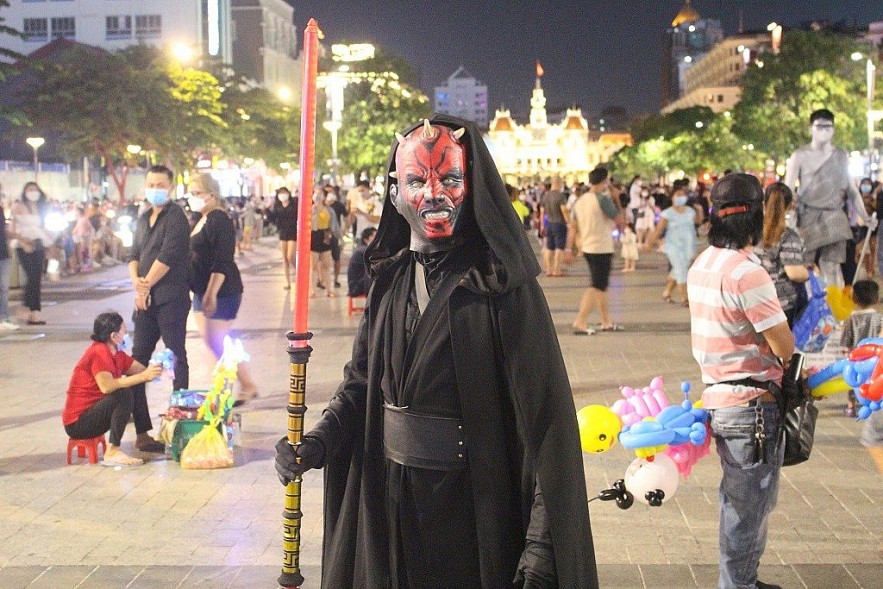 Thien continues to disguise himself as the Darth Maul. Photo: Thanh Nien
"This year is affected by the epidemic, so the festival is sad because there are quite a few people wearing costumes. Remember last year, 1-2 days before Halloween Eve took place, many of you came here to 'transform' all kinds of characters to have fun," Thien shared when being interviewed by Thanh Nien.
Few people know that Thien chose the Darth Maul outfit for Halloween for the third year in a row. "Every year, I go to the walking street to welcome the Halloween atmosphere, mainly to have fun with friends. The best thing is that people ask to take pictures with me, some children are too afraid, they cry," Thien added.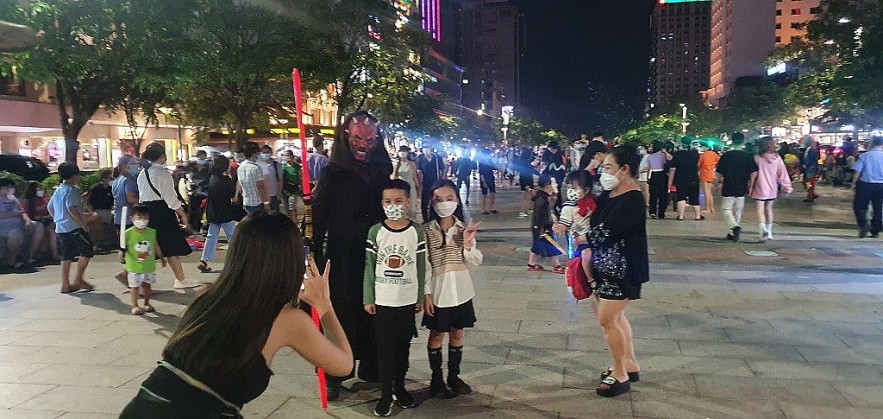 Families and young children would like to take pictures with Thien. Photo: Thanh Nien
Nguyen Trung Hieu, living in Binh Tan District, Ho Chi Minh City, let his two sons welcome the Halloween atmosphere with devil costumes at Nguyen Hue walking street.
Hieu shared that Ho Chi Minh City has eased the social distancing policy at the beginning of October, but only now did the family dare to take their children here to play. When he sees the bustling atmosphere as life has returned to normal, he feels really happy. "This year, the atmosphere of Halloween is so gloomy, only a few young people dress up, so I bought costumes for my two children to have fun with everyone," Hieu said.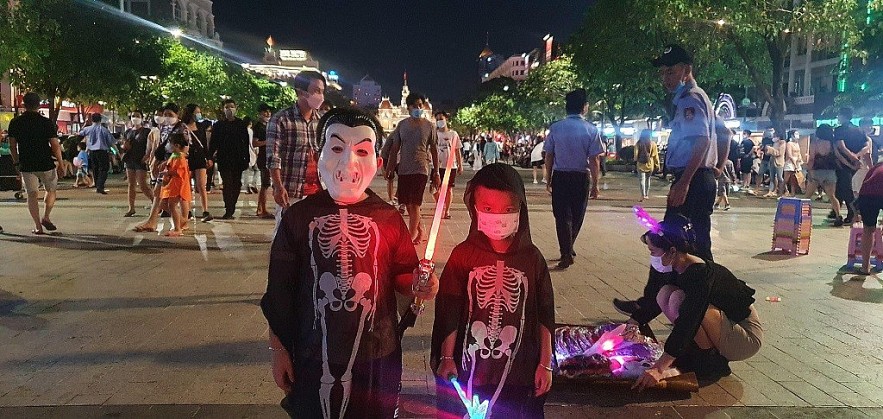 Hieu's sons are in skeleton costumes. Photo: Thanh Nien
Celebrate Halloween at home, unforgettable memories
Due to the influence of Covid-19, many young foreigners in Vietnam celebrate Halloween right where they are.
Polienko Vadim, 28 years old, (Russian) and Nan Khan Ohan (also known as Arisa), 34 years old (Myanmar origin, lived in Thailand since she was 13 years old) were busy dressing up at Homestay Domino, District 7, HCMC. The young local Vietnamese were having a small party with expats to celebrate Halloween.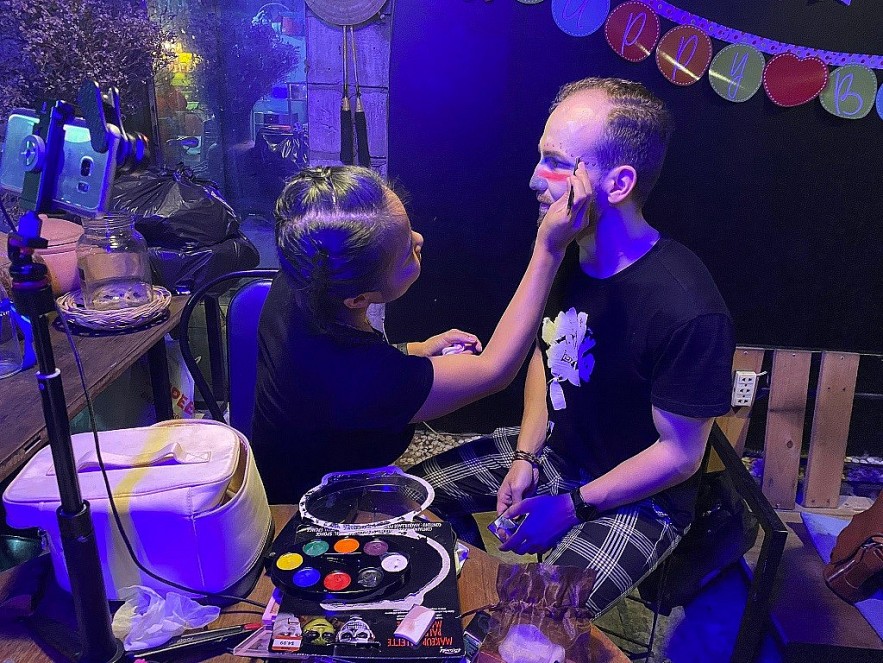 Mr. Polienko Vadim was dressed up as Irish Warrior by Arisa's sister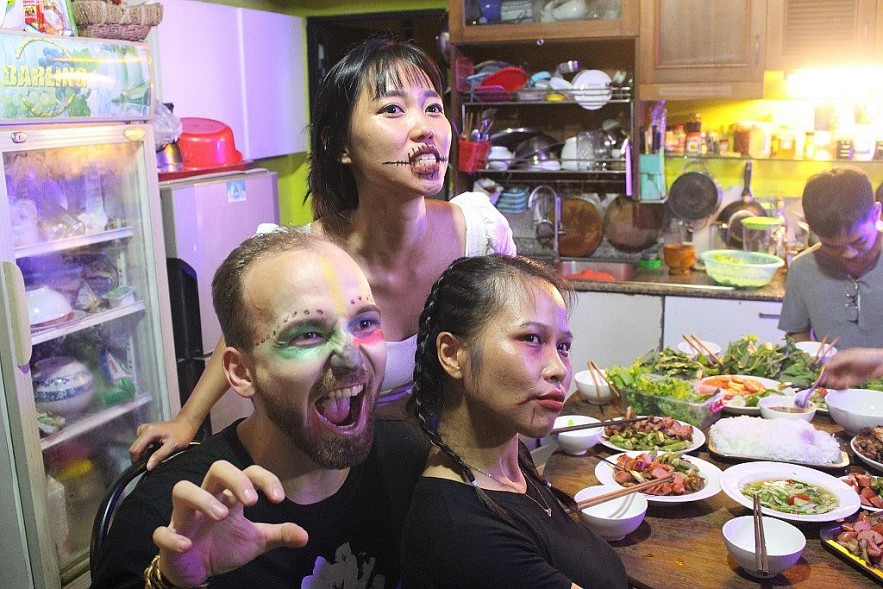 Expats celebrated Halloween at home, in Ho Chi Minh City. Photo: Thanh Nien
The 28-year-old Russian, Polienko Vadim said that he had been in Vietnam for just over a year and was unfortunately stuck because of the Covid-19 epidemic. Every year, Vadim celebrates Halloween in his hometown by going out and having coffee with friends to fully enjoy the atmosphere of the masquerade holiday.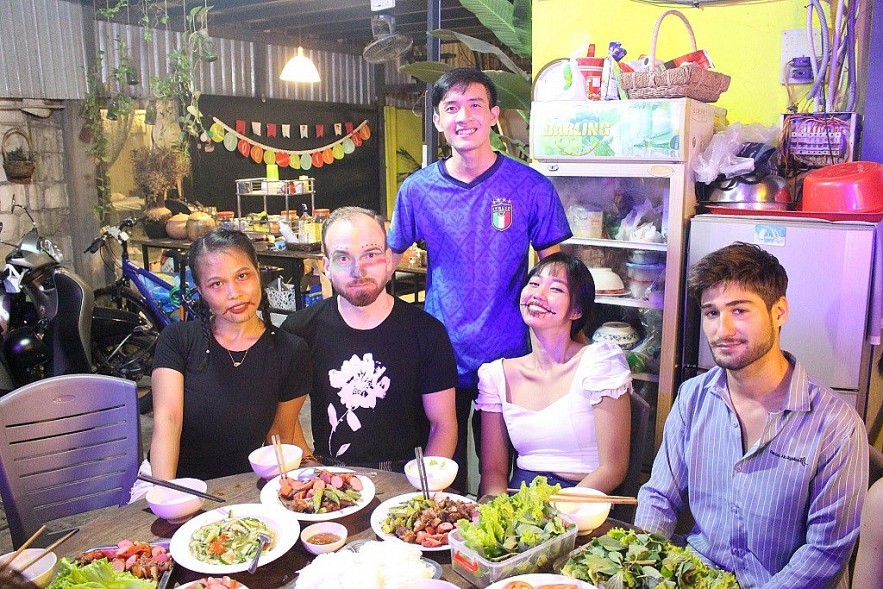 Expats celebrated Halloween at a Vietnamese home, in Ho Chi Minh City. Photo: Thanh Nien
At the homestay, Polienko Vadim also struggled for more than 30 minutes to dress up as the Irish Warrior character. "A few days ago, I and some friends went to Bui Vien Street to have fun, but it was too empty. Some shops are closed, and no one has decorated with pumpkins or ghost figures to celebrate Halloween, but I am not sad because there are young Vietnamese living in the same house, having fun with me during this occasion", Vadim shared.
Polienko Vadim also admits: "It's the first time in my life that I've gathered friends around the house to celebrate Halloween, by eating and drinking like that. It's weird but quite fun. I think this is a memory that will never be forgotten."
Thanh Niên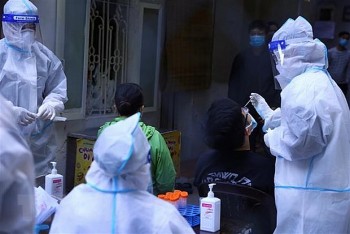 Focus
Vietnam's Covid-19 death toll is now 26,483, or 2 percent of total cases. More than 7,000 coronavirus patients nationwide are in serious condition, with 741 requiring invasive ventilation and 20 on life support.