Visit Anoka – The Wonderful Halloween Capital In The World
For almost a century, Anoka, this small city in Minnesota has been celebrating Halloween like no other, holding a community-wide celebration in honor of October 31, which helps it earn the title of Halloween Capital of the World.
Anoka is a city in and the county seat of Anoka County, Minnesota, United States. Its population was 17,142 at the 2010 census. Anoka is the "Halloween Capital of the World" because it hosted one of the first Halloween parades in 1920. It continues to celebrate the holiday each year with several parades. Anoka is a northern suburb of the Twin Cities. U.S. Highways 10 / 169 and State Highway 47 are three of Anoka's main routes, and it has a station on the Northstar Commuter Rail line to Minneapolis.
History of Anoka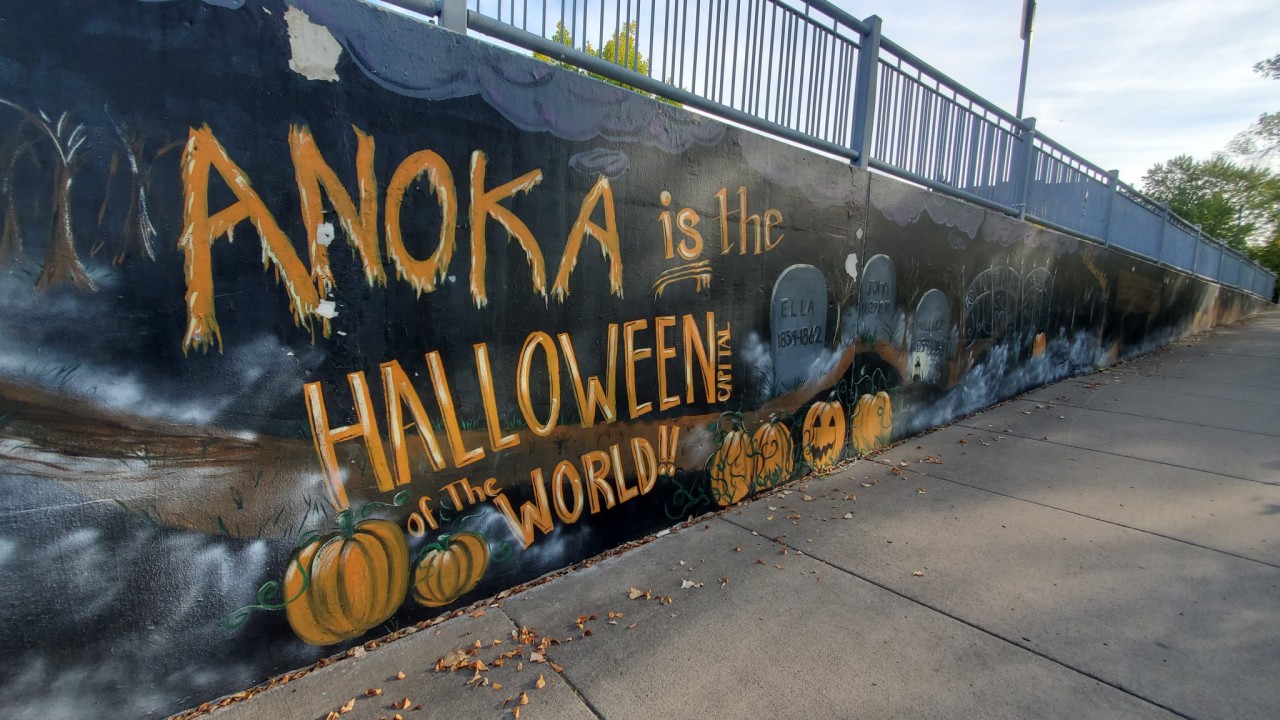 Photo: CBS Minnesota
Colonizers first settled the site that is now Anoka in 1844. By the mid-1850s Anoka had a school, a store and a flour mill. In 1856, C. C. Andrews called it a "large and handsome village" and noted that pine logs were floated down the Rum River to sawmills there. The city was formally incorporated in 1878. The name Anoka was derived from two Indian words. The native Dakota used A-NO-KA-TAN-HAN, meaning "on both sides", or "from both sides", referring to its location on the banks of the Rum River. The native Ojibwa used ON-O-KAY, meaning "working waters".
Anoka has a strong claim to have provided the first Union Army volunteers during the Civil War, as noted by a small plaque at the corner of West Main Street and Park Street. Alexander Ramsey, Minnesota's governor in 1861, was in Washington, D.C. when Fort Sumter was fired upon. He immediately offered a regiment to the War Department and telegraphed former governor Willis Gorman and Lieutenant Governor Ignatius L. Donnelly that morning. Gorman, attending a district court session in Anoka, received the note by a messenger from St. Paul and called a court recess, asking for volunteers. Aaron Greenwald, who has an "island" named after him on Lake George, and five others stepped forward; Greenwald was the first to sign. He died on July 5, 1863, after sustaining a mortal wound as a member of the 1st Minnesota Regiment in defense against Pickett's Charge at the Battle of Gettysburg.
What made Anoka become "Halloween Capital Of The World"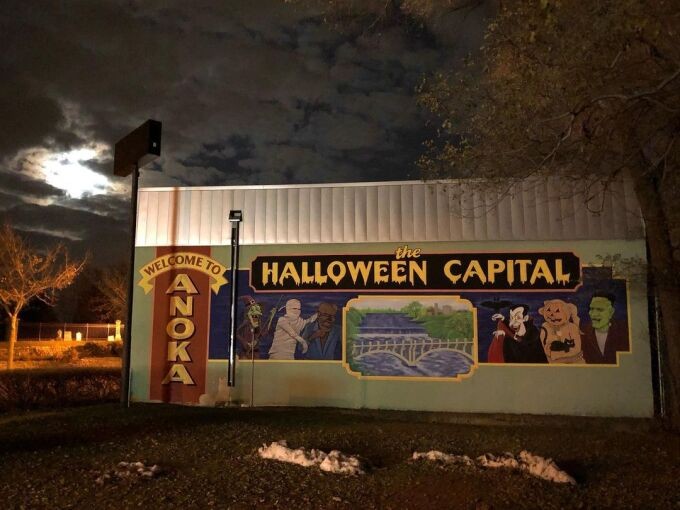 Photo: @cemented.in.eternity/Instagram
In 1920, George Green and other Anoka civic leaders suggested the idea of a giant celebration. The idea was adopted by the Anoka Commercial Club and the Anoka Kiwanis Club; both giving their full support. In September of that year, a Halloween committee was organized.
Working hand in hand were businessmen, teachers from the Anoka public and parochial schools, parents, and students..For weeks before the big event, more than a thousand Anoka school children made plans and costumes for the big event.
A parade was scheduled for the evening. Participants included local and neighboring bands, drum corps, the Anoka police, and fire departments, the Kiwanis Club, the Commercial Club, and the Anoka National Guard; all working together to make the evening a success. Afterward, hundreds of bags of popcorn, candy, peanuts, and other treats were given away to the children who marched in the parade. And, everyone was invited to a large bonfire that was staged at Bridge Square. Celebrations have been held every year since 1920 with the exception of 1942 and 1943 when the festivities were canceled because of World War II.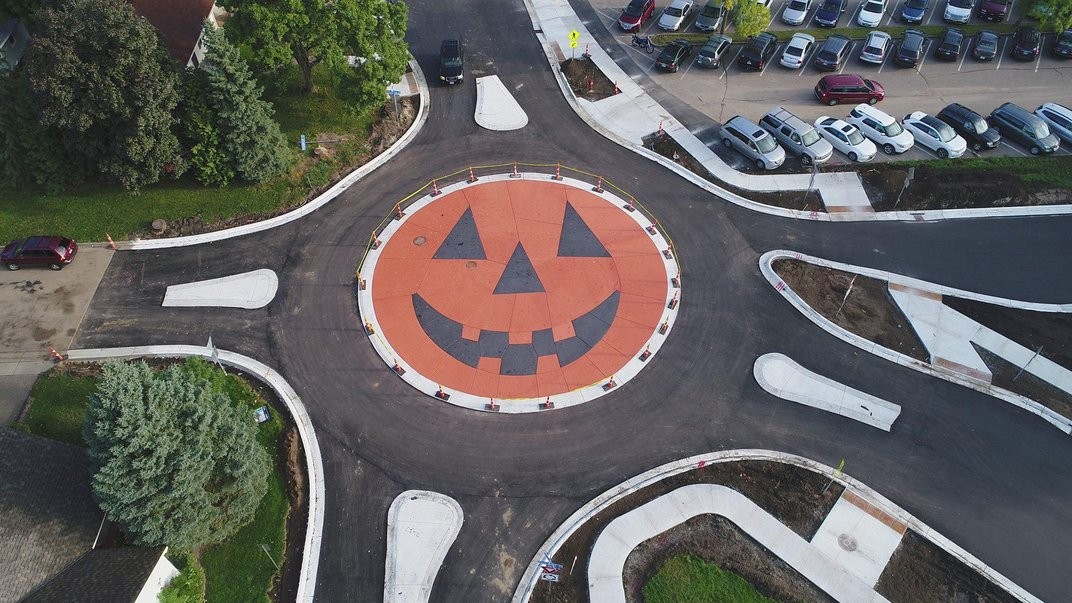 Anoka installed a pumpkin roundabout in 2017. City of Anoka, Minnesota
By the 1930s, the festivities had expanded as had the attendance at the parades. There were over 2,000 costumed children marching down Main Street. It was estimated that 20,000 spectators lined the streets to watch this night-time spectacle. In 1937, 12-year-old, Harold Blair, donning a sweater embellished with a Halloween Capital insignia, carried with him to Washington, D.C. a proclamation naming Anoka Halloween Capital of the World.
Anoka has always worked to keep a family spirit alive in its Halloween festivities. Activities have included pillow fights, a kangaroo court, fireworks displays, royalty coronations, concerts, dances, window painting contests, house decorating contests, celebrity appearances, costume contests, style shows, story-telling, races, and, in the 1960s, a snake dance that took long lines of participants in and out of area businesses and homes.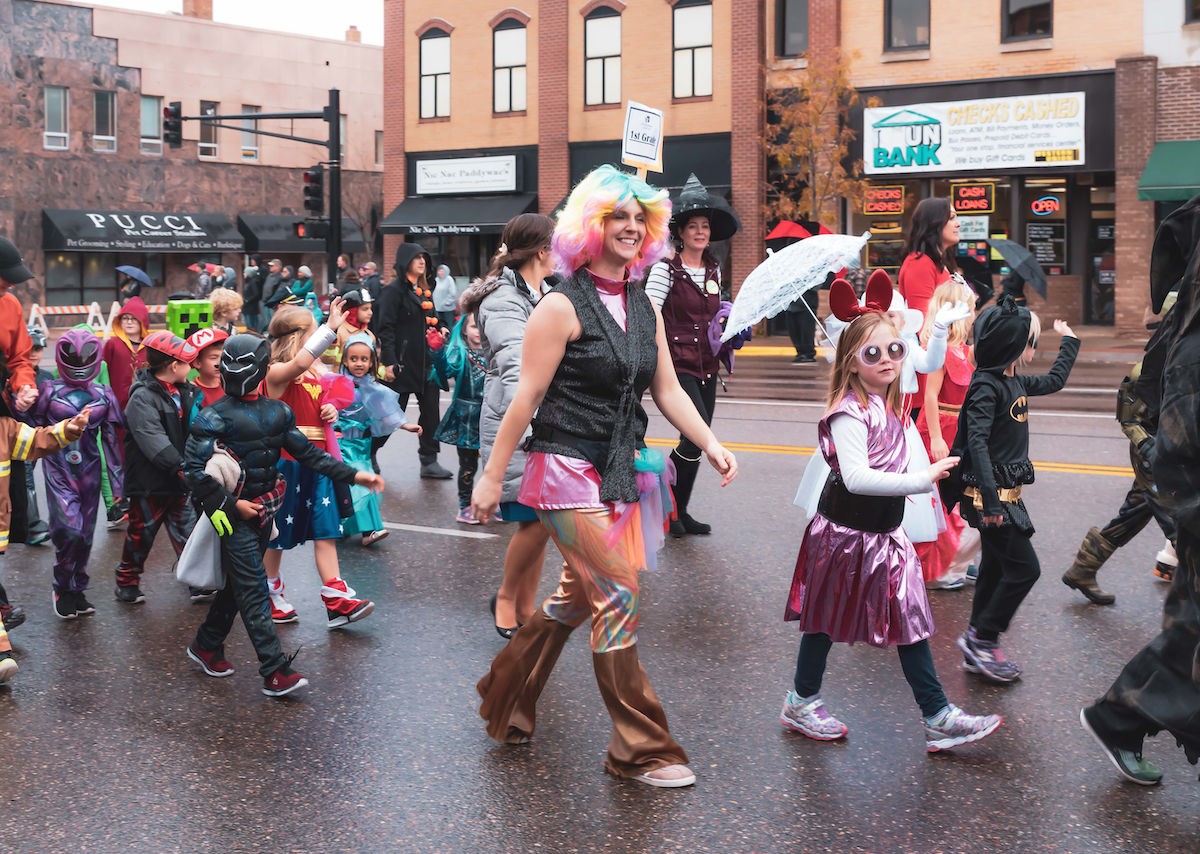 Photo: Matador Network
1968 marked the first year that Miss Anoka joined in on Anoka Halloween Capital of the World festivities. The winners of the TV game show, The Dating Game, were awarded a trip to Anoka to ride in the Halloween parade!
Anoka Halloween Capital of the World celebration continues to be world-class. Participation in the night parade and Grande Day parade has grown to include units from all over the midwest. The original concept of having costumed students parade down Main Street continues on as well on Friday preceding the Grande Day parade. Anoka residents can watch their grandchildren or great-grandchildren continue the tradition they started so many years ago.
Anoka, 'Halloween Capital Of The World,' Set To Host 101st-Annual Festival
A full month of highly-anticipated Halloween fun is back again in Anoka. The city usually goes all-out, but the pandemic forced many changes last fall.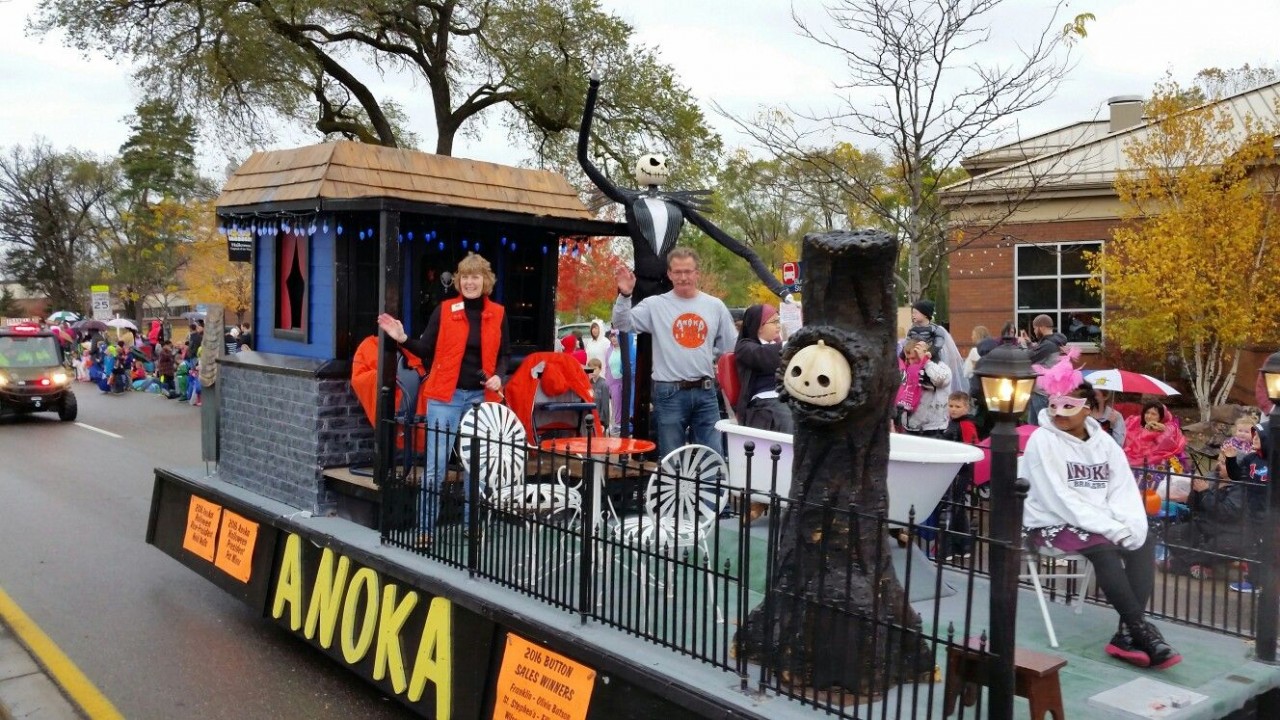 Photo: Pinterest
Rush-hour traffic is bustling along Main Street in downtown Wednesday afternoon. But in about a month, it will be parade floats with tens of thousands of people lining the street as the "Halloween Capital of the World" returns to its original form, according to CBS Minnesota.
The festivities were limited to a drive-by parade and several other subdued or canceled events in 2020, as pandemic concerns forced organizers to be cautious about large gatherings.
Returning in October are both the kiddie and night parades. Coronation is back, bingo nights and pumpkin carving. The "Wine and Canvas" events will be in-person this year instead of over Zoom.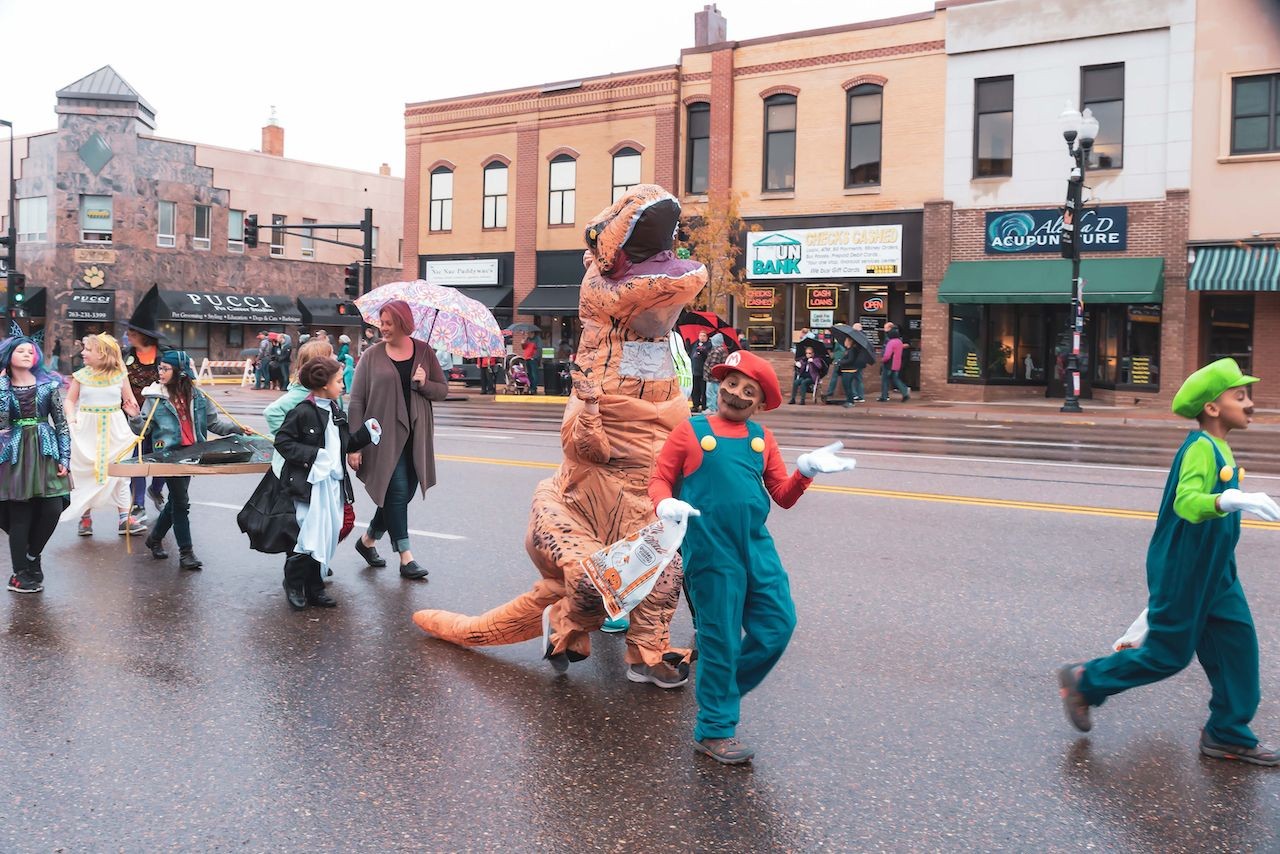 Photo: Matador Network
The Grand Parade will roll down its traditional route of Main Street, bringing with it a huge crowd that has local businesses excited again. It has attracted up to 60,000 people in years past.
"I think we're really looking forward to seeing all the kids," said Alivia Tatum, manager at Two Scoops ice cream shop. "And hopefully they really love ice cream. We have so many great flavors right now."
A century of celebrating, back where it all began.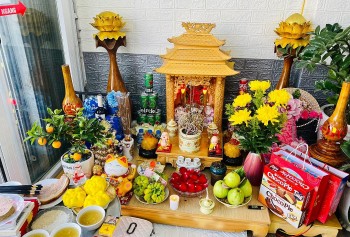 Handbook
Learn more about an ancient Vietnamese tradition that may bring you good fortune!