Explore The Magnificent Scenes Inside The Old German Abbey
The old Ottobeuren, a Benedictine abbey that is located in the Bavarian Allgäu, is famous for its lavish designs and architecture, which impresses many tourists coming here.
Ottobeuren is a Benedictine abbey, located in Ottobeuren, near Memmingen in the Bavarian Allgäu, Germany.
For part of its history Ottobeuren Abbey was one of the 40-odd self-ruling imperial abbeys of the Holy Roman Empire and, as such, was a virtually independent state. At the time of its dissolution in 1802, the imperial abbey covered 266 square kilometers and had about 10,000 subjects.
It was founded in 764 by Blessed Toto and dedicated to St. Alexander, the martyr. Of its early history little is known beyond the fact that Toto, its first abbot, died about 815 and that Saint Ulrich was its abbot in 972. In the 11th century, its discipline was on the decline until Abbot Adalhalm (1082–94) introduced the Hirsau Reform. The same abbot began a restoration of the decaying buildings, which was completed along with the addition of a convent for noble ladies, by his successor, Abbot Rupert I (1102–45). Under the rule of the latter, the newly founded Marienberg Abbey was recruited with monks from Ottobeuren. His successor, Abbot Isengrim (1145–80), wrote Annales minores and Annales majores.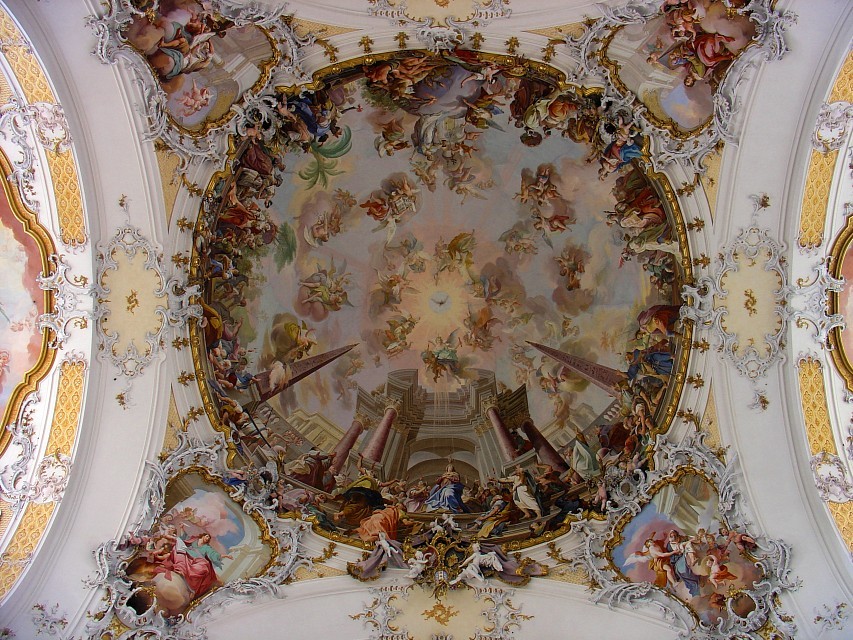 Photo: Thousand Wonders
History of Ottobeuren
In the coming centuries, Ottobeuren Abbey became an important institution.
In the 11th century, the discipline in the abbey was in decline – and then abbot Adalhalm in 1082 introduced Hirsau reforms, aiming at strict discipline. He and his successor Rupert I rebuilt and reconstructed the dilapidated buildings, according to Wonder Mondo.
In 1299 Ottobeuren got the status of the imperial abbey – it was answerable directly to the emperor of the Holy Roman Empire and thus comparable to a small country.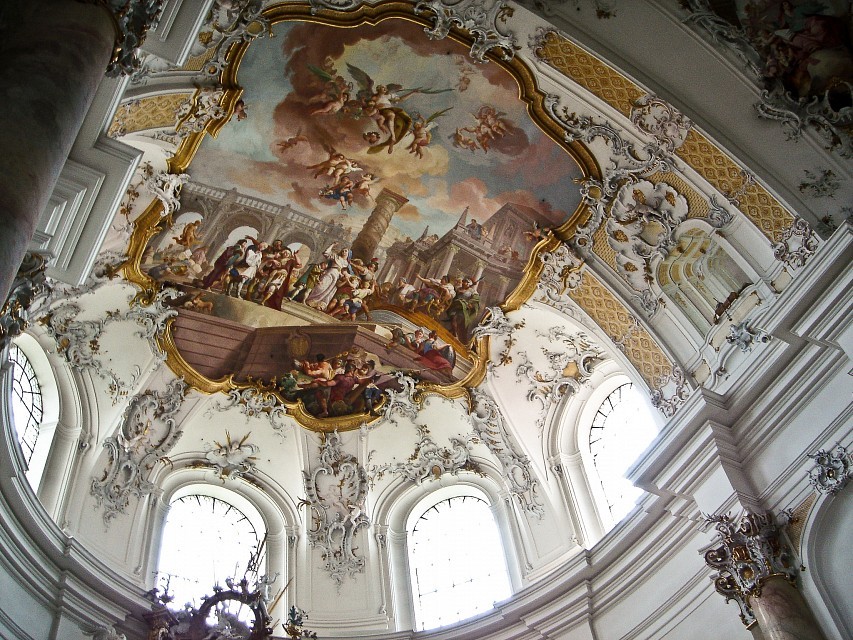 Photo by Michael Renner
In the early 15th-century abbey was in decline again – there were only some six-eight monks in it. Later though it regained its influence.
In 1710 new and ambitious abbot – Rupert Ness came. He ordered to remove the old buildings and completely new structures were built. The present monastery – one of the most magnificent buildings in Swabia – was built in the trendy Late Baroque style in 1711 – 1725.
In 1737 was started the construction of the magnificent basilica and was completed at the time of the next abbot Anselm Erb, in 1766.
The importance of Ottobeuren Abbey continued to increase and in 1802 there were some 12,000 people living in properties of the abbey. The area of these properties was approximately 165 km².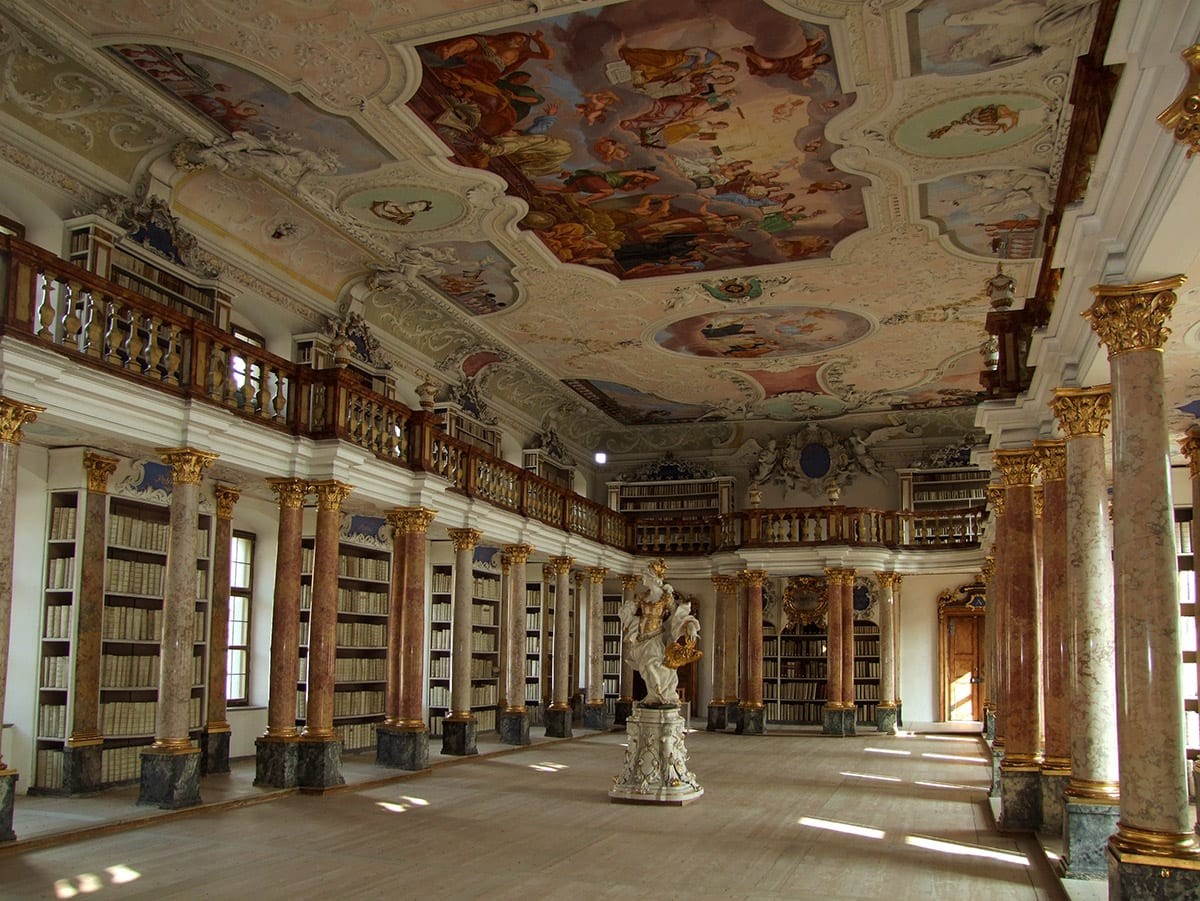 Library in Ottobeuren Abbey / Johannes Böckh & Thomas Mirtsch, Wikimedia Commons / CC BY-SA 3.0
In 1802 the abbey was secularized and became a part of Bavaria. Only 18 of the 84 monks could remain here.
In 1834 Benedictine priory was restored by King Louis I of Bavaria – but Ottobeuren was dependent on St. Stephen's Abbey in Augsburg. Ottobeuren Abbey became independent only in 1918 and is active up to this day.
In total 65 abbots have governed Ottobeuren Abbey.
Ottobeuren Abbey has one of the richest music programs in Bavaria, with concerts every Saturday. Most concerts feature one or more of the abbey's famous organs. The old organ, the masterpiece of French organ builder Karl Joseph Riepp (1710–75), is actually a double organ; it is one of the most treasured historic organs in Europe. It was the main instrument for 200 years, until 1957 when a third organ was added by G. F. Steinmeyer & Co., renovated and augmented in 2002 by Johannes Klais, making 100 stops available on five manuals (or keyboards).
The marvelous architecture of Ottobeuren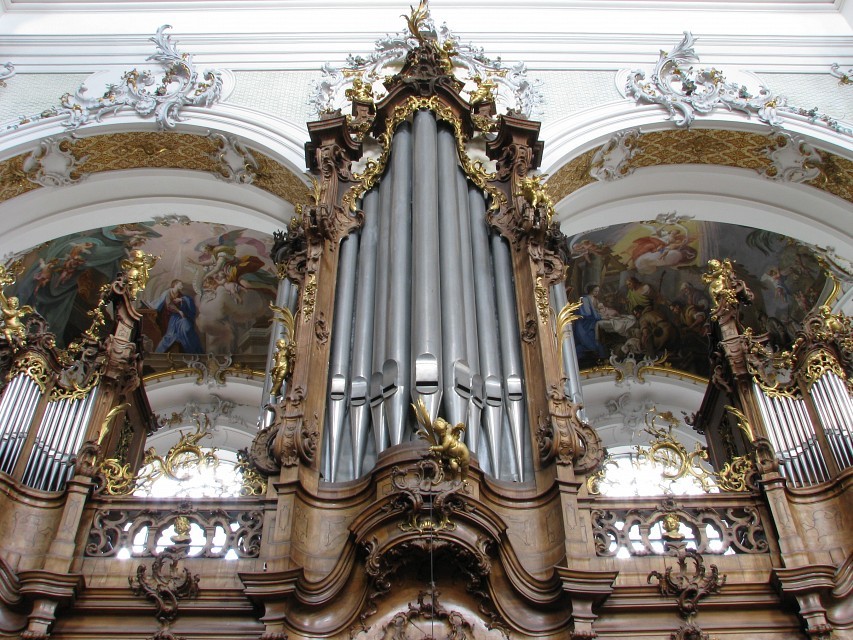 Photo by pierremarteau
Ottobeuren Basilica is one of the highest achievements in Bavarian Baroque architecture – among a huge wealth of other beautiful buildings.
First architect was Simpert Kramer. He planned to base the design of the new basilica on another great building – the Weingarten Basilica, built in Baroque style in 1724. Works proceeded slowly – in Kramer's time was built the 12 m deep fundament of the new church around the old church.
11 years later, in 1748 works were continued by Johann Michael Fischer (1692 – 1766), one of the best German Baroque architects.
In five years' time – in 1753 – the old church was removed and the new one was built and interior works started. Towers were complete by 1760, a few years later main interior works were completed.
On 28 September 1766 started 8 days long festivity, organized by the abbey. This grand festivity marked the 1000 years anniversary and the new, magnificent church.
The structure was declared as basilica minor in 1926 by pope Pius XI.
Extensive repairs of the church were done in 1960 – 1964, further works were done in 2004 – 2010. Now (until 2014) are ongoing interior renovations.
Interior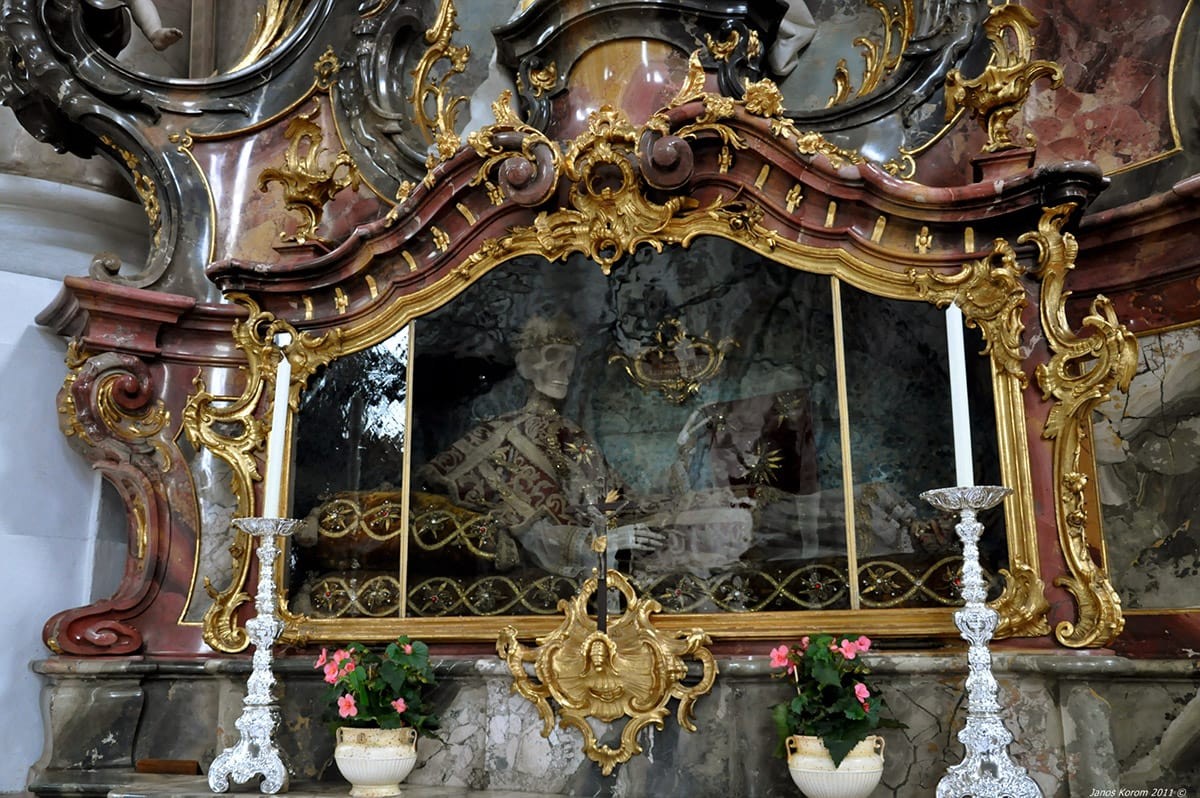 Skeleton in Ottobeuren Basilica / Janos Korom Dr., Flickr / CC BY-SA 2.0
While the building was designed in late Baroque style, the interior was designed in a similar Rococo style and is one of the best-known examples of this style worldwide.
The Interior has light colors, it is lavishly adorned with frescoes and other embellishments. The beautiful frescoes were painted by Austrian painters Johann Jakob Zeiller and Franz Anton Zeiller but sculptures were created by Johann Joseph Christian.
Basilica has sixteen beautiful altars.
Musical life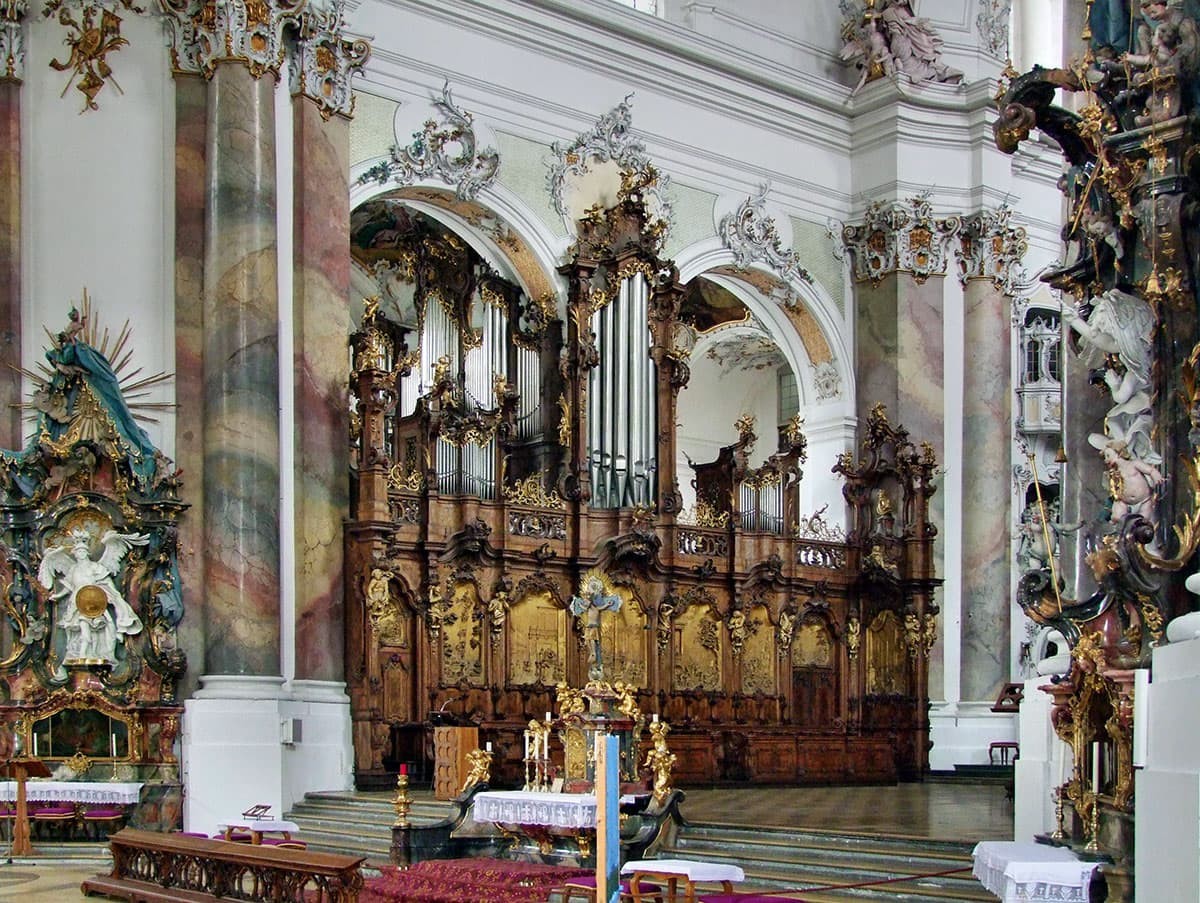 The old organ in Ottobeuren Basilica / Johannes Böckh & Thomas Mirtsch, Wikimedia Commons / CC BY-SA 3.0
Ottobeuren Basilica has a set of two old organs and one newer.
The old double organ is a masterpiece of organ builder Karl Joseph Riepp (1710 – 1775) and was built after French design. It is the only such instrument remaining in the world. In 1957 there was built another organ by G.F. Steinmeyer & Co.
Abbey has rich musical traditions – there are organized concerts every Saturday, 16:00 (Ottobeurer Konzerte), using one of the famous organs in Abbey. Over the last 45 years through these concerts, there have been collected more than 3 million EUR for non-governmental organizations.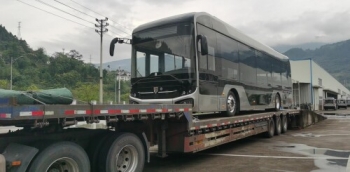 Economy
Ev Dynamics (Holdings) Limited is a pioneer and a prominent player in China's new energy commercial vehicles market, as well as a whole-vehicle manufacturer of specialty passenger vehicles and new energy passenger vehicles.