FDI in Vietnam bounces back in May
Due to travel restrictions, disbursement of FDI projects in Vietnam totaled US$6.7 billion in the first five months of 2020, while the FDI in May reached the highest monthly figure since February.
Disbursement of foreign direct investment (FDI) to Vietnam in May is estimated at US$1.55 billion, the highest monthly figure since February, a report of the Foreign Investment Agency (FIA) under the Ministry of Planning and Investment has shown.
The data indicates a positive sign that foreign investors are accelerating their projects' progress as the Covid-19 pandemic has been initially contained in Vietnam.
Notably, this month also marked the actual FDI significantly higher than the combined of US$1.04 billion in new FDI commitments and additions to existing projects.
Overall, disbursement of FDI projects in Vietnam totaled US$6.7 billion in the first five months of 2020, representing a decline of 8.2% year-on-year.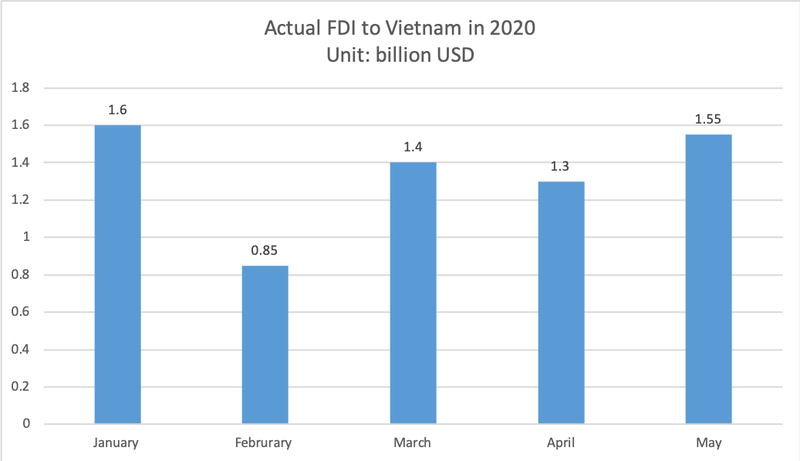 (Data: MPI)
Meanwhile, FDI approvals in the January – May period fell 17% year-on-year to US$13.9 billion. The figure, however, is higher than that of the same five-month period from 2016 to 2018, posting increases of 37.6%, 14.8% and 40.4% compared to the corresponding period of 2016, 2017 and 2018, respectively.
Year to May 20, 1,212 new projects were approved with a total committed amount of US$7.44 billion, up 15.1% in capital but down 11% in the number of projects year-on-year. Meanwhile, 436 existing projects have been injected an additional US$3.45 billion, up 31.1% in capital and down 13.6% in the number of projects.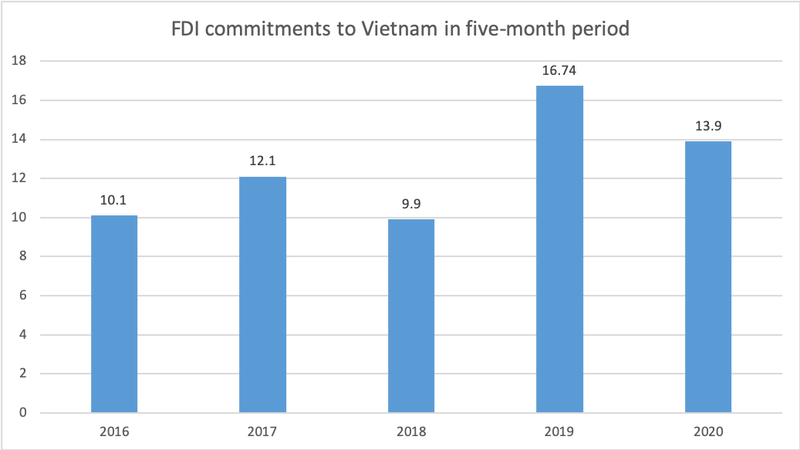 (Data: MPI)
A surge in newly registered FDI in the five-month period was thanks to the liquefied natural gas (LNG) plant project worth US$4 billion in the southern province of Bac Lieu.
During this period, 3,528 projects have had nearly US$2.99 billion in capital contributed by foreign investors, up 11.6% in the number of projects but down 60.9% in value year-on-year.
Investors have poured money into 18 fields and sectors, in which manufacturing and processing led the pack with capital exceeding US$6.87 billion, accounting for 49.4% of the registered tally.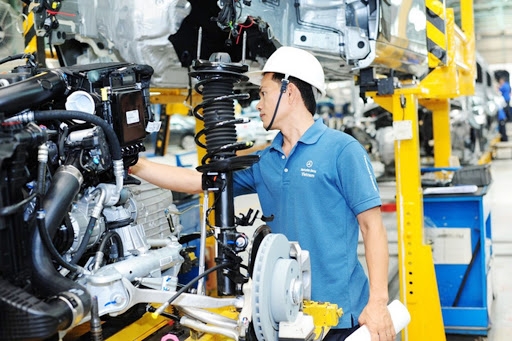 (Photo: Real Times)
Electricity production and supply came second with US$3.9 billion, or 28% of the total, followed by wholesale and retail with US$945 million, and real estate with US$801.2 million.
The data shows that out of 96 countries and territories investing in Vietnam in the first five months of 2020, Singapore took the lead with US$5.3 billion. Thailand came second with US$1.46 billion, while the third place belonged to China with US$1.27 billion.
Among cities and provinces having received FDI in the five-month period, Bac Lieu has attracted the largest portion of capital commitments with US$4 billion. It is followed by Ba Ria – Vung Tau with US$1.93 billion, and Ho Chi Minh City with US$1.6 billion.
Besides the US$4-billion LNG plant project financed by a Singaporean investor, some other big-ticket projects in January – May include a tire manufacturing plant worth US$300 million from a Chinese investor in Tay Ninh province; an additional injection of US$138 million into a Chinese-invested radian tire production facility; an additiona of US$75.2 million to Japan's Sews-components Vietnam manufacturing plant for electronic and auto parts; Hong Kong's Ce Link Vietnam 2 plant worth US$49.8 million in Bac Giang for electronic parts and products.
Hanoitimes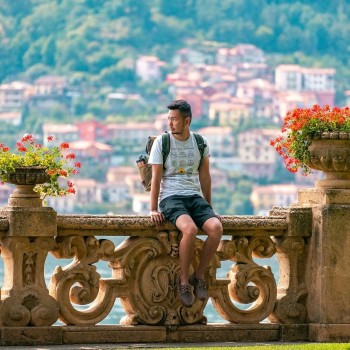 Travel
If you have the opportunity to visit Hoi An at the end of the year, these are some of the best recommendations for fun activities you can do from Peter R – a Thai travel blogger.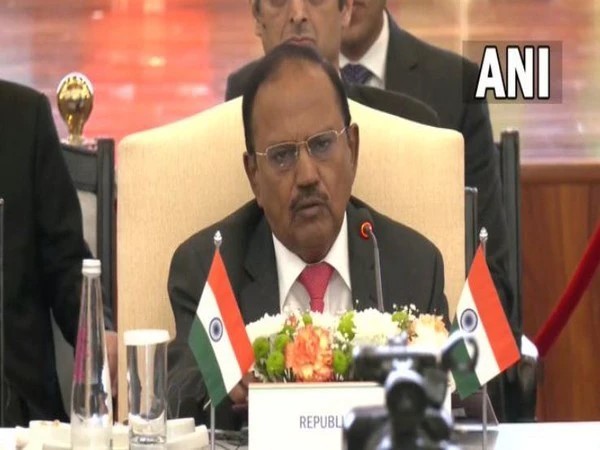 Economy
Flagging the persistence of terrorist networks in Central Asia, including in Afghanistan, National Security Advisor (NSA) Ajit Doval on Tuesday emphasised on making countering of terror financing a priority for India and other countries in the region.
December 07, 2022 | 13:58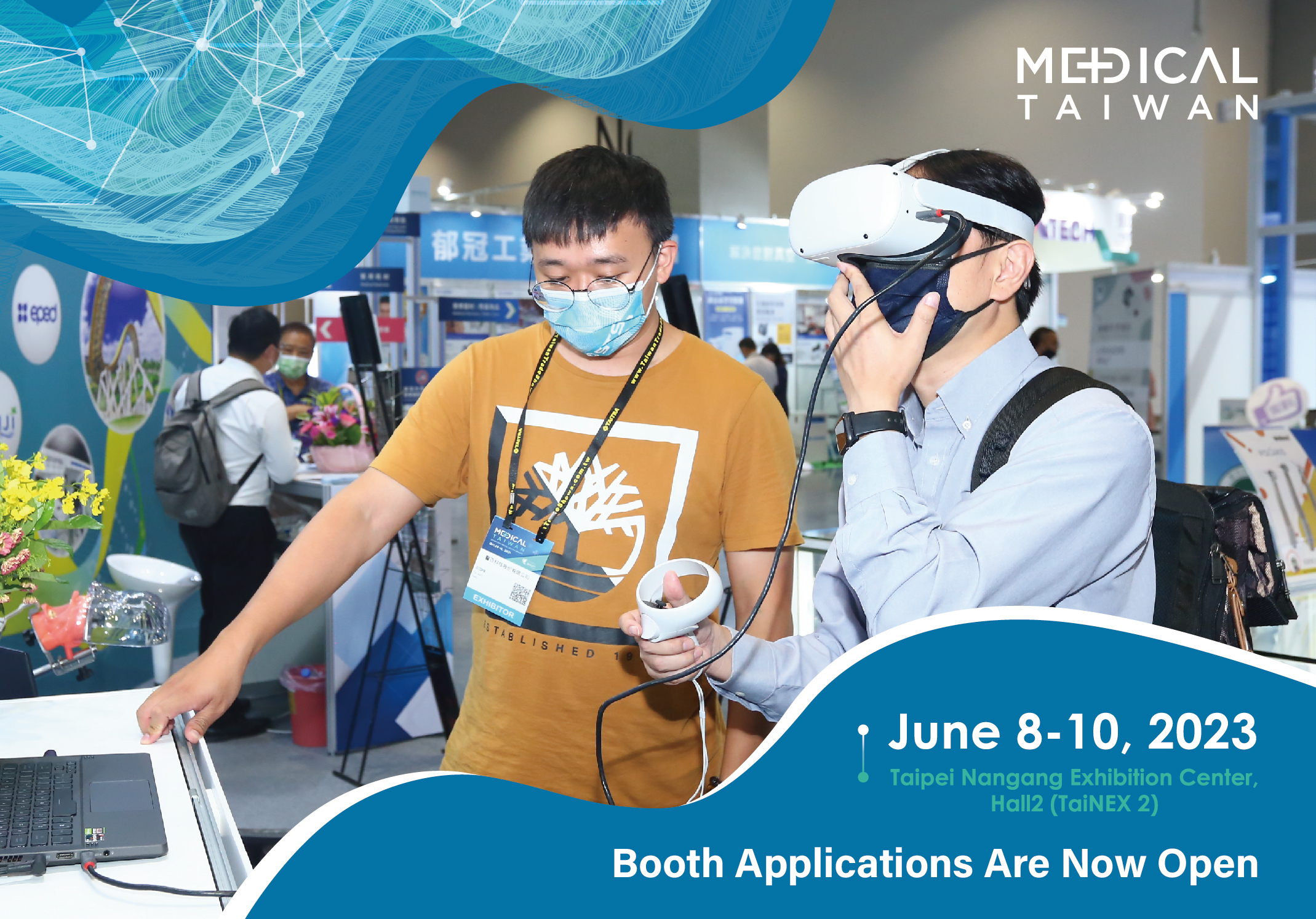 Economy
TAIPEI, TAIWAN - Media OutReach - 7 December 2022 - According to BMI Research, the global market for medical devices was valued at US$454.3 billion in 2021, a 6.3% increase from 2020, and is expected to reach US$535.2 billion by 2024, with a CAGR of approximately 5.6% from 2021 to 2024.
December 07, 2022 | 10:15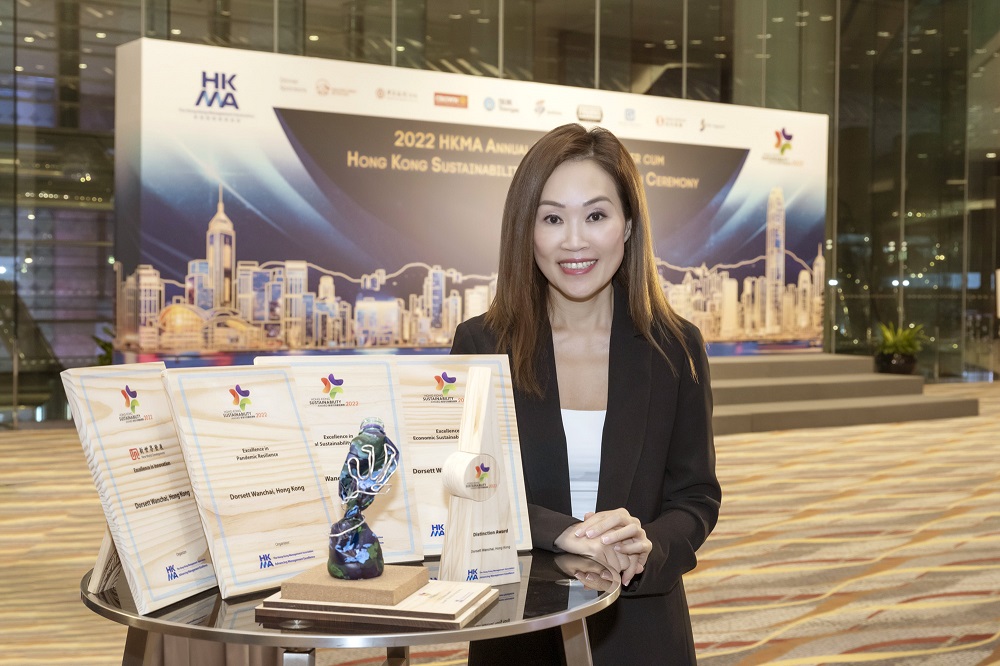 Economy
HONG KONG SAR - Media OutReach - 7 December 2022 - The 4.5-star Dorsett Wanchai, Hong Kong under Dorsett Hospitality International, has swept the board at the Hong Kong Sustainability Awards 2022 Presentation Ceremony held on 22 November, 2022 by the Hong Kong Management Association (HKMA).
December 07, 2022 | 10:00