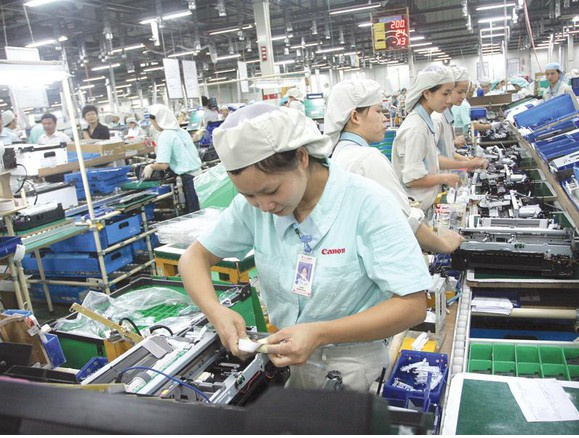 Illustration by vnexplorer
Particularly, by April 20, the total newly-registered, additional capital, and capital contribution for share purchasing of foreign investors reached US$12.33 billion, accounting for 84.5 percent of that in the same period last year. The disbursed capital was at $5.15 billion, accounting for 90.4 percent of that in the same period last year. The newly-registered and additional capital increased compared to the same period last year, but the capital contribution for share purchasing dropped sharply, causing a decrease in the total FDI capital.
In the first four months of this year, 984 new projects were licensed with total registered capital of $6.78 billion, an increase of 26.9 percent compared to the same period last year, reported sggpnews
Two scenarios for FDI in 2020
Foreseeable investment inflows to Vietnam will be affected due to Covid-19 but high economic growth will provide a buffer for the country.
Reported by VNS, according to Nguyen Bich Lam, general director of the General Statistics Office (GSO), Vietnam is in favourable position to attract more foreign investments, including the relocation plans of foreign investments in China to evade the US-China trade war and many free trade agreements (FTA) that Vietnam has signed, including CPTPP and EU-Vietnam FTA.
GSO has prepared two scenarios for FDI in 2020 which are lower than initial expectation but still higher than 2019.
If Covid-19 epidemic is brought under control in the first quarter, Vietnam is expected to lure US$38.6 billion of foreign capital in 2020, while if the epidemic ends in the second quarter, the country will only attract $38.2 billion.
In the initial prediction without Covid-19 epidemic, Vietnam would likely rake in $39.6 billion.
In the first 20 days of January this year, $5.3 billion of FDI landed on Vietnam, a surge of 179.5 per cent year-on-year.
"This is an opportunity for Vietnam to fine-tune policies to attract investors who are intending to narrow production in neighboring countries and invest in Vietnam," Lam said, urging investment promotion agencies to proactively work with foreign investors who have plans to invest in the country to discuss the preliminary investment procedures, not only waiting for the epidemic to be completely controlled.
In the long term, it was necessary to continue improving the investment and business environment, amending policies and strategies to attract quality foreign investments, he added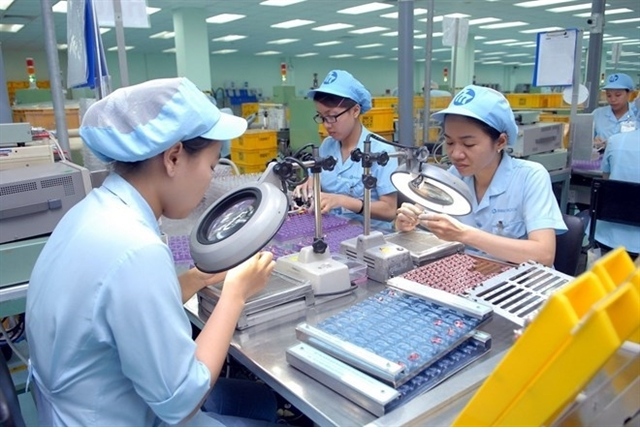 Workers assemble small-sized electric motors at the Japan-owned Mabuchi Motor Việt Nam at the Biên Hoà II Industrial Park in Đồng Nai Province. — Photo: VNA/VNS
Actual FDI to Vietnam continues declining trend to US$5.5 billion in Jan-Apr
Hanoitimes reporterted that FDI commitments in the January – April period stood at US$12.33 billion, down 15.5% year-on-year.
Disbursement of foreign direct investment (FDI) projects in Vietnam totaled US$5.15 billion in the first four months of 2020, representing a decline of 9.6% year-on-year, a report of the Foreign Investment Agency (FIA) under the Ministry of Planning and Investment has shown.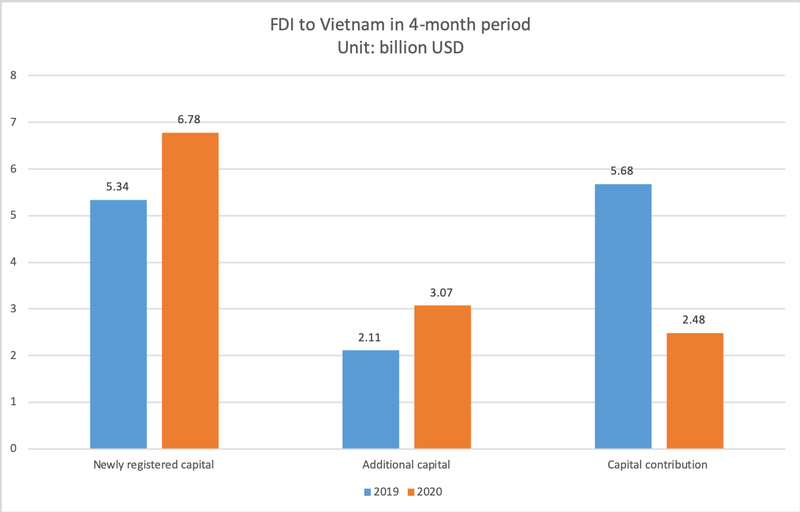 Data: MPI. Chart: Hai Yen.
Meanwhile, FDI approvals in the January – April period stood at US$12.33 billion, down 15.5% year-on-year. The figure, however, is higher than the that of the same four-month period from 2016 to 2018, posting increases of 52.3%, 16.4% and 79% compared to the corresponding period of 2018, 2017 and 2016, respectively. Year to April 20, 984 new projects have been approved committed capital of a combined US$6.78 billion, up 26.9% in capital but down 9.1% in the number of projects year-on-year, while 335 existing projects have been injected an additional US$3.07 billion, up 45.6% in capital and down 5.2% in the number of projects.
A surge in newly registered FDI in the four-month period was thanks to the liquefied natural gas (LNG) plant project worth US$4 billion in the southern province of Bac Lieu. During this period, 3,210 projects have had nearly US$2.48 billion in capital contributed by foreign investors, up 32.9% in the number of projects but down 65.3% in value year-on-year.
Investors have poured money into 18 fields and sectors, in which manufacturing and processing led the pack with capital of nearly US$6 billion, accounting for 48.4% of the registered tally. Electricity production and supply came second with US$3.9 billion, or 31.9% of the total, followed by wholesale and retail with US$776 million, real estate with US$665 million.
The data shows that out of 93 countries and territories investing in Vietnam in the first four months of 2020, Singapore took the lead with US$5.07 billion. Thailand came second with US$1.46 billion, while the third place belonged to Japan with US$1.16 billion.
In terms of the number of projects, South Korea ranked first with 265, China in second with 135 and Japan in third with 116.
Among 57 cities and provinces having received FDI in the four-month period, Bac Lieu has attracted the largest portion of capital commitments with US$4 billion. Ba Ria – Vung Tau came second with US$1.9 billion, followed by Ho Chi Minh City with US$1.31 billion.
Besides the US$4-billion LNG plant project financed by a Singaporean investor, some other big-ticket projects in January – April include a tire manufacturing plant worth US$300 million from a Chinese investor in Tay Ninh province; an additional injection of US$138 million into a Chinese-invested radian tire production facility; an increase of US$75.2 million to Japan's Sews-components Vietnam manufacturing plant for electronic and auto parts; Hong Kong's Ce Link Vietnam 2 plant worth US$49.8 million in Bac Giang for electronic parts and products.
Tarah Nguyen