FDI in Vietnam Predicted to Surge in 2022
The results of attracting and using foreign investment capital in Vietnam in the first quarter of 2022 are assessed as positive in the context of global decline due to the Covid-19 pandemic. It is forecasted that the attraction of foreign direct investment (FDI) will continue to make several breakthroughs.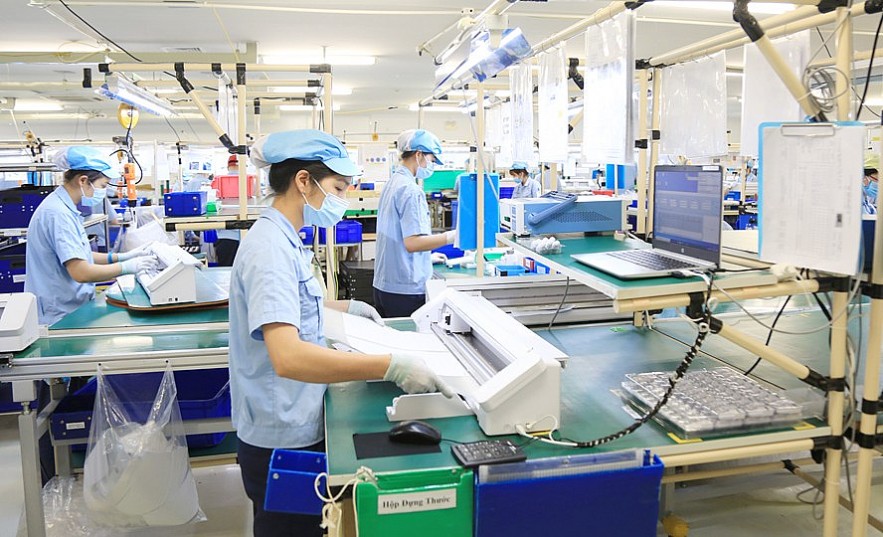 In the first quarter of 2022, Hanoi city attracted US$513.1 million in foreign investment. Photo: Do Tam
Disbursement increases highest in 5 years
According to the Ministry of Planning and Investment, in the first quarter of 2022, Vietnam received US$8.91 billion in foreign investment, down 12.1% over the same period last year. However, disbursed foreign direct investment (FDI) reached US$4.42 billion, up 7.8% over the same period in 2021. This is the highest disbursement in the past 5 years.
Hanoi, in the first quarter of 2022, has attracted US$513.1 million of foreign investment capital, of which 62 new projects have been registered with a capital of US$24.9 million.
LEGO Group (Denmark) has signed a memorandum of understanding with Vietnam-Singapore Industrial Park Company (VSIP) in Binh Duong province to build a new factory worth more than US$1 billion in Vietnam. This is LEGO's first carbon-neutral factory investing in solar energy, ensuring no pollution to the environment.
Despite adverse effects from the Covid-19 pandemic, foreign investors still put their faith in Vietnam's economy and investment environment in the context of the "new normal".
According to Vice-Chairman of the Vietnam Association of Foreign Invested Enterprises (VAFIE) Nguyen Van Toan, besides the reopening, the support of the Vietnamese Government, the resilience and adaptability of domestic enterprises have confirmed Vietnam is a safe, attractive and potential destination for foreign investors.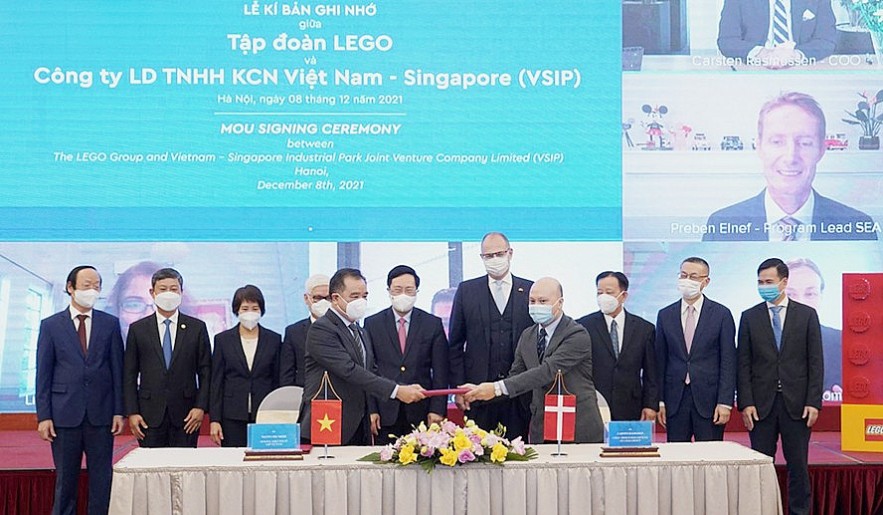 LEGO Group (Denmark) signed a memorandum of understanding with Vietnam-Singapore Industrial Park Company (VSIP) in Binh Duong province. Photo: Ha Nguyen
Strengthening advantages, promising breakthroughs
Over the years, Vietnam has focused on investing in infrastructure and industrial parks in a synchronous and modern direction. Our country has put thousands of kilometers of inter-regional roads into use, helping to strengthen economic exchanges between localities and ensure connections with seaports and export hubs.
According to the former head of the Ministry of Planning and Investment's Foreign Investment Agency Phan Huu Thang, political stability, social consensus and favorable geographical position for commodity export are still outstanding advantages, attracting international investment to Vietnam.
The Ministry of Industry and Trade affirmed that Vietnam's participation in many free trade agreements is an important highlight. This enhances export activities and is an advantage for investors to find opportunities and invest in Vietnam.
Currently, provinces and cities have opened their doors, focusing on restoring trade and tourism, and welcoming foreign investors and major partners in an effort to find additional capital.
Hai Phong has just had a meeting with Korean businesses, discussing the possibility of receiving 20 new investors, with a total estimated capital of US$2-4 billion. Nghe An province also strengthens support for projects in the area, considering it an effective communication measure for the foreign investor community.
Recently, Vietnam has emerged as a new production center in the global supply chain, with the participation of a number of companies in the manufacturing and high-tech fields such as Samsung, Intel, LG, and Foxconn.
Those corporations and companies are still researching the possibility of expanding investment, increasing production capacity, serving export to the global market.
General Director of Samsung Vietnam Choi Joo Ho said that Vietnam is not only an important production base but also a strategic location in research and development. That is a testament to the long-term goal of Samsung particularly and international investors in Vietnam.
Director of the Foreign Investment Agency (Ministry of Planning and Investment) Do Nhat Hoang said that the trend of increasing capital and expanding investment of foreign investors has been clearly shown.
Minister of Planning and Investment Nguyen Chi Dung said that with the current economic recovery prospect, the business and investment environment will continuously improve. International integration will deepen, foreign investment inflows are likely to increase sharply. There will be many large-scale, high-quality projects of the world's leading corporations coming to Vietnam.
| | |
| --- | --- |
| | Investment from overseas Vietnamese has increased in the last couple of years. |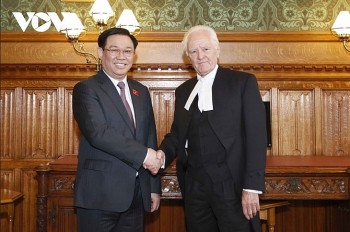 Friendship
Vietnam is willing to create all favourable conditions for investors of the UK to operate in the Southeast Asian country, National Assembly (NA) Chairman Vuong Dinh Hue told UK Secretary of State for International Trade Anne-Marie Trevelyan during their meeting on June 29 (UK time).